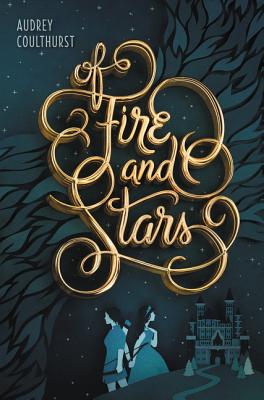 Of Fire and Stars
Publication Date:
February 6th, 2018
Usually Ships in 1 to 5 Days
Description
An atmospheric and romantic debut fantasy perfect for fans of Ash and The Winner's Curse.
Betrothed since childhood to the prince of Mynaria, Princess Dennaleia has always known what her future holds. Her marriage will seal the alliance between Mynaria and her homeland, protecting her people from other hostile kingdoms.
But Denna has a secret. She possesses an Affinity for fire—a dangerous gift for the future queen of a land where magic is forbidden.
Now Denna has to learn the ways of her new kingdom while trying to hide her growing magic. To make matters worse, she must learn to ride Mynaria's formidable warhorses before her coronation—and her teacher is the person who intimidates her most, the prickly and unconventional Princess Amaranthine, sister of her betrothed.
When a shocking assassination leaves the kingdom reeling, Mare and Denna reluctantly join forces to search for the culprit. As the two work together, they discover there is more to one another than they thought—and soon their friendship is threatening to blossom into something more.
But with dangerous conflict brewing that makes the alliance more important than ever, acting on their feelings could be deadly. Forced to choose between their duty and their hearts, Mare and Denna must find a way to save their kingdoms—and each other.
Plus don't miss the sequel: Of Ice and Shadows!
Praise for Of Fire and Stars
"A powerful and exquisite love story" — Publishers Weekly (starred review)
"Reminiscent of the kinds of fantasy books I loved when I was a young teenager, tales of princess angst, horses, and the blossoming of reluctant love. This book is bold enough to create a world that moves beyond the prejudices we are still fighting in our real world." — Caitlyn Paxson, NPR
"A deeply romantic, bold, and nuanced fantasy. You will be captivated by Denna and Mare and their star-crossed love for each other." — Malinda Lo, Author of Ash and Huntress
"Lovely…a worthy debut that succeeds as both an adventure and a romance." — Booklist
"Murder, mayhem, magic, romance-and horses…a romantic fantasy that will appeal to those who appreciate character-driven novels." — Kirkus Reviews
"I devoured Of Fire and Stars in two sittings; it's a delightful debut, full of all the things I like best in a fantasy story, including not one but two wonderful heroines. I'm looking forward to seeing what Audrey does in the future!" — Mercedes Lackey, New York Times bestselling author of over 125 books, including the Valdemar series
"Coulthursts's debut is an absolute delight; I loved seeing these smart, fierce princesses fall in captivating, slow-burn love as they investigate political assassinations and unravel magical conspiracies." — Corinne Duyvis, author of Otherbound and On the Edge of Gone
"Romantic, compelling, and bursting with fascinating characters, Of Fire and Stars is the fantasy novel we've all been waiting for." — Amy Tintera, author of Ruined
"A slow-burn love story about two unique, brave, and endearing young women." — Voice of Youth Advocates (VOYA)