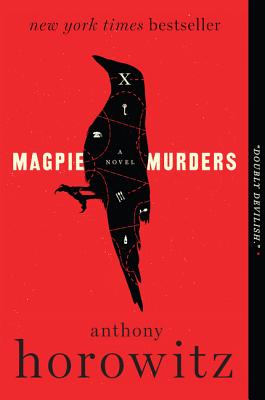 Magpie Murders: A Novel
Publication Date:
March 27th, 2018
Publisher:
Harper Perennial
Usually Ships in 1 to 5 Days
Who better than the talented Anthony Horowitz to create this marvelous mystery within a mystery. Yes, we're treated to two mysteries for the price of one: One set in a peaceful village in England during the 1950s with the one and only Detective Atticus Pund taking the case, and the other set in contemporary times with a book editor who becomes an amateur sleuth. Horowitz pays tribute to the golden age of British crime with references to mysteries created by the likes of Dorothy Sayers and Agatha Christie. How many hidden gems can you come up with? A perfect book to read in a cushy chair with a cup of tea (hot or iced).
June 2017 Indie Next List
Description
Curl up with this cozy mystery perfect for autumn
Don't miss Magpie Murders on PBS's MASTERPIECE Mystery!
"A double puzzle for puzzle fans, who don't often get the classicism they want from contemporary thrillers." —Janet Maslin, New York Times
New York Times Bestseller | Winner of the Macavity Award for Best Novel | NPR Best Book of the Year | Washington Post Best Book of the Year | Esquire Best Book of the Year
From the New York Times bestselling author of Moriarty and Trigger Mortis, this fiendishly brilliant, riveting thriller weaves a classic whodunit worthy of Agatha Christie into a chilling, ingeniously original modern-day mystery.
When editor Susan Ryeland is given the manuscript of Alan Conway's latest novel, she has no reason to think it will be much different from any of his others. After working with the bestselling crime writer for years, she's intimately familiar with his detective, Atticus Pünd, who solves mysteries disturbing sleepy English villages. An homage to queens of classic British crime such as Agatha Christie and Dorothy Sayers, Alan's traditional formula has proved hugely successful. So successful that Susan must continue to put up with his troubling behavior if she wants to keep her job.
Conway's latest tale has Atticus Pünd investigating a murder at Pye Hall, a local manor house. Yes, there are dead bodies and a host of intriguing suspects, but the more Susan reads, the more she's convinced that there is another story hidden in the pages of the manuscript: one of real-life jealousy, greed, ruthless ambition, and murder.
Masterful, clever, and relentlessly suspenseful, Magpie Murders is a deviously dark take on vintage English crime fiction in which the reader becomes the detective.
Praise for Magpie Murders: A Novel
"Each of the narratives in Magpie Murders is engaging and fluid, each with its own charm, though Horowitz's joyful act of Christie ventriloquism is, in particular, spectacularly impressive." — Washington Post
"Anthony Horowitz's Magpie Murders is catnip for classic mystery lovers… With its elegant yet playful plotting, Magpie Murders is the thinking mystery fan's ideal summer thriller." — Time Magazine
"An ingenious funhouse mirror of a novel sets a vintage 'cozy' mystery inside a modern frame." — Wall Street Journal
"Brilliant. Really, really brilliant. I loved it." — Sophie Hannah, author of The Monogram Murders
"An extravagant circus of a novel, part high-wire act, part funhouse mirror. Intricate, bold, stone-cold clever— both comfortably old-fashioned and thrillingly new." — A.J. Finn, author of The Woman in the Window
"Doubly Devilish." — People
"Horowitz..has devised an ingenious whodunit within a whodunit, a metamystery with Agatha Christie roots." — O, the Oprah Magazine
"A treat for fans of golden age mysteries…. [A] tour de force …. Horowitz throws in several wicked twists…. Highly satisfying." — Publishers Weekly (starred review)
"Magpie Murders is an ingenious, twisting tribute to the sleepy English countryside murder and will thoroughly entertain readers of old fashioned detective thrillers." — New York Journal of Books
"Fans who still mourn the passing of Agatha Christie…will welcome this wildly inventive homage…as the most fiendishly clever puzzle—make that two puzzles—of the year." — Kirkus Reviews (starred)
"A perfect summer read from the author of Moriarty." — AARP Magazine
"Magpie Murders [is] a fiendishly clever literary puzzle." — Fort Worth Star-Telegram
"There's much to enjoy in Anthony Horowitz's spry, sardonic Magpie Murders." — Guardian
"An ingenious novel-within-a-novel . . . part crime novel, part pastiche, this magnificent piece of crime fiction plays with the genre while also taking it seriously." — Sunday Times
"Superbly written, with great suspects, a perfect period feel, and a cracking reveal at the end." — The Spectator
"Anthony Horowitz has devised a fiendish mystery within a mystery that will have you hooked from page one. We loved this Agatha Christie-esque crime novel." — Good Housekeeping (UK)
"A stylish, multi-layered thriller—playful, ingenious and wonderfully entertaining." — Sunday Mirror
"A compendium of dark delights. . . . A brilliant pastiche of the English village mystery and a hugely enjoyable tale of avarice and skullduggery in the world of publishing." — Irish Times
"This can only be described as incredibly clever—but what else would you expect from Horowitz?" — The Herald (Glasgow)
"Magpie Murders is a double puzzle for puzzle fans, who don't often get the classicism they want from contemporary thrillers."  — Janet Maslin, New York Times