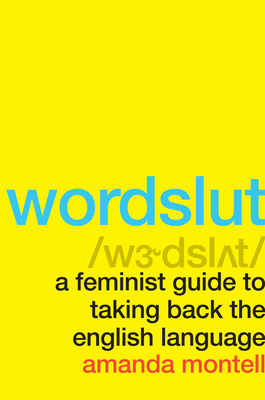 Wordslut: A Feminist Guide to Taking Back the English Language
Publication Date:
June 2nd, 2020
Publisher:
Harper Paperbacks
Usually Ships in 1 to 5 Days
Description
"I get so jazzed about the future of feminism knowing that Amanda Montell's brilliance is rising up and about to explode worldwide."—Jill Soloway
A brash, enlightening, and wildly entertaining feminist look at gendered language and the way it shapes us.
The word bitch conjures many images, but it is most often meant to describe an unpleasant woman. Even before its usage to mean "a female canine," bitch didn't refer to women at all—it originated as a gender-neutral word for "genitalia." A perfectly innocuous word devolving into an insult directed at females is the case for tons more terms, including hussy, which simply meant "housewife"; and slut, which meant "an untidy person" and was also used to describe men. These are just a few of history's many English slurs hurled at women.
Amanda Montell, reporter and feminist linguist, deconstructs language—from insults, cursing, gossip, and catcalling to grammar and pronunciation patterns—to reveal the ways it has been used for centuries to keep women and other marginalized genders from power. Ever wonder why so many people are annoyed when women speak with vocal fry or use like as filler? Or why certain gender-neutral terms stick and others don't? Or where stereotypes of how women and men speak come from in the first place?
Montell effortlessly moves between history, science, and popular culture to explore these questions—and how we can use the answers to affect real social change. Montell's irresistible humor shines through, making linguistics not only approachable but downright hilarious and profound. Wordslut gets to the heart of our language, marvels at its elasticity, and sheds much-needed light on the biases that shadow women in our culture and our consciousness.
Praise for Wordslut: A Feminist Guide to Taking Back the English Language
&#8220Amanda Montell has given validation and tools to those of us who have always felt wrong in our guts about the way gender permeates our means of communication and the criticisms often lobbed at women for how we talk. Wordslut is brilliant fun and empowers all women to give ourselves a voice.&#8221 — Gaby Dunn, author of Bad with Money
"As funny as it is informative, this book will have you laughing out loud while you contemplate the revolutionary power of words. Who knew sociolinguistics could be so damn entertaining? Leave it to a master of language like Amanda Montell to pull off this semantic magic trick." — Camille Perri, author of The Assistants and When Katie Met Cassidy 
Grounded in decades of innovative feminist scholarship, full of witty personal stories, and written with the pragmatic aim of disrupting and changing the status quo, this is a humorous and important book for anyone interested in gender equality, wordplay, or fostering precise communication. Just the kind of sharp, relevant scholarship needed to continue to inspire the next generation of feminist thought. — Kirkus Reviews
"I get so jazzed about the future of feminism knowing that Amanda Montell's brilliance is rising up and about to explode worldwide." — Jill Soloway
&#8220As a bitch who says bitch and loves to talk about bitches, this smart and freakishly entertaining book awakens parts of my brain I didn't know existed while tickling all my foul-mouthed, feminist, word-obsessed fancies. If you're a human who speaks English and aren't reading this, then what on earth are you doing.&#8221
— Samantha Irby
&#8220This feisty, fascinating critique of the English language will make you feel smarter after every paragraph. Amanda Montell's analyses are sharp and provocative but also funny and accessible. She's the cool feminist nerd we need.&#8221 — Whitney Cummings, creator of 2 Broke Girls
&#8220At its heart, this work reflects a tenet of sociolinguistic study: language is not divorced from culture; it both reflects and creates beliefs about identity and power. Modern stylings situated within foundational research will hopefully bring a new audience to the field of language and gender studies.&#8221
— Library Journal
&#8220Wordslut is filled with fascinating info about the sexist history of our
language: I literally said 'whoa' multiple times while reading this book.
It is so witty and brilliant. Men and women both need to read it.&#8221 — Blyth Roberson