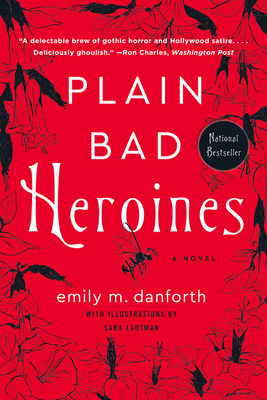 Plain Bad Heroines: A Novel
Publication Date:
October 5th, 2021
Publisher:
William Morrow Paperbacks
Usually Ships in 1 to 5 Days
I have never read a book that was this much fun. This was a roller coaster of a read, hitting all the notes from beginning to end. Gothic elements intermingled with the current time period will keep the reader so engrossed that they won't realize they've stayed up all night reading this book, one that's the kind of book you don't want to read in the dark but you just can't put down. The ride through history that meets the present will keep you entertained, on your toes, and peeking between your fingers as you cover your eyes.
November 2020 Indie Next List
Description
NATIONAL BESTSELLER
The award-winning author of The Miseducation of Cameron Post makes her adult debut with this highly imaginative and original horror-comedy centered around a cursed New England boarding school for girls—a wickedly whimsical celebration of the art of storytelling, sapphic love, and the rebellious female spirit.
"A delectable brew of gothic horror and Hollywood satire . . . deliciously ghoulish." —Ron Charles, Washington Post
Our story begins in 1902, at the Brookhants School for Girls. Flo and Clara, two impressionable students, are obsessed with each other and with a daring young writer named Mary MacLane, the author of a scandalous bestselling memoir. To show their devotion to Mary, the girls establish their own private club and call it the Plain Bad Heroine Society. They meet in secret in a nearby apple orchard, the setting of their wildest happiness and, ultimately, of their macabre deaths. This is where their bodies are later discovered with a copy of Mary's book splayed beside them, the victims of a swarm of stinging, angry yellow jackets. Less than five years later, the Brookhants School for Girls closes its doors forever—but not before three more people mysteriously die on the property, each in a most troubling way.
Over a century later, the now abandoned and crumbling Brookhants is back in the news when wunderkind writer Merritt Emmons publishes a breakout book celebrating the queer, feminist history surrounding the "haunted and cursed" Gilded Age institution. Her bestselling book inspires a controversial horror film adaptation starring celebrity actor and lesbian it girl Harper Harper playing the ill-fated heroine Flo, opposite B-list actress and former child star Audrey Wells as Clara. But as Brookhants opens its gates once again, and our three modern heroines arrive on set to begin filming, past and present become grimly entangled—or perhaps just grimly exploited—and soon it's impossible to tell where the curse leaves off and Hollywood begins.
A story within a story within a story and featuring black-and-white period-inspired illustrations, Plain Bad Heroines is a devilishly haunting, modern masterwork of metafiction that manages to combine the ghostly sensibility of Sarah Waters with the dark imagination of Marisha Pessl and the sharp humor and incisive social commentary of Curtis Sittenfeld into one laugh-out-loud funny, spellbinding, and wonderfully luxuriant read.
Praise for Plain Bad Heroines: A Novel
"An exquisitely plotted, winkingly crafted romp . . . a supersized Slurpee that will satiate you and leave behind a sugar high. . . . [Danforth's] gifted at braiding characterization, suspenseful plotting and frequent injections of flat-out terror . . . exhilarating." — Hillary Kelly, Los Angeles Times 
"A multi-faceted novel, equal parts gothic, sharply funny, sapphic romance, historical, and, of course, spooky." — Entertainment Weekly
"Full of Victorian sapphic romance, metafictional horror, biting misandrist humor, Hollywood intrigue, and multiple timeliness—all replete with evocative illustrations that are icing on a deviously delicious cake." — O, The Oprah Magazine,
"A delicious Gothic tale . . . a tasty brew of creepy shuttered prep school, creepy reopened prep school, queer feminist legacy and modern adaptation of said legacy . . . will make you crave more of Danforth's smart, funny prose." — Bethanne Patrick, Washington Post
"A layered, farcical take on the sins of woman . . . [danforth] uses vivid language to capture each time and place, in a narrative that is rare even among lesbian fiction . . . clever quips and striking imagery." —  New York Times Book Review
"Brimming from start to finish with sly humor and gothic mischief, Plain Bad Heroines is a brilliant piece of exuberant storytelling by a terrifically talented author." — Sarah Waters, New York Times bestselling author of The Little Stranger and Fingersmith
"Emily Danforth's ingenious, jaw-dropping novel is a time-hopping epic about the history of a cursed New England girls' school, doomed lovers, and an equally cursed modern-day retelling via film, plus yellow jackets. Hell, those yellow jackets! The expertly rendered characters are as heartbreaking as they are written with an integrity of vision that saturates every page. Plain Bad Heroines is a queer roar and it's terrifying and it's a goddamned triumph." — Paul Tremblay, author of A Head Full of Ghosts and The Cabin at the End of the World
"Plain Bad Heroines wears its brilliance lightly and like the Black Oxford apples described in these pages, it's dark, sweet, and addictive. Emily Danforth displays all the gothic wit of Edward Gorey and all the soaring metafictional ambitions of David Mitchell, alongside a generosity and humanity that is uniquely her own. Simply one of the best books I've read in the last decade." — Joe Hill, New York Times bestselling author of The Fireman
"Stuffed with footnotes, and stories inside stories inside stories, Emily M. Danforth's follow-up to The Miseducation of Cameron Post is a queer gothic coming-of-age story set at a cursed New England boarding school for girls. There are just a few sequences of words that fire up my pleasure centers the way that description does." — Vulture, 19 Books We're Excited to Read This Fall
"A short list of things you'll find in this novel: curses, lesbians, gilded-age society scandals, yellow jackets, a heaping dose of snark, and the nagging sense that the line between what's real and what isn't has been blurred. . . . It's the perfect autumn read for you and your best friend that you're secretly in love with, trust me." — Buzzfeed, 38 Great Books to Read This Fall, Recommended by Our Favorite Indie Booksellers 
"[A] freewheeling, ambitious novel . . . The heroines of this story are neither plain nor bad, but human: rebellious, insecure, funny, deep with longing and scars still healing. And, yes, we do feel sympathy for them. Recommended for fans of queer kissing, Victorian romance, ghost stories and Hollywood high jinks." — The San Francisco Chronicle
"A masterfully woven and totally captivating story . . .  Full of fascinating queer characters and twisty storylines, this book is a must-read not only for the many who loved Cameron Post, but for anyone looking for an immersive, haunting, wild story." — Sarah Neilson, Seattle Times
"Plain Bad Heroines is spellbinding. . . . [a] tangled tale of history, desire and intrigue." — Barbara Theroux, The Missoulian (Montana)
"Plain Bad Heroines is a horror novel, a proper one: a big fat doorstep of super-queer terror that never runs out of ways to keep you deliciously disturbed. . . . Danforth braids the layers of narrative together with expertise. She's clearly a horror buff . . . Another writer might have let the metatext choke the dread, but Danforth uses it to thrillingly corrode the reader's own sense of reality . . . Her novel is beguilingly clever, very sexy and seriously frightening." — Guardian (UK)