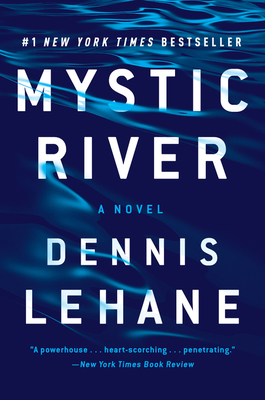 Mystic River: A Novel
Publication Date:
January 5th, 2021
Publisher:
William Morrow Paperbacks
Usually Ships in 1 to 5 Days
Description
This New York Times bestseller from Dennis Lehane is a gripping, unnerving psychological thriller about the effects of a savage killing on three former friends in a tightly knit, blue-collar Boston neighborhood.
When they were children, Sean Devine, Jimmy Marcus, and Dave Boyle were friends. But then a strange car pulled up to their street. One boy got into the car, two did not, and something terrible happened—something that ended their friendship and changed all three boys forever.
Twenty-five years later, Sean is a homicide detective. Jimmy is an ex-con who owns a corner store. And Dave is trying to hold his marriage together and keep his demons at bay —demons that urge him to do terrible things. When Jimmy's daughter is found murdered, Sean is assigned to the case. His investigation brings him into conflict with Jimmy, who finds his old criminal impulses tempt him to solve the crime with brutal justice. And then there is Dave, who came home the night Jimmy's daughter died covered in someone else's blood.
A tense and unnerving psychological thriller, Mystic River is also an epic novel of love and loyalty, faith and family, in which people irrevocably marked by the past find themselves on a collision course with the darkest truths of their own hidden selves.
Praise for Mystic River: A Novel
"A powerhouse...heart-scorching...penetrating...(Lehane's) deeply scored characterizations of the three former friends carries the soul of this story...if you really want to know when innocence dies, just look these people in the eye." — The New York Times Book Review
"A gut-clenching winner. . . . His ability to create crystal clear portraits of humanity and then place them in the darker side of life is a writer's true gift." — USA Today
"Stylish...Mystic River is Lehane's best book...it shimmers with great dialogue and a complex view of the world." — Newsweek
"Menace charges the atmosphere of this crackling thriller." — People
"A beast of a book that at once brings so many of society's woes into focus while maintaining a deep and intimate portrait of its multiple characters. I think the whole cast felt this way and all got extremely invested in Clint's telling of it." — Sean Penn on Mystic River, the book and the film
"I believe this to be the best crime novel in the English language. The talent and craft at work in this fine novel are head-reeling. Many of the paragraphs are sonnets, and the characters, both good and evil, are among the best and most intriguing in American literature."  — James Lee Burke (in The Week magazine)
"Dennis Lehane might be the best mystery writer we have in this country today." — Boston Magazine
"Heartbreaking....Like Bruce Springsteen's song 'The River,' Lehane's Mystic River looks back at what might have been, the ways in which the past impinges on the present. And like the song, you can't get it out of your head. "Springsteen's narrator says, "Now those memories come back to haunt me They haunt me like a curse Is a dream a lie if it don't come true Or is it something worse?" Ask Jimmy Marcus, Dave Boyle, Sean Devine. Ask Dennis Lehane." — Orlando Sentinel
"(Lehane is) a mystery master...a tense, insightful whodunit...haunting." — New York Post
"A heartbreaker." — Boston Herald
"A spellbinding tale...a powerfully lacerating story, by an author who knows every block of the neighborhood and every hair on his character's heads." — Kirkus Reviews
"An emotionally wrenching crime drama about the effects of a savage killing on a tightly knit, blue-collar Boston neighborhood...Lehane's story slams the reader with uncomfortable images, a beautifully rendered setting and an unnerving finale." — Publishers Weekly (starred review)