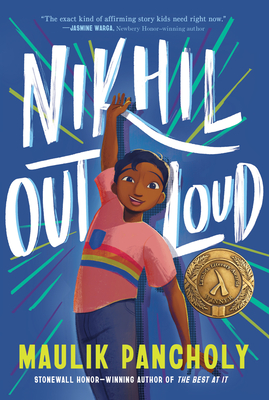 Nikhil Out Loud
Publication Date:
October 10th, 2023
Usually Ships in 1 to 5 Days
Description
Lambda Literary Award Winner for LGBTQ+ Middle Grade
From the acclaimed actor and Stonewall Honor–winning author of The Best at It, Maulik Pancholy, comes a new middle grade novel about a gay Indian American boy who learns the power of using his voice. For fans of Merci Suárez Changes Gears and Better Nate Than Ever.
Thirteen-year-old Nikhil Shah is the beloved voice actor for Raj Reddy on the hit animated series Raj Reddy in Outer Space. But when his mom temporarily moves them to the small town in Ohio where she grew up to take care of Nikhil's sick grandfather, Nikhil feels as out of orbit as his character.
Nikhil's fame lands him the lead in the school musical, but he's terrified that everyone will realize he's a fraud once they find out he has stage fright. And when a group of angry parents start to protest having an openly gay actor in the starring role, Nikhil feels like his life would be easier if only he could be Raj Reddy full-time.
Then Nikhil wakes up one morning and hears a crack in his voice, which means his job playing Raj will have to come to an end. Life on earth is way more complicated than life on television. And some mysteries—like new friendships or a sick grandparent or finding the courage to speak out—don't wrap up neatly between commercial breaks.
Praise for Nikhil Out Loud
"Pancholy's sophomore effort is a layered coming-of-age tale, melding puberty's woes with familial expectations and grief…. The sweet, peck-on-the-cheek–level romance is delightfully middle school—as is the squeeworthy joy alongside more difficult moments. A timely affirmation that hate has no place in school." — Kirkus Reviews (starred review)
"Told in Nikhil's earnest, compassionate narration, this look at authenticity and representation richly layers themes of family and community, and the support needed to grow into oneself." — Publishers Weekly
"With swift prose and chapters that include bits of television scripts full of space adventure, this is a great choice for thespians, emerging teens, and anyone who needs a little extra push to use their voice, and it will be an especially powerful read in conjunction with accounts of what queer students deal with in the face of homophobia. Fans of Raina Telgemeier's Drama or Nate Federle's Better Nate than Ever will appreciate this." — ALA Booklist
"Absolutely charming! Nikhil Out Loud is a deeply heartfelt and moving story about identity, courage, and belonging. This is the exact kind of affirming story that kids need right now." — Jasmine Warga, Newbery Honor-winning author of Other Words for Home
"A charming, inspiring, edge-of-your-seat tale that will pull at your heartstrings as it celebrates the importance of acceptance, love, family, and true friendship in all its glorious diversity. The world needs this story right now!" — Veera Hiranandani, Newbery Honor-winning author of The Night Diary
"Nikhil Shah is an extraordinary kid in ordinary circumstances, and his story is hugely sweet and incredibly moving. Nikhil's dilemmas are so real they made my voice crack in sympathy, but Maulik also gives us a vision of the world--and middle school--as it could be. Get ready." — Kyle Lukoff, Newbery Honor-winning author
"I adored Nikhil and his kind and generous heart, humility, and honesty. And I know kids will be cheering for for this lovable and relatable protagonist and welcome his voice as he explores family bonds and the meaning of acceptance, and finds courage while facing big changes." — Hena Khan, award-winning author of Amina's Voice
PRAISE FOR THE BEST AT IT: ★ "The protagonist's devastatingly honest voice pulls readers deeply into a fast-paced journey...  heartbreakingly authentic." — Kirkus Reviews (starred review)
★ "This funny, uplifting story about identity… sends a powerful, positive message to young readers about choosing self-acceptance." — Publishers Weekly (starred review)
★ "An impressive first novel…wholly engaging." — ALA Booklist (starred review)
"Rahul is a compelling protagonist... Hand this to middle grade readers who are navigating changing social dynamics as they come of age." — School Library Journal
"An emotional, earnest, and genuine journey to self-love that had me crying, laughing, and cheering Rahul on from beginning to end. Hilarious and heartbreaking and truly touching—I wanted nothing more than to reach through the pages and give Rahul a big hug for being brave, determined, and the best that he can be." — Kacen Callender, Stonewall Award-winning author of Hurricane Child
"A funny, fun, big-hearted book filled with characters to adore. Rahul's journey toward learning to stand up for himself and finding his place in the world is achingly emotionally authentic and deeply resonant. This novel is a joy from beginning to end." — Anne Ursu, award-winning author of Breadcrumbs and The Lost Girl
"Maulik Pancholy's story of an Indian American boy trying to come to terms with all facets of his identity while proving his own worth is at once exuberant and heart-wrenching, brightened with assured, lived-in details and a hero we love from the very first page. Every middle schooler will find themselves in this book. A wonderful, heartfelt debut." — Soman Chainani, New York Times bestselling author of the School for Good and Evil series