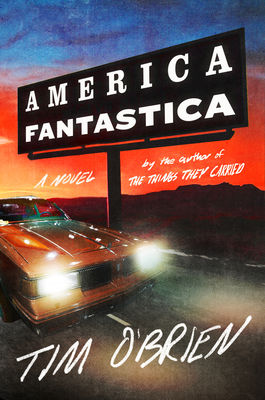 America Fantastica: A Novel
Publication Date:
October 24th, 2023
Usually Ships in 1 to 5 Days
Abrilliant romp across the continent. Boyd Halverson feels the urge to shake things up. So, he gets up from his Kiwanis Club brunch, strolls across the street to a bank with a .38 revolver, robs it, and takes Angie Banks, the teller, hostage. Away we go!
November 2023 Indie Next List
Description
"Tim O'Brien is the one American author whose works I look forward to the most. His new novel's ironic depiction of a post-Iraq war, mid-COVID, and mid-Trump world is piercing and razor-sharp." —HARUKI MURAKAMI
An American Master returns: the author of The Things They Carried delivers his first new novel in two decades, a brilliant and rollicking odyssey, in which a bank robbery sparks "a satirical romp through a country plagued by deceit" (Kirkus, starred review)
One of Esquire's 20 Best Books of the Year * Named one of Fall 2023's most anticipated books: New York Times, Associated Press, Kirkus, Goodreads, St. Louis Post-Dispatch, and more
At 11:34 a.m. one Saturday in August 2019, Boyd Halverson strode into Community National Bank in Northern California.
"How much is on hand, would you say?" he asked the teller. "I'll want it all."
"You're robbing me?"
He revealed a Temptation .38 Special.
The teller, a diminutive redhead named Angie Bing, collected eighty-one thousand dollars.
Boyd stuffed the cash into a paper grocery bag.
"I'm sorry about this," he said, "but I'll have to ask you to take a ride with me."
So begins the adventure of Boyd Halverson—star journalist turned notorious online disinformation troll turned JCPenney manager—and his irrepressible hostage, Angie Bing. Haunted by his past and weary of his present, Boyd has one goal before the authorities catch up with him: settle a score with the man who destroyed his life. By Monday the pair reach Mexico; by winter, they are in a lakefront mansion in Minnesota. On their trail are hitmen, jealous lovers, ex-cons, an heiress, a billionaire shipping tycoon, a three-tour veteran of Iraq, and the ghosts of Boyd's past. Everyone, it seems, except the police.
In the tradition of Jonathan Swift and Mark Twain, America Fantastica delivers a biting, witty, and entertaining story about the causes and costs of outlandish fantasy, while also marking the triumphant return of an essential voice in American letters. And at the heart of the novel, amid a teeming cast of characters, readers will delight in the tug-of-war between two memorable and iconic human beings—the exuberant savior-of-souls Angie Bing and the penitent but compulsive liar Boyd Halverson. Just as Tim O'Brien's modern classic, The Things They Carried, so brilliantly reflected the unromantic truth of war, America Fantastica puts a mirror to a nation and a time that has become dangerously unmoored from truth and greedy for delusion.
Praise for America Fantastica: A Novel
"Tim O'Brien is one American author whose works I look forward to the most. His new novel's ironic depiction of a post-Iraq War, mid-COVID, and mid-Trump world is piercing and razor-sharp." — Haruki Murakami
"O'Brien's first novel in two decades was well worth the wait. . . . In the age of 'mythomania,' O'Brien takes aim at the lies that power this country, and how and why they sustain us. America Fantastica peers straight into the dark heart of the American psyche, and it's unafraid of the comedy and tragedy staring back." — Esquire, Best Books of the Fall
"[A] compulsively readable, cackle-worthy social satire about our truth-challenged times. ... Without letting anyone off the hook, America Fantastica holds a cracked mirror up to a poisoned zeitgeist and dares you not to laugh. Resistance is futile."
— Boston Globe
"Tim O'Brien's first novel in 21 years is an antic, caustic and funny condemnation of the way we live now in the United States." — Wall Street Journal
"This is the first novel in 20 years from O'Brien, a National Book Award winner, who is best known for The Things They Carried. The story is a madcap heist/road-trip starring a bank robber (who used to be a journalist) and his spitfire hostage, Angie. In hot pursuit are a bumbling private eye, a drug-fueled billionaire and a wannabe Charles Manson." — New York Times, "34 Works of Fiction to Read This Fall"
"[A] timely odyssey. ... O'Brien paints a new, unflinching portrait of Americana that reads like a road map to our modern age." — Entertainment Weekly, "Must List"
"A satirical romp through a country plagued by deceit. ... There are echoes of his famous Vietnam War novel, Going After Cacciato, a book built on a darkly absurd pursuit amid individual and national uncertainty. ... It's one of those books where you can sense the author enjoying himself and it's fun to be along for the ride. A broadly engaging and entertaining work." — Kirkus Reviews (starred review)
"Tim O'Brien is one of our greatest storytellers, and his latest—America Fantastica—is a beauty. Steeped in acute wisdom and hilarious wisecracks, this satirical romp through the 'mythomania' and 'lying contagion' that plagues our society is also a study in one man's broken heart and the truths that have shaped it." — Jill McCorkle
"Hunter S. Thompson meets Sacha Baron Cohen in this amusing and alarming road trip to the center of America's mendacious heart. ... O'Brien keeps everything afloat on a cloud of pure gonzo bliss. If this is indeed the author's valedictory novel, he's bowing out with a star-spangled bang." — Publishers Weekly (starred review)
"O'Brien's farcical satire blends fierce social commentary and a searing indictment of our post-fact culture into a nonstop joyride." — Booklist
"A desperate bank robbery morphs into a cross-country chase featuring hit men, a billionaire tycoon, jealous lovers, and several ex-cons. O'Brien hands America a mirror once more." — Goodreads, Most Anticipated Books of the Fall
"His searing accounts of the Vietnam War brought him fame and the National Book Award. Now, after a 20-year hiatus from writing fiction, a long-awaited new novel takes aim at contemporary America." — GQ
"A simultaneously raucous and surprisingly empathetic novel. ... If Elmore Leonard had collaborated with the Coen brothers to produce a screenplay, the result might loosely resemble America Fantastica." — Bookreporter.com