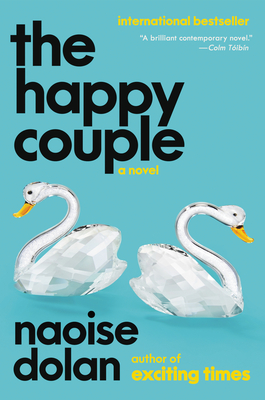 The Happy Couple: A Novel
Publication Date:
November 7th, 2023
Usually Ships in 1 to 5 Days
A funny, perceptive study of a couple hurdling toward marriage for reasons unclear to everyone involved. Told by the couple as well as family and friends,The Happy Coupleobserves a (doomed) modern relationship from all sides.
November 2023 Indie Next List
Description
INTERNATIONAL BESTSELLER
A Most Anticipated Book of 2023 from: The Millions * LitHub * Electric Literature
An intimate, sharply funny novel about a couple heading toward their wedding, and the three friends who may draw them apart
Meet Celine and Luke. For all intents and purposes, the happy couple.
Luke (a serial cheater) and Celine (more inter­ested in piano than domestic life) plan to marry in a year.
Archie (the best man) should be moving on from his love for Luke and up the corporate ladder, but he finds himself utterly stuck.
Phoebe (the bridesmaid and Celine's sister) just wants to get to the bottom of Luke's frequent unexplained disappearances.
And Vivian (a wedding guest) is the only one with any emotional distance and observes her friends like ants in a colony.
As the wedding approaches and their five lives intersect, these characters will each look for a path to the happily ever after—but does it lie at the end of an aisle?
In her wry, sprightly, and unmistakable voice, Naoise Dolan makes the marriage plot entirely her own in a sparkling ensemble novel that is both ferociously clever and supremely enjoyable.
Praise for The Happy Couple: A Novel
"Using daring, exciting sentences and close, sharp observation, The Happy Couple is a brilliant contemporary novel." — Colm Tóibín 
"A fun, addictive read laced with astute observations about modern romance." — Vogue (UK)
"A warm and sympathetic novel...funny and direct." — Guardian
"A sophisticated character study of a young couple coming to terms with their relationship, in this biting, whip-smart look at modern love and the tangled messes we leave behind us. I am fully in awe of Dolan's talent. And so glad my twenties are over." — Douglas Stuart, author of Young Mungo and Shuggie Bain
"Sensational." — Daily Mail (UK)
"I pure LOVED The Happy Couple. So witty, observant, wise and funny. Nihilistic about heteronormative relationships but so charmingly done I barely noticed. I cannot tell you how much I enjoyed it." — Marian Keyes
"The Happy Couple is a dazzling follow-up to Exciting Times. Dolan spins her magic again with humor and insight and the sharpest of prose. Not a word out of place." — Katherine Heiny, author of Standard Deviation and Early Morning Riser
"We predict a hit." — The Times
"Dolan's precisely observed writing about human interactions is matched by her acute takes on everything from Irish emigration to Goldman Sachs...This novel is a joy to read." — Literary Review
"Dolan, whose debut novel Exciting Times was a storming success, is sure to bring her sparkling wit and insightful understanding of human relationships to this second outing." — Irish Independent
"This book confirms her as an artful comic novelist with a distinctive signature style." — The Telegraph
"A thrilling acerbic take on relationships." — Irish Times, The Gloss
"I loved The Happy Couple. So well observed, absolutely fizzes with wit and intelligence, gallops along, amazing dialogue - read it!" — Kate Davies, author of In at the Deep End
"The Happy Couple hooked me the way that heternormativity hooks its ambivalent protagonists. Dolan's prose absolutely crackles with wit, humor, and empathy, and her plotting carefully reveals a complex web of desire that turns the 'will they/won't they question' into something fresh and unfamiliar." — Clare Fisher, author of All the Good Things
"I loved The Happy Couple, which reminded me of Muriel Spark in its precision of language and emotion." — Emma Forrest, author of Busy Being Free
"Reading Dolan is like watching your favorite dramedy: the gossip is juicy, the stakes are ordinary yet elevated, and you're in a little bit in love with everyone."  — LitHub
"Quietly introspective and dryly funny. . . . Dolan writes beautifully about yearning." — Kirkus Reviews 
"In Dolan's clever second novel, the will-they-or-won't-they, modern marriage plot and hard deadline make for a very enjoyable rush of a read." — Booklist 
"Naoise Dolan's droll exploration of the lead-up to a London wedding peers into the entwining life of a young couple, from her beautiful ex to his initial reluctance to wed." — Vanity Fair
"In Naoise Dolan's addictive, rubbernecking disaster story about love, engaged 20-something Dubliners wrestle with intimacy and commitment as their wedding day approaches. . . . Its wry voice and cleverly executed Rashomon-like structure . . . make it a standout. Bit by bit, in lean, ironic prose that packs powerful insight, Dolan reveals the humanity and vulnerability of all parties involved . . . . Dolan's challenging and well-crafted rewriting of the marriage plot has much to reveal about love and perspective." — BookPage
"Dolan tackles modern love as she did in her wonderful 2020 story collection, Exciting Times, gathering five characters as a wedding day approaches. From the hilarious opening scene between Luke, a communications strategist, and Celine, a professional pianist, that leads to an engagement, through the year to the actual wedding, Dolan gets the conundrum of commitment just right. . . . There are no guarantees in love, but following this group of friends is as entertaining as watching a '90s Hugh Grant movie." — Center for Fiction, Bookstore Recommendations