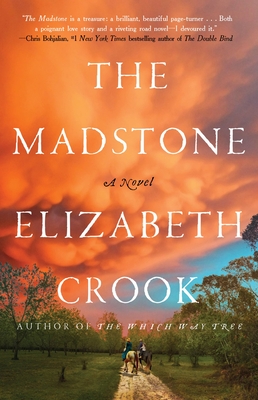 The Madstone: A Novel
Publication Date:
November 7th, 2023
Publisher:
Little, Brown and Company
Usually Ships in 1 to 5 Days
A literary Western about a young mother, her son, and the man charged with getting them across Texas while fleeing vengeful outlaws. Beautifully written with great characters, this is sure to please fans of Paulette Jiles or Larry McMurtry.
November 2023 Indie Next List
Description
"A wonderfully transporting tale of love in the Old West" (People Magazine) and "a brilliant, beautiful page-turner" (Chris Bohjalian, #1 New York Times bestselling author of The Double Blind) about a pregnant young mother, her child, and the frontier tradesman who helps them flee vengeful outlaws, in a work that echoes Lonesome Dove and News of the World.
Texas hill country, 1868. As nineteen-year-old Benjamin Shreve tends to business in his workshop, he witnesses a stagecoach strand a passenger. When the man, a treasure hunter, persuades Benjamin to help track down the vanished coach—and a mysterious fortune left aboard—Benjamin is drawn into a drama whose scope he could never have imagined, for they discover on reaching the coach that its passengers include Nell, a pregnant young woman, and her four-year-old son, Tot, who are fleeing Nell's brutal husband and his murderous brothers.
Having told the Freedmen's Bureau the whereabouts of her husband's gang—a sadistic group wanted for countless acts of harassment and violence against Black citizens—Nell is in grave danger. If her husband catches her, he will kill her and take their son. Learning of their plight, Benjamin offers to deliver Nell and Tot to a distant port on the Gulf of Mexico, where they can board a ship to safety. He is joined in this chivalrous act by two other companions: the treasure hunter whose stranding began this endeavor and a restless Black Seminole who is a veteran of wars on both sides of the Rio Grande and who has an escape plan of his own.
Fraught with jeopardy from the outset, the trek across Texas becomes still more dangerous as buried secrets, including a cursed necklace, emerge. And even as Benjamin falls in love with Nell and imagines a life as Tot's father, vengeful pursuers are never far behind. With its vivid characters and expansive canvas, The Madstone calls to mind Lonesome Dove, yet Elizabeth Crook's new novel is a singular achievement. Told in Benjamin's resolute and unforgettable voice, it is full of eccentric action, unrelenting peril, and droll humor—a thrilling and beautifully rendered story of three people sharing a hazardous and defining journey that will forever bind them together.
Praise for The Madstone: A Novel
"Crook has written the perfect adventure to curl up with on some desolate winter night . . . There is something satisfying about being in the presence of such a conscientious protagonist . . . Crook is a master at rustling up competing forces to create cinematic calamities . . . This story gallops madly along from one imperiled moment to another . . . Terrifically entertaining."—Washington Post
"A wonderfully transporting tale of the Old West."—People Magazine
"As thrilling as its predecessor . . . a compelling read on its own terms."—Texas Monthly
"An epic journey across the Lone Star State."—Dallas Morning News
"A beautifully crafted story . . . Benjamin's smart, heartfelt and witty narration makes the story as well as the manner in which Crook brings 1860s Texas vividly to life. Her writing and sense of place are stunning . . . Have tissues handy when you read it."—Buzz Magazine
"Crook has a gift for engaging details . . . The guiding spirit here is Dickens . . . An entertaining, well-paced yarn."—Kirkus Reviews (starred)
"This epistolary novel will appeal to western and historical fiction readers alike (particularly Lone Star aficionados)."—Booklist
"Elizabeth Crook is already a household name in Texas, but The Madstone should establish her as a national figure, evoking the works of Charles Portis and Larry McMurtry as we go on a harrowing (and sometimes humorous) ride through 1868 Texas."—CrimeReads
"A fresh take on the Western novel which should be much admired."—Historical Novel Society
"This is a wonder of a novel. The Madstone took me by the hand and didn't let go until the last page. The flow of the singular and captivating narrative voice, the heart-rending love story, and the page-turning suspense are all one of a kind. I will not forget this road trip quest and its endearing characters."—Patti Callahan Henry, New York Times bestselling author of The Secret Book of Flora Lea
"The Madstone is a wonderful book. The tale that Elizabeth Crook conjures out of the most basic materials—a man goes on a trip, things happen, and the trip becomes a quest—should take its place alongside the very best novels of the American West, a top rank that includes Lonesome Dove, Little Big Man, News of the World, and Blood Meridian. Yes, it's that good; I didn't want it to end. Benjamin Shreve and his compatriots affected me as few characters have in recent years, and I think of them still."—Ben Fountain, National Book Critics Circle Award winner, National Book Award finalist, and New York Times bestselling author of Billy Lynn's Long Halftime Walk
"The Madstone is a treasure: a brilliant, beautiful page-turner of a book. Elizabeth Crook has reimagined the Western, giving us a poignant love story and a riveting road novel. I devoured it—and you will, too."
 —Chris Bohjalian, #1 New York Times bestselling author of The Double Bind and The Flight Attendant
"Elizabeth Crook is a magician of a novelist, bringing the past to life with a tale of epic proportions that must be read to be believed. The voice of Benjamin Shreve stands alone in recent fiction, and all of Crook's characters linger long after you've finished reading. The Madstone is a marvel."—Nathan Harris, New York Times bestselling author of The Sweetness of Water
"It would be unfair to call Elizabeth Crook the true heir to Paulette Jiles, Charles Portis, and Larry McMurtry, because Crook's style is emphatically her own, but I want to anyway because she's just so damn good. The Madstone, one long riveting epistle that reads like music, has a fully formed voice in its young narrator, pitch-perfect dialogue, and wit as dry as a mesquite tree. I would read, and will continue to read, anything Crook writes."—Nathaniel Ian Miller, author of #1 Indie Next selection The Memoirs of Stockholm Sven
Praise for The Which Way Tree:
"A multilayered tale . . . Benjamin Shreve, the teenage narrator of The Which Way Tree, unspools his tale of Civil War-era Texas in a voice that is utterly convincing, consistent, and believable. Crook never slips out of that voice for a moment. This is no small feat given that the tale involves Benjamin's demented half sister, the infamous massacre of Union-sympathizing German immigrants by local Confederates, and a giant panther. Any first-person voice involving a young Southern boy invites comparisons to Huck Finn. But dialects have complexities and Crook appears to be a master of them. Benjamin's voice swings between the rhythms of the Southern hills and the lofty, elevated tone encountered in Twain and contemporary Westerns . . . His speech can switch from hyperbole to understatement in the same sentence--and it is a wonderfully deadpan understatement . . . The language is arresting . . . The Which Way Tree is a commendable and very readable addition to the tale-spinning tradition and its beautiful use of language."—Paulette Jiles, New York Times Book Review