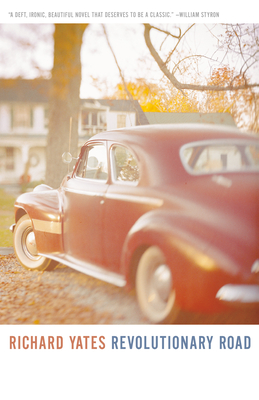 Revolutionary Road (Vintage Contemporaries)
Publication Date:
April 25th, 2000
Usually Ships in 1 to 5 Days
Set in the Connecticut suburbs of 1955, Revolutionary Road portrays the essential, continuing, now exacerbated American dilemma: How a young person might well live in America without conforming to the tedium of upward mobility and suburban family life. Nothing I have ever been told could have prepared me for this book's brilliance.
Spring/Summer '09 Reading Group List
Description
NATIONAL BOOK AWARD FINALIST • Frank and April Wheeler are a bright, beautiful, talented couple in the 1950s whose perfect suburban life is about to crumble in this "moving and absorbing story" (The Atlantic Monthly) from one of the most acclaimed writers of the twentieth century.
"The Great Gatsby of my time...one of the best books by a member of my generation." —Kurt Vonnegut, acclaimed author of Slaughterhouse-Five
Perhaps Frank and April Wheeler married too young and started a family too early. Maybe Frank's job is dull. And April never saw herself as a housewife. Yet they have always lived on the assumption that greatness is only just around the corner. But now that certainty is about to unravel. With heartbreaking compassion and remorseless clarity, Richard Yates shows how Frank and April mortgage their spiritual birthright, betraying not only each other, but their best selves.
In his introduction to this edition, novelist Richard Ford pays homage to the lasting influence and enduring power of Revolutionary Road.
Praise for Revolutionary Road (Vintage Contemporaries)
"A powerful treatment of a characteristically American theme, which might be labeled 'trapped.' ... A highly impressive performance. It is written with perception, force and awareness of complexity and ambiguity, and it tells a moving and absorbing story." —The Atlantic Monthly
"The Great Gatsby of my time ... one of the best books by a member of my generation." —Kurt Vonnegut, acclaimed author of Slaughterhouse-Five
"Beautifully crafted ... a remarkable and deeply troubling book." —Michiko Kakutani, The New York Times
"Every phrase reflects to the highest degree integrity and stylistic mastery. To read Revolutionary Road is to have forced upon us a fresh sense of our critical modern shortcomings: failures of work, education, community, family, marriage . . . and plain nerve." —The New Republic
"Richard Yates is a writer of commanding gifts. His prose is urbane yet sensitive, with passion and irony held deftly in balance. And he provides unexpected pleasures in a flood of freshly minted phrases and in the thrust of sudden insight, precise notation of feeling, and mordant unsentimental perceptions." —Saturday Review
"A deft, ironic, beautiful novel that deserves to be a classic." —William Stryron, National Book Award-winning author of Sophie's Choice