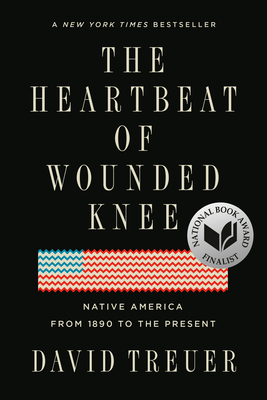 The Heartbeat of Wounded Knee: Native America from 1890 to the Present
Publication Date:
November 5th, 2019
Publisher:
Riverhead Books
Usually Ships in 1 to 5 Days
Description
FINALIST FOR THE 2019 NATIONAL BOOK AWARD
LONGLISTED FOR THE 2020 ANDREW CARNEGIE MEDAL FOR EXCELLENCE
A NEW YORK TIMES BESTSELLER
Named a best book of 2019 by The New York Times, TIME, The Washington Post, NPR, Hudson Booksellers, The New York Public Library, The Dallas Morning News, and Library Journal.
"Chapter after chapter, it's like one shattered myth after another." - NPR
"An informed, moving and kaleidoscopic portrait... Treuer's powerful book suggests the need for soul-searching about the meanings of American history and the stories we tell ourselves about this nation's past.." - New York Times Book Review, front page
A sweeping history—and counter-narrative—of Native American life from the Wounded Knee massacre to the present.
The received idea of Native American history—as promulgated by books like Dee Brown's mega-bestselling 1970 Bury My Heart at Wounded Knee—has been that American Indian history essentially ended with the 1890 massacre at Wounded Knee. Not only did one hundred fifty Sioux die at the hands of the U. S. Cavalry, the sense was, but Native civilization did as well.
Growing up Ojibwe on a reservation in Minnesota, training as an anthropologist, and researching Native life past and present for his nonfiction and novels, David Treuer has uncovered a different narrative. Because they did not disappear—and not despite but rather because of their intense struggles to preserve their language, their traditions, their families, and their very existence—the story of American Indians since the end of the nineteenth century to the present is one of unprecedented resourcefulness and reinvention.
In The Heartbeat of Wounded Knee, Treuer melds history with reportage and memoir. Tracing the tribes' distinctive cultures from first contact, he explores how the depredations of each era spawned new modes of survival. The devastating seizures of land gave rise to increasingly sophisticated legal and political maneuvering that put the lie to the myth that Indians don't know or care about property. The forced assimilation of their children at government-run boarding schools incubated a unifying Native identity. Conscription in the US military and the pull of urban life brought Indians into the mainstream and modern times, even as it steered the emerging shape of self-rule and spawned a new generation of resistance. The Heartbeat of Wounded Knee is the essential, intimate story of a resilient people in a transformative era.
Praise for The Heartbeat of Wounded Knee: Native America from 1890 to the Present
As featured on NPR's Weekend Edition and Amanpour & Company
"An informed, moving and kaleidoscopic portrait of 'Indian survival, resilience, adaptability, pride and place in modern life.' Rarely has a single volume in Native American history attempted such comprehensiveness . . . Ultimately, Treuer's powerful book suggests the need for soul-searching about the meanings of American history and the stories we tell ourselves about this nation's past." —New York Times Book Review
"In a marvel of research and storytelling, an Ojibwe writer traces the dawning of a new resistance movement born of deep pride and a reverence for tradition. Treuer's chronicle of rebellion and resilience is a manifesto and rallying cry." —O, The Oprah Magazine
 
"Chapter after chapter, it's like one shattered myth after another." —NPR

"Part of the magic of this book stems from Treuer's ability to move seamlessly back and forth from the Big Indian Story to the voices of living Indians explaining to us, and to themselves, what it means to be Indian, American, and both at the same time. . . .  open[ing] a window on the contemporary Indian world, in its dazzling variety, and infus[ing] the book with a kind of vividness and punch rarely found in narrative histories. . . . It's hard to imagine there will be a better, more compelling look at Indian country than this one anytime soon." —The Daily Beast
"A gripping medley of academic rigor, reporting and memoir, Treuer's fascinating and unconventional account of Native American history burns with a passionate sense of resiliency." —Washington Post
 
"Sweeping, essential history...Treuer's storytelling skills shine...[an] elegant handling of [a] complex narrative." —The Economist
"[Treuer] writes with hard-won authority ... powerful and deeply felt." —New York Review of Books
"Treuer … presents a more nuanced and hopeful vision of the past and future of Native Americans." —Vanity Fair
"Pushes the reader beyond [a] narrative of sadness, defeat, and cultures ruined. . . . Treuer weaves in written history, reportage, and personal stories to complete this record of who Indians are post-1890 and who they always have been." —Vox
"Highly readable...a welcome compendium of Indian voices and insights that will be fresh for many readers...[An] urgent story." —Newsday
"Vivid…Treuer evokes, with simmering rage, the annihilation of Indian lives and worlds, but he also unearths a secret history of Indians flourishing in art, government, literature, science and technology…Beautifully written." —The Minneapolis Star Tribune
"A gripping medley of academic rigor, reporting and memoir, Treuer's fascinating and unconventional account of Native American history burns with a passionate sense of resiliency." —The Dallas Morning News
"Among the most important works of American cultural nonfiction in at least the last decade, maybe more. . .  Heartbeat is a monumental achievement, arriving at a key moment in American Indian history. Our varied cultures are exploding with wonderful artists and writers, sharing indigenous stories from all over the continent that detail a multitude of experiences. We must show more of ourselves to the world. Treuer's book is one writer making huge strides in doing so."—The Missoulian

"A hybrid work of historical scholarship, memoir, and reportage, Treuer's tome might be called a Native-focused cousin to the late historian Howard Zinn's seminal book from 1980, A People's History of the United States."—Santa Fe New Mexican

"Treuer provides a sweeping account of how the trope of the vanishing Indian has distorted our current understanding of Native peoples.  Instead of seeing Wounded Knee as the final chapter, he recovers the importance of World War II, urban migration, casinos, and the computer age in reshaping the modern Native American experience.  The Heartbeat of Wounded Knee is written with conviction and illuminates the past in a deeply compelling way." —Nancy Isenberg, author of White Trash: The 400-Year Untold History of Class in America
"An ambitious, gripping, and elegantly written synthesis that is much more than the sum of its excellent parts—which include a rich array of Native lives, Treuer's own family and tribe among them--The Heartbeat of Wounded Knee brings a recognition of indigenous vitality and futurity to a century of modern Indian history." —Philip J. Deloria, Professor of History, Harvard University
"In clear and vivid prose, David Treuer positions unforgettable portraits of contemporary Indian people within a compelling narrative of the experiences of indigenous peoples in the big sweep of time. His book offers a powerful challenge to the persistent and pernicious idea of the 'vanishing Indian,' replacing it with a far more accurate story of Indian people's repossession and restoration of sovereignty and  dignity." —Patricia Limerick, author of The Legacy of Conquest and co-founder, Center of the American West

"Sweeping, consistently illuminating and personal...This engrossing volume should interest anyone who wants to better understand how Native Americans have struggled to preserve their tribes and cultures, using resourcefulness and reinvention in the face of overwhelming opposition." —BookPage (starred)
"[Treuer's] scholarly reportage of these 125 years of Native history...comes to vivid life for every reader." —Booklist (starred)
"Treuer chronicles the long histories of Native North America, showing the transformation and endurance of many nations. All American history collections will benefit from this important work by an important native scholar." —Library Journal (starred)