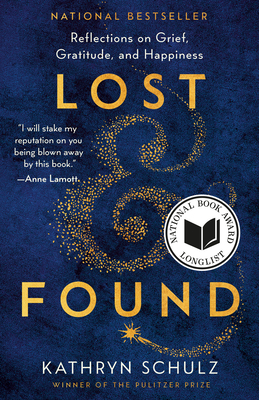 Lost & Found: Reflections on Grief, Gratitude, and Happiness
Publication Date:
November 22nd, 2022
Publisher:
Random House Trade Paperbacks
Usually Ships in 1 to 5 Days
Description
NATIONAL BESTSELLER • NEW YORK TIMES EDITORS' CHOICE • A "profound and beautiful" (Marilynne Robinson) account of joy and sorrow from one of the great writers of our time, The New Yorker's Kathryn Schulz, winner of the Pulitzer Prize
"I will stake my reputation on you being blown away by Lost & Found."—Anne Lamott, author of Dusk, Night, Dawn and Bird by Bird
WINNER OF THE LAMBDA LITERARY AWARD • LONGLISTED FOR THE NATIONAL BOOK AWARD • FINALIST FOR THE NATIONAL JEWISH BOOK AWARD • LONGLISTED FOR THE ANDREW CARNEGIE MEDAL
ONE OF THE TEN BEST BOOKS OF THE YEAR: People
ONE OF THE BEST BOOKS OF THE YEAR: Time, NPR, Oprah Daily, The Washington Post, The Boston Globe, Esquire, Vulture, She Reads, Book Riot, Publishers Weekly
One spring morning, Kathryn Schulz went to lunch with a stranger and fell in love. Having spent years looking for the right relationship, she was dazzled by how swiftly everything changed when she finally met her future wife. But as the two of them began building a life together, Schulz's beloved father—a charming, brilliant, absentminded Jewish refugee—went into the hospital with a minor heart condition and never came out. Newly in love yet also newly bereft, Schulz was left contending simultaneously with wild joy and terrible grief.
Those twin experiences form the heart of Lost & Found, a profound meditation on the families that make us and the families we make. But Schulz's book also explores how disappearance and discovery shape us all. On average, we each lose two hundred thousand objects over our lifetime, and Schulz brilliantly illuminates the relationship between those everyday losses and our most devastating ones. Likewise, she explores the importance of seeking, whether for ancient ruins or new ideas, friends, faith, meaning, or love. The resulting book is part memoir, part guidebook to sustaining wonder and gratitude even in the face of loss and grief. A staff writer at The New Yorker and winner of the Pulitzer Prize, Schulz writes with curiosity, tenderness, and humor about the connections between joy and sorrow—and between us all.
Praise for Lost & Found: Reflections on Grief, Gratitude, and Happiness
"In an ocean of churning cynicism and despair, this is a winning bet."—The New York Times

"Sublime, compassionate . . . brilliant."—Minneapolis Star-Tribune
"Lost & Found exemplifies the best of what memoir can do."—Oprah Daily
"An extraordinary gift of a book, a tender, searching meditation on love and loss and what it means to be human. I wept at it, laughed with it, was entirely fascinated by it. I emerged feeling as if the world around me had been made anew."—Helen Macdonald, author of H Is for Hawk and Vesper Flights
"An unfolding astonishment to read."—Alison Bechdel, author of The Secret to Human Strength and Fun Home

"Kathryn Schulz has created a masterpiece of metaphysical insight, at once richly lyrical and piercingly specific."—Andrew Solomon, author of The Noonday Demon and Far from the Tree

"Our lives do indeed deserve and reward the kind of honest, gentle, brilliant scrutiny Schulz brings to bear on her own life. The book is profound and beautiful."—Marilynne Robinson, author of Housekeeping and Gilead
"Lost & Found is the most daring of books: a memoir by a happy person. Deeply felt and exquisitely written, it's an absorbing exploration of love and loss—not to mention meteorites, Dante, and bears. The prodigiously talented Kathryn Schulz has written about her life in a way that will change yours."—Andy Borowitz, of "The Borowitz Report"

"Lost & Found is a deeply moving, richly illuminating exploration of loss and bliss. Schulz is never anything but the very best company, speaking nuanced truths from and about the deepest reaches of the heart."—Leslie Jamison, author of Make It Scream, Make It Burn

"Kathryn Schulz has a singular way of turning a familiar idea around and around until it becomes cosmic, geological, wondrous. In Lost & Found she turns a memoir of love and death into an exploration of the way chance becomes fate and grief intertwines with gratitude. To read her is to be quietly amazed at hidden depths and histories—as if you were to discover a map of a continent written in the palm of your hand."—Jia Tolentino, author of Trick Mirror

"By the end of these exquisite existential wanderings, Schulz comes to a quiet truce with her finding that 'life, too, goes by contraries . . . by turns crushing and restorative . . . comic and uplifting.' Schulz's canny observations are a treasure."—Publishers Weekly (starred review)
"Deeply felt. More than a reflection on the loss of a parent. It is about the idea of loss in general and the passage of time. Fresh and evocative . . . a poignant, loving, wise, and comforting meditation on grief from both a personal and collective perspective."—Booklist (starred review)