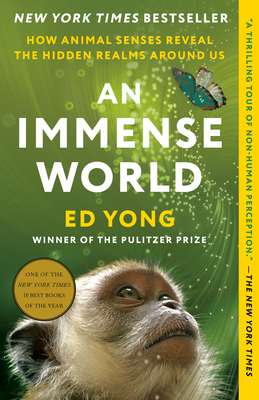 An Immense World: How Animal Senses Reveal the Hidden Realms Around Us
Publication Date:
August 29th, 2023
Publisher:
Random House Trade Paperbacks
Usually Ships in 1 to 5 Days
Description
NEW YORK TIMES BESTSELLER • A "thrilling" (The New York Times), "dazzling" (The Wall Street Journal) tour of the radically different ways that animals perceive the world that will fill you with wonder and forever alter your perspective, by Pulitzer Prize–winning science journalist Ed Yong
 
"One of this year's finest works of narrative nonfiction."—Oprah Daily
ONE OF THE TEN BEST BOOKS OF THE YEAR: The Wall Street Journal, The New York Times, Time, People, The Philadelphia Inquirer, Slate, Reader's Digest, Chicago Public Library, Outside, Publishers Weekly, BookPage

ONE OF THE BEST BOOKS OF THE YEAR: Oprah Daily, The New Yorker, The Washington Post, The Guardian, The Economist, Smithsonian Magazine, Prospect (UK), Globe & Mail, Esquire, Mental Floss, Marginalian, She Reads, Kirkus Reviews, Library Journal
The Earth teems with sights and textures, sounds and vibrations, smells and tastes, electric and magnetic fields. But every kind of animal, including humans, is enclosed within its own unique sensory bubble, perceiving but a tiny sliver of our immense world.
In An Immense World, Ed Yong coaxes us beyond the confines of our own senses, allowing us to perceive the skeins of scent, waves of electromagnetism, and pulses of pressure that surround us. We encounter beetles that are drawn to fires, turtles that can track the Earth's magnetic fields, fish that fill rivers with electrical messages, and even humans who wield sonar like bats. We discover that a crocodile's scaly face is as sensitive as a lover's fingertips, that the eyes of a giant squid evolved to see sparkling whales, that plants thrum with the inaudible songs of courting bugs, and that even simple scallops have complex vision. We learn what bees see in flowers, what songbirds hear in their tunes, and what dogs smell on the street. We listen to stories of pivotal discoveries in the field, while looking ahead at the many mysteries that remain unsolved.
Funny, rigorous, and suffused with the joy of discovery, An Immense World takes us on what Marcel Proust called "the only true voyage . . . not to visit strange lands, but to possess other eyes."

WINNER OF THE ANDREW CARNEGIE MEDAL • FINALIST FOR THE KIRKUS PRIZE • FINALIST FOR THE NATIONAL BOOK CRITICS CIRCLE AWARD • LONGLISTED FOR THE PEN/E.O. WILSON AWARD
Praise for An Immense World: How Animal Senses Reveal the Hidden Realms Around Us
"A thrilling tour of nonhuman perception . . . Nature's true wonders aren't limited to a remote wilderness or other sublime landscape. . . . There is as much grandeur in the soil of a backyard garden as there is in the canyons of Zion."—The New York Times
"A dazzling ride through the sensory world of astoundingly sophisticated creatures . . . It's Mr. Yong's task to expand our thinking, to rouse our sense of wonder, to help us feel humbled and exalted at the capabilities of our fellow inhabitants on Earth. . . . [A] deeply affectionate travelogue of animal sensory wonders."—The Wall Street Journal
 
"One of this year's finest works of narrative nonfiction . . . Yong's reporting is layered, seasoned with vivid scenes from laboratories and in the field, interviews with researchers across a spectrum of disciplines."—Oprah Daily
"Yong writes in a perfect balance of scientific rigor and personal awe as he invites readers to grasp something of how other animals experience the world."—NPR
"A powerful and immersive deep dive into the perceptual lives of other organisms—and a persuasive case for more empathy and understanding of the complexity, sophistication, and sheer riotous joy of the nonhuman world: it's an instant classic."—Jeff VanderMeer, author of Authority
"I don't know how to put into words the awe I felt while reading this book—for the incredible sensory diversity of our planet, and for Ed Yong's talents."—Mary Roach, author of Stiff
"There is almost no writer I admire as much as I do Ed Yong. He's an extraordinary reporter and a writer of such grace that his work seems effortless. An Immense World is a journal of discovery and animal magic, and a sensory exploration that is a joy to read."—Susan Orlean, author of On Animals
 
"What would we do without Ed Yong? This book feels like a tremendous burst of oxygen, animating everything around us with life and color and texture and wonder at precisely the moment we all need it."—Rebecca Skloot, author of The Immortal Life of Henrietta Lacks

"Equal parts science and poetry: Yong guides us through the magic of the animal kingdom in ways that have unlocked something inside of me I didn't know was there. I'll never look at our planet the same way again."—Clint Smith, author of How the Word Is Passed

"Though we can't sense magnetic or electrical fields and have noses too blunt to see the world, this book gives us the next best thing: appreciation for those who can. Ed Yong expands our world as he lets us see into others'."—Alexandra Horowitz, author of Inside of a Dog

"Yong's writerly gifts offer us a thoughtful blend of whip-smart enchantments–dazzling revelation after revelation about animals and how they encounter the world. The breadth and depth of his knowledge is downright effervescent and exacting."—Aimee Nezhukumatathil, author of World of Wonders

"A cornucopia of wonders—a fascinating reminder that most of what happens among life forms on Earth is beyond our ken."—David Quammen, author of The Tangled Tree
"Utterly surprising, like stepping into Alice in Wonderland . . . the perfect mixture of revelation, curiosity, science, beautiful prose, and buckets full of wonders."—Andrea Wulf, author of The Invention of Nature
"A whirlwind tour of animal perceptual abilities, this magnificent book challenges your imagination and fills you with wonder about the living world."—Frans de Waal, author of Different