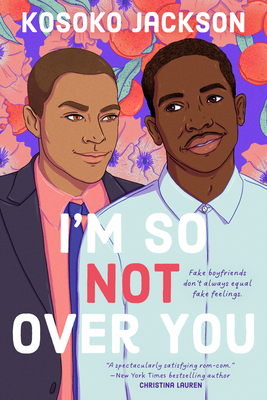 I'm So (Not) Over You
Publication Date:
February 22nd, 2022
Usually Ships in 1 to 5 Days
Description
"Shine[s] with a beautiful, blooming sense of wonder."—New York Times Book Review
A 2023 LAMBDA LITERARY AWARD WINNER!
One of...
Entertainment Weekly's 10 Best LGBTQ+ Romance Novels of the Last Five Years
Essence's New Books We Can't Wait To Read In 2022
Oprah Daily's Most Anticipated Romance Novels of 2022
Buzzfeed's Highly Anticipated LGBTQ Romance Novels in 2022
Popsugar's New Romance Novels That Will Make You Fall in Love With 2022
BookRiot's Most Anticipated New Adult Romance Reads For Spring 2022
E! News and LifeSavvy's February Books to Fall in Love With
Bustle's Most Anticipated Books of February
Betches' Books You Need to Read in 2022
A chance to rewrite their ending is worth the risk in this swoony romantic comedy from Kosoko Jackson.
It's been months since aspiring journalist Kian Andrews has heard from his ex-boyfriend, Hudson Rivers, but an urgent text has them meeting at a café. Maybe Hudson wants to profusely apologize for the breakup. Or confess his undying love. . . But no, Hudson has a favor to ask—he wants Kian to pretend to be his boyfriend while his parents are in town, and Kian reluctantly agrees.
The dinner doesn't go exactly as planned, and suddenly Kian is Hudson's plus one to Georgia's wedding of the season. Hudson comes from a wealthy family where reputation is everything, and he really can't afford another mistake. If Kian goes, he'll help Hudson preserve appearances and get the opportunity to rub shoulders with some of the biggest names in media. This could be the big career break Kian needs.
But their fake relationship is starting to feel like it might be more than a means to an end, and it's time for both men to fact-check their feelings.
Praise for I'm So (Not) Over You
"Jackson's experience in young adult literature shows in this book's close point of view and its depiction of a character on the brink of something transformative...Kian and Hudson are hot messes and they make terrible decisions — but they make less terrible decisions together, and the parts when they're in sync shine with a beautiful, blooming sense of wonder."—New York Times Book Review
"With beautifully drawn themes of family ties, foundational friendships, and the importance of choosing a love that makes us better, stronger, and happier, here is the queer rom com the genre has been waiting years for! As tender and unflinching as it is uproarious and joyful, Kosoko Jackson's I'm So (Not) Over You is, quite simply—a spectacularly satisfying read."—Christina Lauren, New York Times bestselling author of The Soulmate Equation
"A snappy, sizzling, downright delightful book from Jackson, a welcome and fresh new voice in rom-coms."—Julia Whelan, author of My Oxford Year
"A witty and fast-paced romance full of rapid-fire dialogue, laugh-out-loud one liners, and spot-on pop culture references. I'm So (Not) Over You is full of swoon-worthy and sizzling romantic moments, but it's also about following your heart and figuring out what you want to do with your life."—Kerry Winfrey, author of Very Sincerely Yours
"A delightfully hilarious romp. Kosoko Jackson's writing zips along with an electric, playful energy, making Kian and Hudson impossible not to root for. It's been a while since a book made me laugh this much!"—Rachel Lynn Solomon, national bestselling author of The Ex Talk
"Such a fun read! I'm So (Not) Over You gives us witty, complex characters that you want to have a (Rivers & Valleys) beer with, just to keep them talking. Kosoko Jackson is a sassy, fresh new voice in romance, and I can't wait to read more from him!"—Jen DeLuca, USA Today bestselling author of Well Matched
"Swoony, witty, and utterly fun. Jackson will have you falling in love while laughing out loud."—Denise Williams, author of The Fastest Way to Fall
 
"Full of humor and heart, this romance about second chances and taking risks will have you laughing one minute and swooning the next. A delightfully fun and sexy read."—Ashley Herring Blake, author of Delilah Green Doesn't Care
"A new standout voice in the genre."—Entertainment Weekly

"This is a rom-com that isn't lacking in either the romance or the comedy, and the end result makes for an excellent, ultimately satisfying book."—Paste Magazine
"Putting a fun twist on the beloved fake dating trope, Jackson's romcom debut I'm So (Not) Over You offers snappy writing, complex characters and an ode to pop culture!"—The Nerd Daily
"Jackson has a knack for building nuanced and multilayered characters...Ultimately, that character development is what makes this queer, Black romantic comedy such a delight. It is, from start to finish, full of laughs and heart."—Shelf Awareness

"This nuanced romance marks Jackson as a writer to watch in the adult sphere."—Publishers Weekly
"...[A] delightfully outrageous romantic comedy full of pop culture references, strong families, and a ride-or-die BFF."—Library Journal (starred)