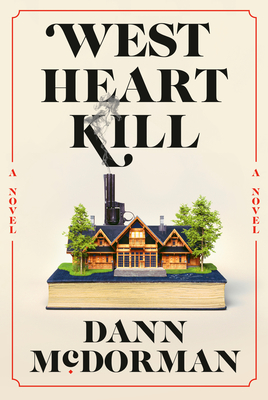 West Heart Kill: A novel
Publication Date:
October 24th, 2023
Usually Ships in 1 to 5 Days
A fun locked-room murder mystery in the spirit of our favorite detective stories likeMurder, She Wrote.West Heart Killputs a new spin on the genre. Dann McDorman's debut arrives at the whodunit delightfully. I eagerly await his next one.
November 2023 Indie Next List
Description
LOOKING FOR AN ANYTHING-BUT-ORDINARY WHODUNIT? • Welcome to the West Heart Club. Where the drinks are neat but behind closed doors . . . things can get messy. Where upright citizens are deemed downright boring. Where the only missing piece of the puzzle is you, dear reader.
A unique and irresistible murder mystery set at a remote hunting lodge where everyone is a suspect, including the erratic detective on the scene—a remarkable debut that gleefully upends the rules of the genre.
"A thoroughly original suspense novel that hops across elements of the genre—a diabolical locked-room mystery interspersed with a fascinating primer on the form—while always being tremendous fun to read."—Chris Pavone, best-selling author of Two Nights in Lisbon
An isolated hunt club. A raging storm. Three corpses, discovered within four days. A cast of monied, scheming, unfaithful characters.
When private detective Adam McAnnis joins an old college friend for the Bicentennial weekend at the exclusive West Heart club in upstate New York, he finds himself among a set of not-entirely-friendly strangers. Then the body of one of the members is found at the lake's edge; hours later, a major storm hits. By the time power is restored on Sunday, two more people will be dead . . .
Praise for West Heart Kill: A novel
"Potent. . . . McDorman's knowledge is abundant, as is his cleverness."
—Sarah Weinman, The New York Times Book Review

"Fun, clever, and innovative. A remarkable novel by a major talent, who has created a crime novel that feels entirely unique."
—Stuart Turton, international best-selling author of The 7 ½ Deaths of Evelyn Hardcastle

"West Heart Kill is a true unicorn: a thoroughly original suspense novel that hops across elements of the genre—spot-on historical fiction and a diabolical locked-room mystery interspersed with a fascinating primer on the history of the form—while always being tremendous fun to read."
—Chris Pavone, New York Times best-selling author of Two Nights in Lisbon

"A crime novel that unpicks traditional storytelling… engrossing, surprising, clever, genre-bending."
—New York Times best-selling author Val McDermid
"A brain-teaser and a crowd-pleaser. I loved it."
—Benjamin Stevenson, author of Everyone in My Family Has Killed Someone

 "Phenomenal…totally unique . . . a treat for every murder mystery fan."
—Janice Hallett, author of The Appeal
"McDorman simultaneously revels in and comments on the multi-faceted plot as the narrator directly addresses the reader with the assumption that she is equally knowledgeable and ardent about mysteries, decanting intriguing insights into the genre and its luminaries . . . McDorman is funny, canny, and nimble in this clever, unusual, and enormously entertaining mix of criticism and suspense, this mystery propelled by witty banter, hidden trauma, messy affairs, and vicious schemes."
—Donna Seaman, Booklist

"Entertaining."
—Kirkus Reviews

"West Heart Kill is definitely ambitious and absolutely entertaining…. McDorman does an excellent job of peeling the onion-like layers of his detective tale, carefully doling out surprises as the pages turn…. Sure to spawn exceptionally lively book club debates."
—BookPage
 
"A delightful spin on the form." 
—CrimeReads
"Irresistible..... West Heart Kill is about both the rules and the breaking of the rules, the conventions of the murder mystery and their subversion.... A complete original – and a total delight."
—BookTrib
"This is no run of the mill whodunnit — the writing swiftly causes readers to sit up and take notice, and pay attention…. Both honoring the classic crime genre and turning it on its head, this is a talented unique read." 
—Belfast Telegraph