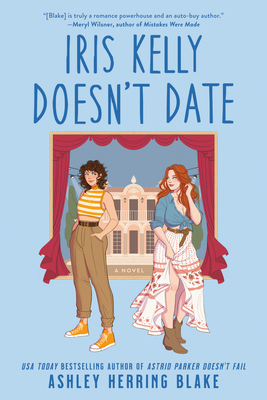 Iris Kelly Doesn't Date
Publication Date:
October 24th, 2023
Usually Ships in 1 to 5 Days
A funny, hot queer romance that tackles real issues! Iris Kelly is happy without a relationship. So why won't her friends and family stop trying to change her? When she meets adorably awkward Stevie Scott, fake dating leads to real feelings.
November 2023 Indie Next List
Description
A fake relationship after a horrible one-night stand is anything but an act in this witty and heartfelt new romantic comedy by Ashley Herring Blake.
 
Everyone around Iris Kelly is in love. Her best friends are all coupled up, her siblings have partners that are perfect for them, and her parents are still blissfully married. And she's happy for all of them, truly. Iris doesn't want any of that—dating, love, romance. She'll stick to her commitment-free hookups, thanks very much, except no one in her life will just let her be. Everyone wants to see her settled down, but she holds firmly to her no dating rule. There's only one problem—Iris is a romance author facing an imminent deadline for her second book, and she's completely out of ideas.
 
Perfectly happy to ignore her problems as per usual, Iris goes to a bar in Portland and meets a sexy stranger, Stefania, and a night of dancing and making out turns into the worst one-night stand Iris has had in her life. To get her mind off everything, Iris tries out for the lead role in a local play, a queer retelling of Much Ado About Nothing, but comes face-to-face with Stefania, whose real name turns out to be Stevie. Desperate to save face in front of her friends, Stevie asks Iris to play along as her girlfriend. Iris is shocked, but when she realizes the arrangement might provide her with some much-needed romantic content for her book, she agrees. As the two women play the part of a happy couple, lines start to blur, and they're left wondering who will make the real first move....
Praise for Iris Kelly Doesn't Date
"Blake's third and final Bright Falls romance sends the series out on a high note with more spicy sex and genuine emotion…Blake also does an admirable job of wrapping up the series, bringing all the past couples together one last time in a touching finale. This is a treat."—Publishers Weekly
"The final installment in the Bright Falls series only further demonstrates why these books have been so beloved: because Blake is a master at her craft, creating carefully plotted stories around flawed, lovable characters that explode with chemistry and tension. Iris and Stevie each have their own compelling pasts, struggles, and dreams, and Blake shows both the hard work and the beauty involved in making those different realities wrap around each other in love. A thoroughly satisfying, heart-clutching conclusion."—Anita Kelly, author of Something Wild and Wonderful
"Iris Kelly Doesn't Date is a perfect conclusion to Ashley Herring Blake's sexy-cozy Bright Falls series. It's sweet, it's spicy, it's sapphic, it's satisfying—everything readers of Blake's work have come to love."—Elissa Sussman, bestselling author of Once More with Feeling
"Blake continues to write compelling and lovable characters with engaging and empathetic storylines. Readers will love this foray back into Bright Falls."—Library Journal
"Blake masterfully weaves a tale of growth where friendship, confidence, and passion ensue. A treat for fake-dating fans and happily-ever-after lovers alike."—Kirkus Reviews
"Filled with steamy sex scenes while also tackling emotional issues, this book will delight fans of the previous books in the series and will appeal to other rom-com readers as well."—Booklist
"Frankly, there isn't much Ashley Herring Blake can't write...Iris Kelly Doesn't Date is the best book in the Bright Falls series."—Culturess