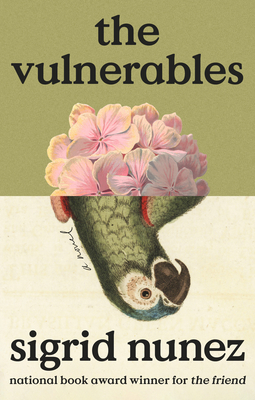 The Vulnerables: A Novel
Publication Date:
November 7th, 2023
Publisher:
Riverhead Books
Usually Ships in 1 to 5 Days
This book was my cure! All of my thoughts, feelings, and experiences living in our complex current moment in time turned into a beautiful novel. Elegant prose. Wise delivery. Cozy feelings. Sigrid Nunez is a must read!
November 2023 Indie Next List
Description
NATIONAL BESTSELLER 
NAMED A BEST BOOK OF THE YEAR BY NPR, HARPER'S BAZAAR, VOGUE AND KIRKUS REVIEWS
The New York Times–bestselling, National Book Award–winning author of The Friend and What Are You Going Through brings her singular voice to a story about modern life and connection
"I am committed, until one of us dies, to Nunez's novels. I find them ideal. They are short, wise, provocative, funny — good and strong company." —Dwight Garner, The New York Times
"With the intimacy and humor of a great conversation, this novel makes you feel smarter and more alive." —People Magazine
"An ode to our basic need to connect with other beings, be they human or animal, even in a global crisis that told us to stay apart." —NPR
Elegy plus comedy is the only way to express how we live in the world today, says a character in Sigrid Nunez's ninth novel. The Vulnerables offers a meditation on our contemporary era, as a solitary female narrator asks what it means to be alive at this complex moment in history and considers how our present reality affects the way a person looks back on her past.
Humor, to be sure, is a priceless refuge. Equally vital is connection with others, who here include an adrift member of Gen Z and a spirited parrot named Eureka. The Vulnerables reveals what happens when strangers are willing to open their hearts to each other and how far even small acts of caring can go to ease another's distress. A search for understanding about some of the most critical matters of our time, Nunez's new novel is also an inquiry into the nature and purpose of writing itself.
Praise for The Vulnerables: A Novel
Praise for The Vulnerables:
"Hilarious and deeply reflective."—TIME

"I am committed, until one of us dies, to Nunez's novels. I find them ideal. They are short, wise, provocative, funny — good and strong company." —Dwight Garner, The New York Times
"With the intimacy and humor of a great conversation, this novel makes you feel smarter and more alive." —People
"An ode to our basic need to connect with other beings, be they human or animal, even in a global crisis that told us to stay apart." —NPR
"Nunez has exhibited a gift for storytelling forms that smuggle dark matter into books, which, nonetheless, proceed with bright, good humor. They are as sophisticated as they are straightforward, as death-haunted as they are life-bringing." —New York Times Magazine
"Ms. Nunez gracefully leaps from big emotions, including grief, to erudite literary digressions or biting wit. . .The Vulnerables manages to be both playful and dead serious. . .This inventive novel adds tongue-in-cheek humor into the mix."—Wall Street Journal

"Above all, The Vulnerables is about how we navigate the bizarre and hostile climates we're still living through; how we find meaning in being there for each other in some capacity...a novel that cracks open windows and offers a reassuring breeze, reminding us that it's OK — and perhaps even necessary — to need each other; it's only human." —San Francisco Chronicle
"Little explosions of pathos detonate periodically through this story — their power even more impressive for the way Nunez repeatedly lulls us into the comfort of her wry, ruminative voice...The Vulnerables isn't a rejection of the novel as a form, so much as a test of its dimensions." —The Washington Post
"Nunez is one of our best writers on animals and the strange, touching bonds we form with them...[Her] rare ability to be at once wistfully elegiac and sharply hilarious make The Vulnerables a gift." —The Boston Globe
"It's a difficult task to write about a collective experience many of us would prefer to never recall, but Nunez does so, with a subtle kindness towards us all in a place when the world was at one of its most 'vulnerable' moments."—Huff Post
"Strikes the difficult balance of being both elegiac and comedic as it seeks to explore what it means to be alive during our complex moment in history. Like much of her work, Nunez's latest seeks brief and blisteringly beautiful moments of connection, which burn ever brighter amid the haunting loneliness she crafts." —Chicago Review of Books
"A structure that insists on the possibility of connection. The novel's most valuable offering comes from its ability to gather elements and hold them together, as we wished to hold one another. In this respect, love pervades every page." —LA Review of Books
"In The Vulnerables, Nunez is back with her signature blend of wryness and poignant observation. . .Nunez sheds light on what it means to be vulnerable, and of how humans find comfort during times of crisis."—Electric Literature
"Funny and thoughtful. . .Nunez manages to make a story of mortality go down easy." –Publishers Weekly
"Nunez…is a master at writing vivid characters in ordinary situations and bringing them to life, making every page fly by. And The Vulnerables is no different — it's a poignant and deft portrayal of humanity in a time when nothing felt normal." —Shondaland
"[A] penetrating interrogation of the nature of reading, writing, creating fiction–especially in a time of widespread peril." —Shelf Awareness

"Nunez's subject is the core business of being alive: the tenuous beauty of human connection, the nature of memory, the purpose of writing, the passage of time. . .the result is almost arrestingly straightforward. Spare and understated and often quite funny, the experience is less like reading fiction than like eavesdropping on someone else's brain. . . .[The Vulnerables] itself is strangely, sweetly hopeful. . .Sharp—and surprisingly tender."—Kirkus, STARRED review

"Nunez's ninth novel finds the dark humor in the complexities of modern life. A meditation on what it means to be alive in this moment, as much as it is an inquiry into the purpose of writing itself."—W Magazine