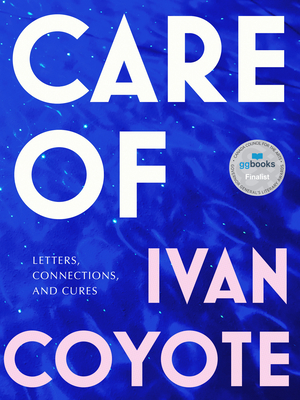 Care Of: Letters, Connections, and Cures
Publication Date:
June 8th, 2021
Publisher:
McClelland & Stewart
Backordered - Not Immediately Available
Description
Beloved storyteller Ivan Coyote returns with their most intimate and moving book yet.
 
Writer and performer Ivan Coyote has spent decades on the road, telling stories around the world. For years, Ivan has kept a file of the most special communications received from readers and audience members—letters, Facebook messages, emails, soggy handwritten notes tucked under the windshield wiper of their truck after a gig. Then came Spring, 2020, and, like artists everywhere, Coyote was grounded by the pandemic, all their planned events cancelled. The energy of a live audience, a performer's lifeblood, was suddenly gone. But with this loss came an opportunity for a different kind of connection. Those letters that had long piled up could finally begin to be answered.
 
Care Of combines the most powerful of these letters with Ivan's responses, creating a body of correspondence of startling intimacy, breathtaking beauty, and heartbreaking honesty and openness. Taken together, they become an affirming and joyous reflection on many of the themes central to Coyote's celebrated work—compassion and empathy, family fragility, non-binary and Trans identity, and the unending beauty of simply being alive, a giant love letter to the idea of human connection, and the power of truly listening to each other. 
 
Praise for Care Of: Letters, Connections, and Cures
Finalist for the Governor General's Literary Award
"[Care Of] is an engaging and entertaing look into Coyote's life through their heartbreaking, hilarious, insightful, and entertaining responses." —Vancouver Sun
"Coyote has long worn their heart on their sleeve, but here, in words that feel like a whispered confidence, they reveal the true depths of their integrity, their honesty, and their, dare I say, soul. . . . a vital reminder of the value not only of connection, but of every story, every voice." —Toronto Star