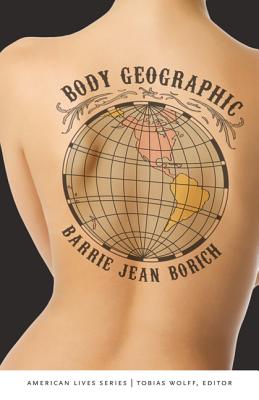 Body Geographic (American Lives )
Publication Date:
March 1st, 2013
Publisher:
University of Nebraska Press
Usually Ships in 1 to 5 Days
Description
A memoir from the award-winning author of My Lesbian Husband, Barrie Jean Borich's Body Geographic turns personal history into an inspired reflection on the points where place and person intersect, where running away meets running toward, and where dislocation means finding oneself. 
One coordinate of Borich's story is Chicago, the prototypical Great Lakes port city built by immigrants like her great-grandfather Big Petar, and the other is her own port of immigration, Minneapolis, the combined skylines of these two cities tattooed on Borich's own back. Between Chicago and Minneapolis Borich maps her own Midwest, a true heartland in which she measures the distance between the dreams and realities of her own life, her family's, and her fellow travelers' in the endless American migration. Covering rough terrain—from the hardships of her immigrant ancestors to the travails of her often-drunk young self, longing to be madly awake in the world, from the changing demographics of midwestern cities to the personal transformations of coming out and living as a lesbian—Body Geographic is cartography of high literary order, plotting routes, real and imagined, and putting an alternate landscape on the map.
Praise for Body Geographic (American Lives )
"[Body Geographic is] a stunningly original memoir that explores a woman's connection to the real and imagined Midwestern landscapes that have defined her life."—Kirkus starred review
"From the first evocative, disturbing scene of receiving an unexpectedly painful lower-back tattoo of a "dual city skyline" of her childhood home Chicago and her adopted home Minneapolis, Borich . . . enlists the reader in a gritty, poetic tour of her personal geography."—Publishers Weekly
"Borich sets out to map not only the city of Chicago and the other places she and her family have lived, but also to discover the hidden geographies in her own skin—the personal and collective histories, the experiences and desires, that make her who she is. The result is a book that's insightful, lyrically beautiful, and uncompromising in its search for a self as rich as the cities in which she lives."—Eric Lemay, New Books in Literature  
"Borich's memoir creates a Midwest where her body and the landscape intersect—a unique literary cartography that traces the lives of her immigrant great-grandparents and more recent relatives while exploring her own personal journey."—Whitney Scott, Booklist Online
"Thanks to Borich's unconventional approach, Body Geographic is both a thoughtful meditation on the world and a telling recount of the author's journey through life."—Meganne Fabrega, StarTribune
"Borich does not consider herself an outsider looking in. Body Geographic is an American story, complete with the sights and sounds of our country, capturing the complex relationship between identity, place, and growth for most people living in the fifty states."—Rachel Wexelbaum, Lambda Literary