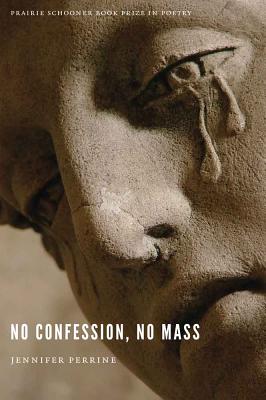 No Confession, No Mass (The Raz/Shumaker Prairie Schooner Book Prize in Poetry)
Publication Date:
December 1st, 2015
Publisher:
University of Nebraska Press
Usually Ships in 1 to 5 Days
Description
Whether exploring the porous borders between sin and virtue or examining the lives of saints and mystics to find the human experiences in stories of the divine, the poems in No Confession, No Mass move toward restoration and reunion.
Jennifer Perrine's poems ask what healing might be possible in the face of sexual and gendered violence worldwide—in New Delhi, in Steubenville, in Juárez, and in neighborhoods and homes never named in the news. The book reflects on our own complicity in violence, "not confessing, but unearthing" former selves who were brutal and brutalized—and treating them with compassion. As the poems work through these seeming paradoxes, they also find joy, celebrating transformations and second chances, whether after the failure of a marriage, the return of a reluctant soldier from war, or the everyday passage of time.
Through the play of language in received forms—abecedarian, sonnet, ballad, ghazal, villanelle, ballade—and in free verse buzzing with assonance, alliteration, and rhyme, these poems sing their resistance to violence in all its forms.
Praise for No Confession, No Mass (The Raz/Shumaker Prairie Schooner Book Prize in Poetry)
"No Confession, No Mass is lyrical, inventive, and full of surprises, offering us fresh ways of seeing old stories. The music is a delight throughout—agile and apt—language enjoying itself! Jennifer Perrine writes: 'and returned her whole, startled raw, launched her back into the world.' This is what fine poetry can do—and No Confession, No Mass does it."—Ellen Bass, author of Like a Beggar