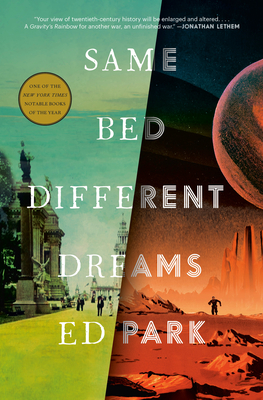 Same Bed Different Dreams: A Novel
Publication Date:
November 7th, 2023
Usually Ships in 1 to 5 Days
Same Bed Different Dreamsis a monumentally funny and epically mind-bending novel that opens doors you may never have even realized were doors. Ed Park has gifted us something truly remarkable.
November 2023 Indie Next List
Description
A wild, sweeping novel that imagines an alternate secret history of Korea and the traces it leaves on the present—loaded with assassins and mad poets, RPGs and slasher films, pop bands and the perils of social media
"Your view of twentieth-century history will be enlarged and altered. . . . A Gravity's Rainbow for another war, an unfinished war." —Jonathan Lethem, author of The Fortress of Solitude
ONE OF PUBLISHERS WEEKLY'S TEN BEST BOOKS OF THE YEAR
A BEST BOOK OF THE YEAR: The New York Times Book Review, The Washington Post, Los Angeles Times, Chicago Public Library, Kirkus Reviews 

In 1919, far-flung patriots establish the Korean Provisional Government to protest the Japanese occupation of their country. This government-in-exile proves mostly symbolic, though, and after Japan's defeat in World War II, the KPG dissolves and civil war erupts, resulting in the tragic North-South split that remains today.
But what if the KPG still existed—now working toward a unified Korea, secretly pulling levers to further its aims? Same Bed Different Dreams weaves together three distinct narrative voices with an archive of mysterious images, and twists reality like a kaleidoscope. Korean history, American pop culture, and our tech-fraught lives come together in this extraordinary and unforgettable novel.
Soon Sheen, a former writer now employed by the tech behemoth GLOAT, comes into possession of an unfinished book seemingly authored by the KPG. The manuscript is a riveting revisionist history, connecting famous names and obscure bit players to the KPG's grand project—everyone from Syngman Rhee and architect-poet Yi Sang to Jack London and Marilyn Monroe. M*A*S*H is in here, too, as are the Moonies and a history of violence extending from the assassination of President McKinley to the Reagan-era downing of a passenger plane that puts the world on the brink of war.
From the acclaimed author of Personal Days, Same Bed Different Dreams is a raucously funny feat of imagination and a thrilling meld of history and fiction that pulls readers into another dimension—one in which utopia is possible.
Praise for Same Bed Different Dreams: A Novel
"Genius . . . Same Bed Different Dreams is an extraordinary—and hilarious—genre-busting nesting doll of comedy, science fiction, and thriller and, at its core, an epic compendium of Korean history that's also the dark history of American foreign entanglements. It's like no other novel I've read before—a cabinet of wonders that demands to be read and reread."—Cathy Park Hong, author of Minor Feelings

"I can't stop reading, thinking, and dreaming about this feverish, mind-altering marvel of a book."—Hua Hsu, Pulitzer Prize–winning author of Stay True

"Your view of twentieth-century history will be enlarged and altered by Ed Park's mysterious, panoramic novel. It seems to draw on Bolaño, Pynchon, and DeWitt for its radical structure, yet remains grounded in a droll, sweet voice we've wished to hear again since Personal Days. This is a Gravity's Rainbow for another war, an unfinished war. Having been enlisted in the Korean Provisional Government, I now await my instructions."—Jonathan Lethem, author of The Fortress of Solitude
"A book of dizzying scope and erudition . . . very funny, intimate, and playful and interested in basic questions of existence, beginning with: Why are we here and what gives us meaning?"—Dave Eggers, author of The Circle

"A novel to get lost in and a feat of imagination . . . I read it with awe for its construction and for the sheer pleasure of its language."—Charles Yu, National Book Award–winning author of Interior Chinatown

"Totally astounding . . . Same Bed Different Dreams emits a prismatic intelligence operating on multiple frequencies. I didn't know I'd been waiting for a book like this until I encountered it."—Ling Ma, author of Severance

"Same Bed Different Dreams is a kaleidoscope of Koreamericana; a crowd of cracked voices; a gorgeous, hilarious, provisional dream; a wonder."—Namwali Serpell, author of The Furrows
"No blurb could adequately praise or even sum up this novel. All I know is that Same Bed Different Dreams belongs in the company of a rare few dark and comic masterpieces of invention. It disarmed me with sheer delight."—Elizabeth McKenzie, author of The Portable Veblen
"Park blurs fact and fiction so seamlessly that search results will undoubtedly surprise if not shock, albeit not without reverential delight."—Booklist, starred review
"Park returns fifteen years after Personal Days with an ingenious postmodern epic of colonial and postcolonial Korea framed in a satire of America's publishing and tech industries . . . This tribute to the fractured peninsula's citizens, diaspora, and allies is one for the ages."—Publishers Weekly, starred review