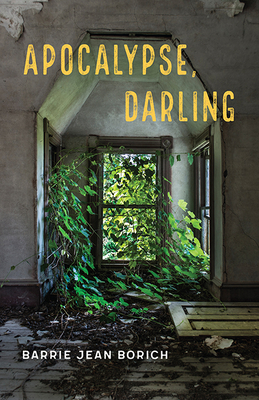 Apocalypse, Darling (Machete)
This product is not returnable.
Publication Date:
January 30th, 2018
Publisher:
Mad Creek Books
Usually Ships in 1 to 5 Days
Description
From award-winning author Barrie Jean Borich comes Apocalypse, Darling, a narrative, lyric exploration of the clash between old and new. Set in the steel mill regions of Chicago and in Northwest Indiana, the story centers on Borich's return to a decimated landscape for a misbegotten wedding in which her spouse's father marries his high school sweetheart. The book is a lilting journey into an ill-fated moment, where families attempt to find communion in tense gathering spaces and across their most formative disappointments. Borich tells the story of the industrial heartland that produced the steel that made American cities, but also one of the most toxic environmental sites in the world.
 
 
As concise as a poem and as sweeping as an epic novel, Apocalypse, Darling explores the intersection of American traditional and self-invented social identities and the destruction and re-greening of industrial cityscapes. Borich asks: can toxic landscapes actually be remediated and can patriarchal fathers ever really be forgiven? In a political climate where Borich is forced to daily re-enter the toxic wastelands she thought she'd long left behind, Apocalypse, Darling is an urgent collision of broken spaces, dysfunctional affections, and the reach toward familial and environmental repair. 
Praise for Apocalypse, Darling (Machete)
"Lying down with Apocalypse, Darling reminds readers that lesbian books are a way of lying with women. Intimate. Important. Sensual. What happens when women lie with women? They read and write and tell stories that care for lesbians, for women, for the whole of creation." —Lambda Literary
"Apocalypse, Darling is a wonderful addition to Barrie Jean Borich's literary explorations of queer and Midwestern identities . . . with her exquisitely rendered, humane illuminations of the particulars of place and the multiplicities of family constellations." —The Gay & Lesbian Review
 
"On one hand Barrie Jean Borich's remarkable Apocalypse, Darling mucks up the neat divide between reclamation and ruin, laying waste to the old binaries. On another it's a hilarious, playful, and deeply absorbing inquiry into what it might mean to be an American right now. This is timely, dazzling work. — Paul Lisicky, author of The Narrow Door: A Memoir of Friendship
"Few writers today can equal Barrie Jean Borich in channeling the unspoken languages of our culture, whether it's a family wedding overseen by headless but eloquent plastic torsos, or the Gothic beauty of a landscape 'capped by the granulated blue of a mill-punctured sky,' or wedding guests like the author and her spouse, who remake themselves in the new cities of 'the country of women'. This 'narrative lyric' uses its gorgeous lyricism to show us how, physically and psychically, every moment is a new country, each quietly burning with its own apocalypse." —Susanne Paola Antonetta, author of Body Toxic and Make Me a Mother
"Apocalypse, Darling shows Barrie Jean Borich at her jazz-riffing, literary canon-busting best. Here, lustrous literary forms born of post-industrial wastelands are the grounds for seeing and being seen, remembering and reinventing. Borich's apocalyptic love song is more bracing, more beautiful, and more real than current dystopias will ever allow: a queer ecology of mind." —Mary Cappello, author of Life Breaks In: A Mood Almanack
"Barrie Jean Borich delivers a time-tripping, probing biographic memoir about love and the hard-to-love, dysfunctional families and the new American family, and the almost poetic parallels between toxic relationships and America's repatriated industrial wastelands." —Minneapolis Star Tribune
"It is important to note the beautiful complexity of the book as it not only intertwines present with past, but also illuminates intricate connections between people and the land. . . . Can we change? Can we revive what was once peaceful and beautiful?" —New Pages