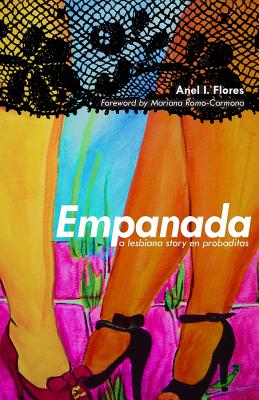 Empanada: A Lesbiana Story en Probaditas
This product is not returnable.
Publication Date:
March 29th, 2013
Usually Ships in 1 to 5 Days
Description
The voices in Empanada's kitchen will definitely not be shy Each probadita is told from the bustling space of the kitchen and heavily spiced with hurt and yearning, lust, desire, passion and bliss. Each bite of Empanada will take you on a journey through the heart of Paloma, a young lesbiana learning to maneuver her loving heart through a culture of judgment. This collection of vignettes is divided into three macroscopic sections: Food, Religion and Sex where personal, cultural and gender identity are in constant flux, but finally birth a new geographic space in Latina, Chicana, Mexican and Lesbian literature and lesbianidad.
About the Author
ANEL I. FLORES was born and raised in South Texas between homes in the Rio Grande Valley and San Antonio. Tejana, lesbiana, writer and artist earned her BA in English and MFA in Creative Writing. Anel's fiction and art have been published, produced and exhibited in anthologies, journals, theaters, galleries and museums. In addition to her work as a community artist, activist and writer, she has been an educator and administrator in San Antonio's public schools, and also curated and facilitated many creative arts partnerships. Her awards include the Mentorship and Leadership Initiative Award from the National Performance Network. She is a member of Sandra Cisneros' Macondo Writer's Workshop.