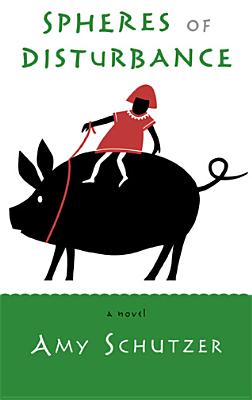 Spheres of Disturbance
Publication Date:
April 1st, 2014
Usually Ships in 1 to 5 Days
Description
Helen is dying. Helen is choosing to die. Over the course of one day in 1985, those who surround her—among them her daughter, an art thief, a high-strung housewife and crochet artist, a lesbian poet, and a pregnant Vietnamese pot-bellied pig—grapple with her impending end. In nine revolving points of view, they resist or accept, impact or impede the trajectories of Helen's death in the world around them, tracing the mark of a culture that tries, desperately and impossibly, to deny death. By turns haunting, sensual, and brilliantly cunning, Spheres of Disturbance explores how we can bear to approach, or even choose, our inevitable end.
Praise for Spheres of Disturbance
"This book feels like going somewhere, not like reading. Pack your suitcase for traveling. Amy Schutzer has done it again: written a novel so lush with sensual, sensory detail that you enter her world and become characters' kin. It's an old-fashioned experience; I mean focus. Spheres of Disturbance is a book the way books were when people got lost in them, lost hours and days in pages. It's beautiful and musical and wise and curious, like your first trip to a library: go."
—Carol Guess, author of Doll Studies: Forensics
"Amy Schutzer's characters are ordinary people trying to find their way to each other through the complexities of love, birth, and death. She peels away the layers of fear and despair and loneliness to reveal the dark, and sometimes zany, messiness of the human condition, each tangled life colored vividly by history, longing, and failure. Her descents into the long memories of this small group on this single day are dizzyingly steep and wise."
—Joanna Rose, author of Little Miss Strange
"Amy Schutzer's fearless novel reminds us that it is possible to deny the reality of death—but at a steep cost: the inability to truly receive and offer love. Her characters—mother and daughter, sisters, lovers and a gravid pig named Charlotta—are squarely rooted in this world, a place of curdled promises, empty lies and history twisted to benefit the teller. The only hope in such a world and—in Schutzer's brave book—is to face both life and death with open heart and unblinking eyes."
—Anndee Hochman, author of Anatomies: A Novella and Stories