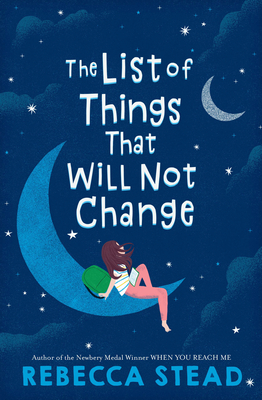 The List of Things That Will Not Change
Publication Date:
April 5th, 2022
Usually Ships in 1 to 5 Days
Rebecca Stead masterfully captures the voice of middle-schooler Bea, who struggles with anxiety and doesn't always handle her emotions without some kind drama. Things kick into high gear when her parents announce they are divorcing, and her dad tries to incorporate his partner, Jesse, and his daughter into the family. Stead's latest sensitively deals with issues of gay marriage and blended families, as well as anxiety and coping with one's emotions. Highly recommend.
Spring 2020 Kids Indie Next List
Description
EIGHT STARRED REVIEWS! The reassuring book kids and families need right now.
"An absolute original . . . a story that kids will love." --R. J. Palacio, bestselling author of Wonder
At a time when everything is changing for Bea and her family, the important things will always stay the same. A soon-to-be classic by the Newbery Award-winning author of When You Reach Me.
After her parents' divorce, Bea's life became different in many ways. But she can always look back at the list she keeps in her green notebook to remember the things that will stay the same. The first and most important: Mom and Dad will always love Bea, and each other.
When Dad tells Bea that he and his boyfriend, Jesse, are getting married, Bea is thrilled. Bea loves Jesse, and when he and Dad get married, she'll finally (finally!) have what she's always wanted--a sister. Even though she's never met Jesse's daughter, Sonia, Bea is sure that they'll be "just like sisters anywhere."
As the wedding day approaches, Bea will learn that making a new family brings questions, surprises, and joy, and readers will discover why the New York Times called Rebecca Stead a "writer of great feeling."
"An undeniably beautiful book." --The New York Times
"No author writing today observes young lives with more clarity, tenderness, and grace." --Newbery Medalist Katherine Applegate, author of The One and Only Ivan
"Stead truly understands the inner life of kids." --Newbery Medalist Erin Entrada Kelly, author of Hello, Universe and You Go First
Praise for The List of Things That Will Not Change
An NPR Best Book of the Year
Praise for The List of Things That Will Not Change:
"A fabric woven of exactly the right threads.... An undeniably beautiful book." —The New York Times
★ "Uplifting without sentimentality, timely not trendy, and utterly engaging." —Kirkus Reviews, starred review
★ "An emotional character journey from a middle-grade master." —Booklist, starred review
★ "An affecting story of significant middle grade change." —Publishers Weekly, starred review 
★ "The angst and worries that middle grade readers experience are brought to life through Bea's authentic voice in this must-read title." —School Library Journal, starred review
★ "The strength of this novel lies in Stead's authentic, respectful, low-key approach to the emotional life of a ten-year-old as recalled from the perspective of her slightly older self." —The Horn Book, starred review
 
★ "Ultimately, Bea survives, thrives, and grows as love remains constant but her world gets bigger, and readers negotiating their own changing lives will relate to her challenge and applaud her triumph." —The Bulletin, starred review
★ "Stead masterfully explores the internal life of a girl going through both extraordinary and run-of-the-mill trials in a way that tells readers they are not alone in their complicated, contradictory feelings about the world." —Shelf Awareness, starred review
★ "A dazzling middle grade novel from Newbery Medalist Rebecca Stead." —BookPage, starred review
 
"An absolute original . . . a story that kids will love." —R. J. Palacio, bestselling author of Wonder
 
"No author writing today observes young lives with more clarity, tenderness, and grace than the one and only Rebecca Stead." —Newbery Medalist Katherine Applegate, author of The One and Only Ivan
"Stead truly understands the inner life of kids." —Newbery Medalist Erin Entrada Kelly, author of Hello, Universe and You Go First
"From the moon, the wedding, and the cake, to Bea's mind, Rebecca has captured everything so completely, so beautifully. Truly a wonderful work." —Patricia Reilly Giff, author of the Newbery Honor winners Lily's Crossing and Pictures of Hollis Woods
 
"This is a story of love that enlarges, even though it is not always easy.  We cheer for and are cheered by Bea's quiet triumphs because they are triumphs of the heart." —Gary D. Schmidt, author of The Wednesday Wars and Pay Attention, Carter Jones
 
"Rebecca Stead's writing is always infused with the tender minutiae of being alive, with the price we have to pay to be human. This book, along with its perfect title, is 'Typical Rebecca Stead.' And that's a heartfelt compliment." —Newbery Medalist Christopher Paul Curtis, author of The Watsons Go To Birmingham—1963 and Bud, Not Buddy