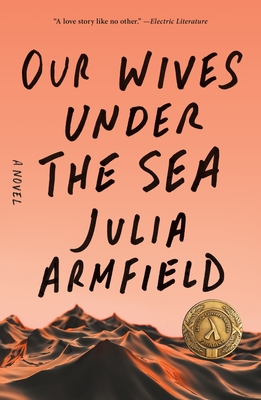 Our Wives Under the Sea: A Novel
Publication Date:
June 27th, 2023
Publisher:
Flatiron Books
Usually Ships in 1 to 5 Days
A haunting meditation on relationships in all their messy glory. The descriptive language is beautiful and unforgettable. I'll be thinking about this one for a while.
July 2022 Indie Next List
Description
A BEST BOOK OF THE YEAR (NPR, The Washington Post, Lit Hub, The Telegraph, Goodreads, Tor.com, them, and more)
A FINALIST for the LAMBDA LITERARY AWARD and GOODREADS CHOICE AWARD
"A deeply strange and haunting novel in the best possible way…An impressive and exciting debut novel that may leave you thinking about your own relationships in a new light." —NPR
"Shocking…Achingly poetic…Sharp and beautiful as coral polyps…Armfield exercises an exquisite—even sadistic—sense of suspense." —Ron Charles, The Washington Post

Leah is changed. A marine biologist, she left for a routine expedition months earlier, only this time her submarine sank to the sea floor. When she finally surfaces and returns home, her wife Miri knows that something is wrong. Barely eating and lost in her thoughts, Leah rotates between rooms in their apartment, running the taps morning and night. Whatever happened in that vessel, whatever it was they were supposed to be studying before they were stranded, Leah has carried part of it with her, onto dry land and into their home. As Miri searches for answers, desperate to understand what happened below the water, she must face the possibility that the woman she loves is slipping from her grasp.
By turns elegiac and furious, wry and heartbreaking, Our Wives Under the Sea is an exploration of the unknowable depths within each of us, and the love that compels us nevertheless toward one another.
Praise for Our Wives Under the Sea: A Novel
A Best Book of the Year (NPR, The Washington Post, Lit Hub, The Telegraph, Goodreads, Tor.com, them, and more)
A Lambda Literary Award Finalist for Lesbian Fiction
A Goodreads Choice Award Finalist
A Carnegie Medal for Excellence in Fiction Longlistee
"Shocking…Achingly poetic…Sharp and beautiful as coral polyps…Armfield exercises an exquisite—even sadistic—sense of suspense. She's cleverly designed this story so that we only gradually become aware of how little we know. 'Panic is a misuse of oxygen,' Leah warns, but by the climax of this eerie novel, I was misusing it with abandon."
—Ron Charles, The Washington Post
"A deeply strange and haunting novel in the best possible way…An impressive and exciting debut novel that may leave you thinking about your own relationships in a new light."
—NPR

"A haunting, evocative novel that juxtaposes the horrors beneath the waves with the life and love that exist on land."
—TIME
"Armfield uses this mysterious setup to explore anticipatory grief and the limits of human understanding, and I was a little changed after reading Our Wives Under the Sea, too."
—The New York Times
"Sublimely gorgeous…Readers are treated to a stunning love story about a couple trying to make sense of their new unfamiliar situation, while also learning about what happened to Leah on the ocean floor. It's pretty much perfect."
—Liberty Hardy, BookRiot
"Hypnotic...Gripped me from the first chapter...Armfield is unafraid to deal with uncomfortable issues, asking readers how much it's possible to ever really know someone, no matter how long you've been with them. I savored each delicious sentence of Our Wives Under the Sea, underlining passages on almost every page, and genuinely missed the characters when it ended."
—BuzzFeed
"Armfield has written a novel so chock-full of stunning sentences that that urge to scream needled its way into me throughout my first and second reads of the book…It isn't an obvious monster novel, but I consider it a monster novel in its own way. A deeply queer one, a deeply romantic one."
—Autostraddle
"Original and haunting."
—People Magazine (Best New Books)
"If you're in the mood to cry, then Julia Armfield wrote the perfect book for ya… Armfield breaks your heart over and over (but in a good way, promise)."
—Cosmopolitan
"A love story like no other…Armfield's fantastic first novel is about the pockets of unknowability that pop up in even the longest intimacies, how marriage, like the ocean, is full of 'the teeth it keeps half-hidden.'"
—Electric Literature
"Eerie and wonderful…A tender love story…A strange, sad, funny, ethereal book. Its final act is achingly beautiful and utterly terrifying. I still don't quite know what to make of Our Wives Under the Sea, but I can't stop thinking about it."
—Lit Hub
"Armfield's gorgeous prose weaves a strangely romantic tale of love and loss that might just leave you viewing your own relationships differently."
—them
"One of my favorites of this (and any other) year…Funny, wise, and often devastating."
—Tor.com
"[Armfield's] insights into the grieving process sometimes stop you in your tracks…Moving and evocative…Kept me turning the pages. Armfield has a deep feel for language…The final scene in Miri's narrative absolutely floored me…It moves me to tears just thinking about it now."
—Washington Independent Review of Books
"[A] masterpiece...Deeply romantic and devastating."
—Refinery29
"Engrossing...Armfield's tale is a blissfully strange, poetically written, fantastical voyage into a relationship."—Bay Area Reporter
"Captivating and at times heartbreaking."
—SheReads
"A moody and intimate debut novel, both a portrait of a marriage and a subtle horror fantasy…With echoes of Jules Verne, Thor Heyerdahl, H.P. Lovecraft, and the film Altered States, Armfield anchors the shudder-producing tale in authentic marine science and a deep understanding of human nature. This is mesmerizing."
—Publishers Weekly (starred review)
"What happens to a marriage when one spouse is no longer the person you married?...Launching her book with epigraphs from both Moby-Dick and Jaws, Armfield guides the reader through the liminal spaces in the couple's lives and approaches them with an occasionally ironic humor. The bleakest horror story can also be a love story; Armfield deftly illustrates how."
—Kirkus (starred review)
"Without a doubt, Our Wives Under the Sea is one of the best books I've ever read. It's not only art, it's a perfect miracle. We are lucky for it."
—Kristen Arnett, author of With Teeth and Mostly Dead Things
"A wonderful novel, deeply romantic and fabulously strange. I loved this book."
—Sarah Waters, author of Tipping the Velvet
"I was entirely captivated by this book. A gorgeous debut."
—Jami Attenberg, author of I Came All This Way to Meet You and The Middlesteins
"Beautiful, otherworldly, like floating through water with your eyes open."
—Daisy Johnson, author of Sisters and Everything Under
"Julia Armfield is one of my favorite writers. Our Wives Under the Sea is a contemporary gothic fairy tale, sublime in its creepiness."
—Florence Welch, lead singer of Florence + the Machine
"This phenomenal book is a marriage tale unlike any other. Thrilling, funny and exquisitely crafted, this book will make you question everything while it keeps you up all night turning its pages." —Danielle Lazarin, author of Back Talk
"A strange, unnerving novel that wrongfoots you at every turn and invites you to think again about loss, absence, and transformation. A lyrically written elegy."
—Neel Mukherjee, author of The Lives of Others
"Tender, strange, lucid, and so assured. If you love sci-fi or love stories or books that defy labels or chew-your-arm-off good writing, this is for you."
—Kiran Millwood Hargrave, author of The Mercies
"Spooky and romantic: a gorgeous novel that gets under your skin. Armfield leads you softly through a story that feels epic and intimate at the same time."
—Sarvat Hasin, author of The Giant Dark
"Delicate and horrifying, Our Wives Under The Sea is a darkly brilliant novel that submerges the reader's imagination in the depths of the unknown."
—Megan Hunter, author of The Harpy
"Reading this book is like diving into the deepest depths of the ocean and finding beautiful and disturbing wonders."
—Kirsty Logan, author of Things We Say in the Dark