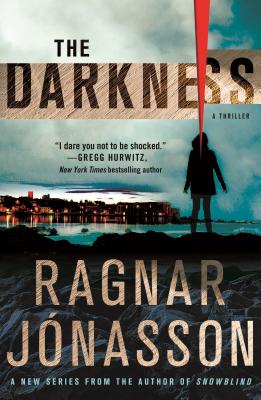 The Darkness: A Thriller (The Hulda Series #1)
Publication Date:
October 15th, 2019
Publisher:
Minotaur Books
Usually Ships in 1 to 5 Days
Description
"A bullet train of a novel, at once blazingly contemporary and Agatha-Christie old-fashioned.... I dare you not to be shocked." —Gregg Hurwitz, New York Times bestselling author
The body of a young Russian woman washes up on a remote Icelandic beach. She came looking for safety, but instead she found a watery grave.
A hasty police investigation determines her death as suicide and the case is quietly closed.
When Detective Inspector Hulda Hermannsdóttir of the Reykjavik police is forced into early retirement, she is told she can investigate one last cold case of her choice—and she knows which one. The Russian woman whose hope for asylum ended on the dark, cold shore of an unfamiliar country. Soon Hulda discovers that another young woman vanished at the same time, and that no one is telling her the whole story. Even her colleagues in the police seem determined to put the brakes on her investigation. Meanwhile the clock is ticking.
Hulda will find the killer, even if it means putting her own life in danger.
Spanning the icy streets of Reykjavik, the Icelandic highlands and cold, isolated fjords, The Darkness is the first in a new atmospheric and complex thriller series from Ragnar Jónasson, the award-winning author of the internationally bestselling Ari Thor thrillers.
Praise for The Darkness: A Thriller (The Hulda Series #1)
Ragnar Jonasson hailed as one of "the heirs to the Agatha Christie crown" by The Daily Telegraph (UK).
"Jonasson is an automatic must-read for me ... possibly the best Scandi writer working today." —Lee Child, internationally bestselling author of the Jack Reacher thrillers
Praise for The Darkness:
"Jónasson pulls no punches as this grim tale builds to its stunning conclusion, one of the more remarkable in recent crime fiction. Fans of uncompromising plotting will be satisfied." —Publishers Weekly (starred review and book of the week)
"The Darkness melds an insightful character study with a solid plot for an outstanding novel." —Washington Post
"A complex, fascinating mix of Icelandic community and alienation, atmospheric tension, and timely issues (immigrant exploitation and vigilante justice), Jónasson's latest series is another must-read for crime fans who follow the work of Arnaldur Indridason and Yrsa Sigurdardóttir." —Booklist (starred review)
"As an older female detective, Hulda is a refreshing addition to the genre. This intricate and timely work explores the dehumanization of refugees, sexism in the police force, aging, and more without overwhelming the core mystery. VERDICT: This heart-pounding tale will appeal to fans of Camilla Lackberg and those looking for a darker, more modern Agatha Christie-type mystery." —Library Journal

"Jónasson manages to resolve the plot lines plausibly, and is as strong as ever at combining fair-play with psychological depth." —Publishers Weekly
"If you think you know how frigid Iceland can be, this blistering stand-alone from Jónasson has news for you: It's much, much colder than you've ever imagined. Warmly recommended for hot summer nights." —Kirkus Reviews
"The Darkness is a bullet train of a novel, at once blazingly contemporary and Agatha-Christie old-fashioned. With prose as pure and crisp as Reykjavik snowcrust, Ragnar Jónasson navigates the treacherous narrative with a veteran's hand. I reached the end with adrenalized anticipation, the final twist hitting me in the face. I dare you not to be shocked." —GREGG HURWITZ, New York Times bestselling author
"I'm absolutely LOVING Ragnar Jonasson's The Darkness. In all honesty, I might even be loving this new series more than I loved the launch of Ragnar's Dark Iceland series, Snowblind—and that's saying a lot.... If you love atmospheric, slow-burning yet totally addictive police procedurals, you have to add this book to your TBR. The Darkness is downright fantastic." —Crime by the Book blog
"I thoroughly enjoyed this author's writing style and emphasis on the atmosphere of the storyline and its characters. He is quite the master of creating such a vivid setting in which you as a reader almost feel like you are transported into the story. I am definitely looking forward to Ragnar's next book in this series! I highly recommend this read to fans of suspense and thrillers..." —The Reading Beauty Blog
"[I] was gripped from the start of this brilliantly told story. And left wide-eyed with shock at the ending" —FIONA BARTON, bestselling author of The Widow
"... magnificently dark and twisted! That ending - blimey!" —C.J. TUDOR, bestselling author of The Chalk Man
"The Darkness is a true masterpiece of a crime novel, introducing an original protagonist, a plot full of twists and turns and an ending that leaves you gasping for air." —YRSA SIGURDARDOTTIR, bestselling Icelandic crime writer
"The Darkness is Ragnar Jonasson at the top of his game - deft plotting, a great central character and a story as chilling as the Icelandic winter. I couldn't put it down." —WILLIAM RYAN, bestselling author of The Holy Thief
"Just finished TheDarkness ... oh WOW!" —HELEN CALLAGHAN, bestselling author of Dear Amy