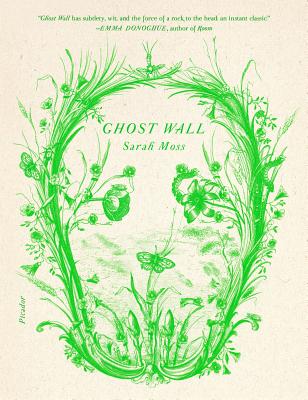 Ghost Wall: A Novel
Publication Date:
December 31st, 2019
Usually Ships in 1 to 5 Days
Description
A Southern Living Best New Book of Winter 2019; A Refinery29 Best Book of January 2019; A Most Anticipated Book of 2019 at The Week, Huffington Post, Nylon, and Lit Hub; An Indie Next Pick for January 2019
"Ghost Wall has subtlety, wit, and the force of a rock to the head: an instant classic."
—Emma Donoghue, author of Room
"A worthy match for 3 a.m. disquiet, a book that evoked existential dread, but contained it, beautifully, like a shipwreck in a bottle."
—Margaret Talbot, The New Yorker
A taut, gripping tale of a young woman and an Iron Age reenactment trip that unearths frightening behavior
The light blinds you; there's a lot you miss by gathering at the fireside.
In the north of England, far from the intrusions of cities but not far from civilization, Silvie and her family are living as if they are ancient Britons, surviving by the tools and knowledge of the Iron Age.
For two weeks, the length of her father's vacation, they join an anthropology course set to reenact life in simpler times. They are surrounded by forests of birch and rowan; they make stew from foraged roots and hunted rabbit. The students are fulfilling their coursework; Silvie's father is fulfilling his lifelong obsession. He has raised her on stories of early man, taken her to witness rare artifacts, recounted time and again their rituals and beliefs—particularly their sacrifices to the bog. Mixing with the students, Silvie begins to see, hear, and imagine another kind of life, one that might include going to university, traveling beyond England, choosing her own clothes and food, speaking her mind.
The ancient Britons built ghost walls to ward off enemy invaders, rude barricades of stakes topped with ancestral skulls. When the group builds one of their own, they find a spiritual connection to the past. What comes next but human sacrifice?
A story at once mythic and strikingly timely, Sarah Moss's Ghost Wall urges us to wonder how far we have come from the "primitive minds" of our ancestors.
Praise for Ghost Wall: A Novel
A Best Book of the Year at Publishers Weekly, Elle, Thrillist, The Guardian, New Statesman, Times Literary Supplement, Financial Times, Spectator, Times (UK), BookRiot, and Metro (UK)
Honorable Mention for Best Novel of the Decade at Lit Hub
Longlisted for the Women's Prize for Fiction 2019
The New York Times Book Review Editor's Choice
An Indie Next Pick for January 2019
New York Magazine Approval Matrix, "Highbrow Brilliant"
A Southern Living Best New Book of Winter 2019
A Refinery29 Best Book of January 2019
A Nylon Best Book to Read in 2019
A Huffington Post Most Anticipated Book of 2019
A Lit Hub Most Anticipated Read of 2019
A Thrillist Most Anticipated Book of 2019
"I stayed up half the night gulping down Sarah Moss's slim, unnervingly tense novel. Ghost Wall has subtlety, wit, and the force of a rock to the head: an instant classic."
—Emma Donoghue, author of Room
"A slim novel about an iron age-obsessed man who takes his wife and daughter on a re-enaction holiday. It begins weirdly, ends badly and I loved it."
—Bernardine Evaristo, The Guardian
"A compact, riveting book."
—Alyson Hagy, The New York Times Book Review
"[Ghost Wall] compresses large and urgent themes—the dangers of nostalgic nationalism, the abuse of women and children, what is lost and gained when humans stop living in thrall to the natural world—into a short, sharp tale of suspense. The way Moss conjures up the dark magic and vestigial landscapes of ancient Britain reminded me a little of the horror movie The Wicker Man . . . The novel's feminism, though, felt utterly contemporary . . . I read Ghost Wall in one gulp in the middle of the night."
—Margaret Talbot, The New Yorker
"A master class in compressing an unbearable sense of dread into a book that can be read in a single horrified (and admiring) hour . . . Ghost Wall is perhaps the finest novel so far to come out of the British literary response to these uneasy times."
—Sarah Perry, The Wall Street Journal
"[A] tiny, sharp knife of a novel . . . a persistent theme of this acutely lovely novel is the way in which all societies—whether ancient or modern, rich or poor—depend on scaffoldings of cruelty, from the meat they eat to the clothes they wear . . . Moss, whose work has long plumbed the psychological roots of timely issues, offers a beautiful corrective to the rugged, wild-man archetype. . . The whole book feel[s] like a web of shimmering connections, unshowy but endlessly complex."
—Annalisa Quinn, The Atlantic

"Stylish, cerebral... fiction of unusual philosophical and emotional density.... [Moss] is one of the most versatile and talented writers working today.... Ghost Wall [is] a riveting gut punch of a novel... It has the quality of parable, yet never loses sight of the fragile but fierce young girl at its center. It is an extraordinary novel."
—Tara K. Menon, Los Angeles Review of Books
"If you relish the creepy rituals of Ari Aster's Midsommar, read Ghost Wall by Sarah Moss . . . a twisted little exploration of familial and societal dysfunction."
—New Times Broward/Palm Beach
"Reminiscent of Flannery O'Connor."
—Chicago Catholic
"Sarah Moss possesses the rare light touch when it comes to melding the uncanny with social commentary . . . Ghost Wall is such a weird and distinctive story: It could be labeled a supernatural tale, a coming-of-age chronicle, even a timely meditation on the various meanings of walls themselves. All this, packed into a beautifully written story of 130 pages. No wonder I read it twice within one week."
—Maureen Corrigan, NPR
"Moss' myth-like Ghost Wall isn't merely a timely topical novel, but rather a timeless work of art."
—Randy Rosenthal, The Minneapolis Star Tribune
"Tense, poetic, and compelling."
—Mike Doherty, The Toronto Star
"The fear produced by this fine-honed, piercing novel springs not from the superstitious customs of prehistory but from the more intimate horrors of human nature."
—Sam Sacks, The Wall Street Journal
"A fascinating, horrifying look into the way in which . . . fixation on the past threatens our present and our future . . . Moss skillfully builds an atmosphere of menace and peril, making it so that I both dreaded and couldn't wait to turn every page, simultaneously afraid and compelled by what strange, inevitable violence lay ahead . . . Spend an afternoon reading this marvel of a book, and then spend the next few weeks thinking about nothing else."
—Kristin Iversen, Nylon
"Much like life: brief, terrifying, and obstinately weird."
—Rien Fertel, AV Club
"My Absolute Darling meets Lord of the Flies, an immersive, atavistic rager of a story."
—Tom Beer and Marion Winik, Newsday
"The tense realism of Moss's prose, juxtaposed with the increasingly mythical movement of the text, begs the reader to question the ways in which we are willing to sacrifice ourselves, and others, in the name of preserving male supremacy. A potent, exquisitely written reminder of the how effectively a horror story can expose and reflect contemporary social concerns."
—Maryse Meijer, Publishers Weekly
"Ghost Wall's parabolic approach is a refreshing departure from the fashionable impulse in fiction to relegate political events to the status of inert objects. As the book's title suggests, Moss instead renders them as ghostly presences . . . Powerful and satisfying."
—Emma Hager, The Nation
"Best consumed in one potent gulp, like a shot of whiskey or even hemlock . . . the voice is original, the characters compelling, and the story as chilling as they come."
—Betty J. Cotter, Providence Journal
"Ghost Wall is a parable for our broken times, an eerie reminder that our darkest historical moments tend to repeat themselves in the presence of fear, irrationality, and a paranoid insistence on preserving a false idea of a more perfect past . . . a slip of a book, powerful in its tightly controlled prose and multiple understated themes."
—Dana Hansen, Chicago Review of Books
"A tense, provocative, explosion of a novel . . .Both mythic and intensely relevant, Ghost Wall deals with issues of sexuality, class, patriarchy and xenophobia. Think Shirley Jackson meets Margaret Atwood, with a nod to William Golding'sLord of the Flies. You can read it one sitting but you'll think about it long afterward."
—Suzanne Tobias, KMUW
"Brilliant. Gripping. Very thought provoking. It'll take you two hours. "
—Joanna Trollope, Daily Mail
"Ghost Wall is a short and cogent book highlighting the dynamics of one family through the lens of a rather bizarre and unsettling family trip. Bringing the distant past together with issues faced by women today—most of them rooted in history themselves—Moss' novel asks readers to consider what we might stand to gain from history, and what we must leave behind."
—Casey Jong, ZYZZYVA
"The story is exquisitely written; the characters are perfectly drawn and pop off the page . . . A triumph."
—Leah Schnelback, Tor.com
"Remarkable, inventive . . . Sarah Moss unpacks the toxic patriarchy all without leaving the confines of a teenage girl's two-week trip to the remote northern edges of England."
—Elena Nicolaou, Refinery29
"It's so good, and Moss is the most brilliant writer. She deserves to win all the prizes."
—Joanna Trollope, iNews
"I love this book. Ghost Wall requires you to put your life on hold while you finish it. It draws you into its unusual world and, with quiet power and menace, keeps you there until the very last page. Silvie's story isn't one you will ever forget."
—Maggie O'Farrell, author of I Am, I Am, I Am and The Vanishing Act of Esme Lennox
"This book ratcheted the breath out of me so skillfully that as soon as I'd finished, the only thing I wanted was to read it again."
—Jessie Burton, author of The Miniaturist
"A perfectly calibrated consciousness that is energetic and lonely and prone to sharp and memorable observations . . . This is a haunting, astonishing novel."
—Publishers Weekly, starred review
"Thought provoking on multiple levels, with insights into primitive and modern societies, and coming of age in the face of family violence."
—Library Journal, starred review
"With stark and haunting prose that perfectly captures the harshness of the conditions the group is re-creating, Ghost Wall explores what the past can teach us about the present and what the present can teach us about the past--especially when the two are not as far removed as we may like to believe."
—Kerry McHugh, Shelf Awareness
"A novel as tightly woven as the baskets its heroine plaits, Ghost Wall is a startling and bloody blade of a book. A teenage girl, her parents, and a group of students agree to reenact life in Iron Age England over the course of a holiday, and slide into sacrifice. Elements of The Secret History combine with The Witch, plus bog bodies, patriarchal and class violence—it's a slender, scathing fable for today, made of the ingredients of the past thousand years."
—Maria Dahvana Headley, author of The Mere Wife
"Ghost Wall grabs you by the guts and never lets go. Dazzling."
—Elizabeth Day, author of The Party
"A thorny, thoroughly original novel about human beings' capacity for violence."
—Kirkus
"Tackling issues such as misogyny and class divides, Moss packs a lot into her brief but powerful narrative."
—Booklist
"A short, sharp shock of a book that closes around you like a vice as you read it . . . From the terse, dismaying little prologue, in which an iron age girl is marched out and murdered before an audience of neighbours and family, to the hair-raising, heart-stopping denouement, it hurtles along and carries you with it, before dumping you, breathless, at the end . . . Ghost Wall is a burnished gem of a book, brief and brilliant, and with it Moss's star is firmly in the ascendant."
—Sarah Crown, The Guardian
"The curious allure of re-enactment is cleverly explored in Moss's short, potent novel . . . A Brexity tale to send shivers down your spine."
—Rebecca Rose, The Financial Times
"Ghost Wall . . . is further proof that [Moss is] one of our very best contemporary novelists. How she hasn't been nominated for the Man Booker Prize continues to mystify me – and this year is no exception . . . a gripping narrative . . . It's an intoxicating concoction; inventive, intelligent, and like no other author's work."
—Lucy Scholes, The Independent, Five-Star Review
"Ghost Wall, a slim but meaty book, is like nothing I have read before; its creepy atmosphere has stayed with me all summer . . . Moss combines exquisite nature writing, original characters and a cracking thriller plot to make a wonderful literary curiosity. It deserves to pull her out of the bog of underappreciation and on to the prize podiums."
—Alex O'Connell, The Times (UK)
"Stunningly good, a tightly written, powerful book about archaeology and Englishness."
—Alex Preston, The Observer
"Moss truthfully conveys the way teenage girls make friends . . . In just 149 pages Moss does a remarkable job at building an engaging, textured world and Silvie is a likeable heroine. You root for her — and she might just surprise you."
—Susannah Butter, Evening Standard
"[Sarah Moss is] this divided country's most urgent novelist. Her themes: the cycles of history, male absurdity, the forms female subversion may take, in irony, sickness and sacrifice. It helps that she's absurdly topical, and that she's funny."
—Daniel Swift, The Spectator
"Reading Ghost Wall in the context of contemporary Britain only serves to highlight the folly of wishing for the good old days . . . The book can be read as a Brexit fable, where seppuku levels of self-sacrifice are forged with lemming-like gusto . . . There is a spring-taut tension embedded in the pages . . . Moss's brevity is admirable, her language pristine."
—Sinead Gleeson, The Irish Times
"Moss slowly ratchets up the tension, much as the Iron Age people they are studying used to slowly twist a length of rope around the necks of the human sacrifices they made, up on the nearby moors."
—Roger Cox, The Scotsman
"[Combines] the components of a thriller with a nuanced understanding of history, its fluctuating interpretations and its often traumatic effect on the present . . . Moss's sensual writing recalls the late Helen Dunmore . . . A bold, spare study of internecine conflict."
— Catherine Taylor, New Statesman
"Characteristically intelligent . . . both subtle and devastating . . . Moss is the author of five acclaimed novels but in this short volume has, I believe, produced her best fiction to date."
—Totally Dublin
"Reading Ghost Wall is an intense experience. Its claustrophobia and fearful build up leave you feeling close to tears. It is a masterful piece of writing that cements Moss's reputation as one of our best novelists."
—Sian Norris, Prospect
"The 'ghost wall' of the title becomes a powerful metaphor for the invisible boundaries that exist between different groups of people, not just in the past but also at the present time. Sarah Moss combines her research interests in food, place and material culture to good effect."
—Lucy Whetman, Press Association/The Telegraph
"A masterpiece of concision . . . Whether evoking the landscape and the natural world or charting the dynamics between her strongly drawn characters, there is precision, elegance and, yes, a dark beauty."
—Martin Spice, Star2
"Moss's finely balanced novel combines a strong sense of the natural world with a growing atmosphere of menace, interspersed with wry humour."
—Anthony Gardner, The Mail on Sunday
"Certain to give you the chills and the creeps . . . Ghost Wall addresses issues of gender and class, British identity and borders, in 160 pages."
– Sana Goyal, LiveMint
"Moss is the author of several unsettling and intelligent novels about women constrained by historical circumstance, and this, narrated beautifully by a teenage girl, is one of her best yet."
—Metro
"Sarah Moss is fascinated by bodies and isolation, and by bodies in isolation . . . Here, [she] is again drawn to an adolescent female body . . . Moss appears to collapse layers of history, to render skin and knife and rope identical across millennia. What provokes and perpetuates that capacity for harm, and what powers a mystical belief in its propitiatory value, remains eerily unclear, but no less urgent a concern for us than for our ghostly forebears."
—Alex Clark, The Observer
"Is Sarah Moss the best British writer never nominated for the Booker? . . . as brief and unsettling as a bolt of lightning . . . [Ghost Wall] pins us to the page with creeping menace."
—Anthony Cummins, Daily Mail
"Exquisite . . . the book works subcutaneously, building towards an ending that is all the more horrifying for its unexpectedness . . . an important novel that wears its timeliness lightly."
—Financial Times
"Moss's slight but searing Ghost Wall explores questions of class mistrust, sexism, social mobility, xenophobia, and the North-South divide"
—Leo Robson, The New Yorker
"Unnerving . . . An intense and menacing book—the sort that's best read in one sitting."
—Francesca Carrington, Tatler
"Sarah Moss . . . combines a poetic sensibility with great storytelling . . . Moss is brilliant on atmosphere."
—John Boyne, Metro UK
"Succinct and sublime . . . Moss depicts the connections between the people and the landscape with wonderful and lyrical precision, not a word is wasted on the page in her supple prose, and she is also expert at revealing her characters through the tiniest act or gesture. Ghost Wall is a masterclass in the 'less is more' style of writing, creating unbearable tension right up to the violent climax."
—Doug Johnstone, Big Issue
"An unsettling novella about gender, power, and control that immerses you in its dark terror and won't let go . . . Captivating."
—Attitude
"Writing that, along with vivid responses to the natural world and acute alertness to class, regional and sexual tensions, recalls the early fiction of DH Lawrence. It brings enriching complexity to this tale of escalating menace."
—Peter Kamp, Sunday Times
"Moss is the author of a series of unsettling, beautifully strange novels, and her latest . . . is no exception."
—Sarah Hughes, iNews, "50 Top Reads for Autumn"
"Outstanding . . . The threat of unchallenged authority is brilliantly exposed . . . Grave and sophisticated, lit by flashes of wry humour, this is a drama that excavates our deepest instincts."
—Caroline Jackson, Country Life
"What I admire . . . is Moss's ability to find an emotional connection with characters in the far distant past . . . Eerie and gripping."
—Editor's Choice, The Bookseller