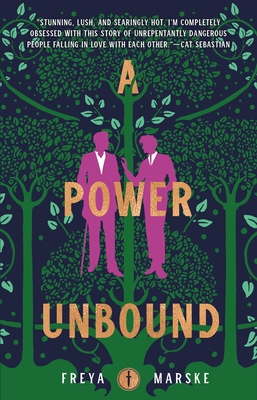 A Power Unbound (The Last Binding #3)
Publication Date:
November 7th, 2023
Usually Ships in 1 to 5 Days
In the culminating tale of my favorite fantasy romance trilogy, Freya Marske does it all: a darkly romantic enemies-to-lovers story, a compelling magical adventure, and beautifully queer found family. I want everyone to read these books!
November 2023 Indie Next List
Description
An Indie Next and LibraryReads "Hall of Fame" Pick!

A Power Unbound is the final entry in Freya Marske's beloved, award-winning Last Binding trilogy, the queer historical fantasy series that began with A Marvellous Light.
"Messy people and burn-it-down conflict. . . . Marske uses the full span of the trilogy to build to a beautiful, devastating conclusion."—The New York Times
"Stunning—the writing is lush, the world-building is fascinating, and the romance is searing hot. I am completely obsessed with this story of unrepentantly dangerous people falling in love with one another."—Cat Sebastian, author of The Queer Principles of Kit Webb

A Best Of Pick for LitHub, Book Riot, Amazon, Powell's, and PopSugar
Secrets! Magic! Enemies to. . .something more?
Jack Alston, Lord Hawthorn, would love a nice, safe, comfortable life. After the death of his twin sister, he thought he was done with magic for good. But with the threat of a dangerous ritual hanging over every magician in Britain, he's drawn reluctantly back into that world.
Now Jack is living in a bizarre puzzle-box of a magical London townhouse, helping an unlikely group of friends track down the final piece of the Last Contract before their enemies can do the same. And to make matters worse, they need the help of writer and thief Alan Ross.
Cagey and argumentative, Alan is only in this for the money. The aristocratic Lord Hawthorn, with all his unearned power, is everything that Alan hates. And unfortunately, Alan happens to be everything that Jack wants in one gorgeous, infuriating package.
When a plot to seize unimaginable power comes to a head at Cheetham Hall—Jack's ancestral family estate, a land so old and bound in oaths that it's grown a personality as prickly as its owner—Jack, Alan and their allies will become entangled in a night of champagne, secrets, and bloody sacrifice . . . and the foundations of magic in Britain will be torn up by the roots before the end.
The Last Binding Trilogy:
A Marvellous Light
A Restless Truth
A Power Unbound
Praise for A Power Unbound (The Last Binding #3)
Indie Next Pick, Library Reads "Hall of Fame" Pick, and Best Of Pick for LitHub, Amazon, and PopSugar
"Messy people and burn-it-down conflict. . . . Marske uses the full span of the trilogy to build to a beautiful, devastating conclusion. . . . Romance runs on undiluted wish fulfillment; sometimes this means give me everything I desire, but other times it means promise me that I can survive the worst."—The New York Times
"Stunning—the writing is lush, the world-building is fascinating, and the romance is searing hot. I am completely obsessed with this story of unrepentantly dangerous people falling in love with one another."—Cat Sebastian, author of The Queer Principles of Kit Webb
"A delightful, twisty, endlessly charming romp. I would travel anywhere with these characters."—Grace D. Li, New York Times bestselling author of Portrait of a Thief
"A charming, heart-thumping close to a world and characters fans won't be ready to let go of."—Booklist, starred review
"A satisfying conclusion to a charming, queer historical fantasy trilogy."—Library Journal, starred review
"Marske's showstopping final Last Binding historical fantasy doubles down on all the romance and magic that made the previous books in the trilogy so delightful. . . . Marske again demonstrates her talent for balancing romance and fantasy action. This does the series proud."—Publishers Weekly, starred review
"Delightful and spicy. . . . Marske is simply superb at her chosen genres."—The New York Times on the Last Binding trilogy
"I squealed with delight. Marske delivers a prickly love story while adeptly tying up all the loose ends of her series, involving a long-ago bargain between human magicians and ancient fae, and how the magic that resulted has been twisted by mortal greed."—LitHub
"A spectacular and satisfying series conclusion.... If you love historical fantasy, complex magic systems (maybe based on ancient contract law?), begrudging groups of friends (dare I say... families of choice), or enemies learning they have more in common than they thought (and falling in love about it!), then this is the series for you!"—Powell's, Best of 2023
"A Power Unbound takes everything that was being built up in A Marvellous Light and A Restless Truth and throws it in your face in a glorious climax that seems to solve both everything and nothing. . . . I honestly cannot recommend this series enough. The characters, the relationships, and the world-building are all amazing. The mysteries are compelling. With all three of these books, I could not put them down. And A Power Unbound is the perfect conclusion."—The Geekiary
Praise for the Last Binding Trilogy
"A breathtaking romp of a plot, prose as sparkling and luxuriant as a diamond sautoir, and at the heart of it all a sense of wondrous possibility."—The New York Times
"Truly a scrumptious treat of a book, like a fancy tea all laid out with silver spoons and floral-painted cups."—NPR
"The prose is sublime, the world-building top-notch, and the magic system is fascinating and unique."—TJ Klune, New York Times bestselling author of The House on the Cerulean Sea
"Mystery! Magic! Murder! Long looks full of yearning! A confection, both marvelous and light."―Alix E. Harrow, New York Times bestselling author of Starling House
"Marske continues the beloved journey from the first book with an almost entirely new cast of characters and a new hot-and-steamy queer romance. . . . New magical insights and charming whimsy. Fans will be delighted."—Booklist, starred review
"Sensual erotic scenes, an intriguing magic system, and a puzzling mystery combine to make this novel a wonder. Fans of C.L. Polk's Witchmark, period queer novels, and creative fantasy will all clamor for more."—Publishers Weekly, starred review
"Marske's debut is a delightful blend of Edwardian fantasy and romance, with enough twists and questions to have readers clamoring for the next in the planned series."—Library Journal, starred review
"Marske is an extraordinary talent who writes compelling characters . . . and love stories like nobody else."—Everina Maxwell, author of Winter's Orbit
"A delectable sapphic fantasy-adventure on the high seas . . . . Never has the term 'to ship' been more appropriate."―Megan Bannen, author of The Undertaking of Hart and Mercy
"Everything you could ever want from a book—beautiful descriptions, expertly woven worldbuilding, queer kissing, sexual tension in a library . . . Brilliant on every level."—Alexandra Rowland, author of A Taste of Gold and Iron
"Prepare to fall in love."—Emily Tesh, author of Silver in the Wood and Some Desperate Glory
"A magical world of exquisite refinement, where peril skims beneath manners, interiors bespeak both faultless taste and deadly secrets, and the sexual tension crescendos until it literally makes sparks fly."—Shelley Parker-Chan, author of She Who Became the Sun
"Perfect."—Jenn Lyons, author of The Ruin of Kings
"The perfect book if you're looking for oceanbound queer shenanigans, suspense in a coherently magical world, or opulent historical fiction."―Malka Older, author of The Mimicking of Known Successes
"If you ever wished Downton Abbey was sharper-edged and full of magic, this is the book for you."—Kat Howard, author of An Unkindness of Magicians
"If I had the ability to make everyone read one trilogy of books, it would be The Last Binding, Freya Marske's phenomenal (and extremely spicy) fantasy series. No one intersperses gleeful, squeal-inducing sexual tension with tender and painfully human interactions between characters quite like Marske does. Think of your favorite romance trope. Is it rivals to lovers? Enemies to something more? Sunshine and grump? Forced proximity? Chances are you'll find it in one of these books. A Power Unbound is a deeply satisfying conclusion to this series."—Polygon
"A fast-paced book full of delightfully witty repartee, wonderfully lewd sexytimes, and a truly biting class and gender commentary that does not waste time with subtlety."—Gizmodo
"A magical murder mystery. . . . A twisty match of wits leavened with society intrigue, skullduggery, and more than a little spy-fiction cloak and dagger action. There are dueling conspiracies, scandalous secrets, and questionable loyalties. But it's sapphic romance too, with erotica that will leave you checking over your shoulder to be sure you have some privacy."—Geekly Inc
"Maud Blyth shares a similar aversion to lying as Knives Out's would-be murderer Marta . . . . Pair Maud with Violet Debenham, an actress and magician who can't fathom making herself vulnerable enough to be truthful with anyone, and their romance unfolds along the same breathless plot beats as solving a murder that could shift the balance of all the magic in England."—Paste