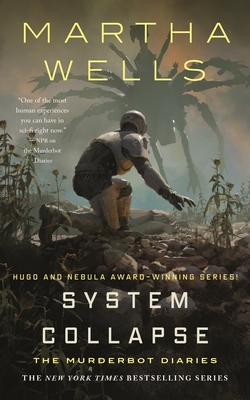 System Collapse (The Murderbot Diaries #7)
Publication Date:
November 14th, 2023
Usually Ships in 1 to 5 Days
I'm a bit of a Murderbot purist —All Systems Redmade me reevaluate who I am, and that's a tough act to follow. Here comesSystem Collapsehitting my trauma and making me Feel. Rude. Martha Wells taps in to the hardest parts of learning to be a person.
November 2023 Indie Next List
Description
A New York Times Bestseller.
A Washington Post Bestseller.
A USA Today Bestseller.
Everyone's favorite lethal SecUnit is back in the next installment in Martha Wells's bestselling and award-winning Murderbot Diaries series.

Am I making it worse? I think I'm making it worse.
Following the events in Network Effect, the Barish-Estranza corporation has sent rescue ships to a newly-colonized planet in peril, as well as additional SecUnits. But if there's an ethical corporation out there, Murderbot has yet to find it, and if Barish-Estranza can't have the planet, they're sure as hell not leaving without something. If that something just happens to be an entire colony of humans, well, a free workforce is a decent runner-up prize.
But there's something wrong with Murderbot; it isn't running within normal operational parameters. ART's crew and the humans from Preservation are doing everything they can to protect the colonists, but with Barish-Estranza's SecUnit-heavy persuasion teams, they're going to have to hope Murderbot figures out what's wrong with itself, and fast!
Yeah, this plan is... not going to work.
The Murderbot Diaries
All Systems Red
Artificial Condition
Rogue Protocol
Exit Strategy
Network Effect
Fugitive Telemetry
System Collapse
Praise for System Collapse (The Murderbot Diaries #7)
An Indie Next Pick!
A LibraryReads Hall of Fame Pick!
"If you need something light, a little violent and laugh-out-loud hilarious, dive into this series: You may find that you have more in common with Murderbot than you think." —Liz Braswell, The Wall Street Journal
"Readers won't miss the wall-to-wall action that defined the series from its beginning. The characters and the world building remain engrossing and rewarding." —Booklist, starred review
Praise for The Murderbot Diaries
"I love Murderbot!" —Ann Leckie
"The most heartwarming action-packed literally explosive space opera I've enjoyed in a long time. Martha Wells is the best writer of loveable snarky gender-subversive killing machines out there!" —N. K. Jemisin

"We are all a little bit Murderbot."—NPR
"I might have a little bit of a thing for a robot. Its name is Murderbot... Network Effect [is] great." —Wired
"I can think of no better company than this paranoid android." —The New Scientist
"Murderbot, with its on-point observations and addictive interior monologues, is easily one of my favorite characters in SF... Highly recommended." —Charles de Lint for Fantasy & Science Fiction
"I could read about Murderbot all week." —Locus