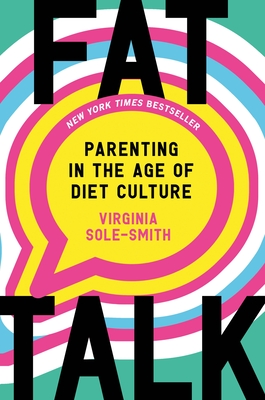 Fat Talk: Parenting in the Age of Diet Culture
Publication Date:
April 25th, 2023
Publisher:
Henry Holt and Co.
Usually Ships in 1 to 5 Days
Description
NEW YORK TIMES BESTSELLER
A Book Riot best book of 2023
An Audible best well-being audiobook of 2023
By the time they reach kindergarten, most kids believe that "fat" is bad. By middle school, more than a quarter of them have gone on a diet. What are parents supposed to do?
Kids learn, as we've all learned, that thinness is a survival strategy in a world that equates body size and value. Parents worry if their kids care too much about being thin, but even more about the consequences if they aren't. And multibillion-dollar industries thrive on this fear of fatness. We've fought the "war on obesity" for over forty years and Americans aren't thinner or happier with their bodies. But it's not our kids—or their weight—who need fixing.
In this illuminating narrative, journalist Virginia Sole-Smith exposes the daily onslaught of fatphobia and body shaming that kids face from school, sports, doctors, diet culture, and parents themselves—and offers strategies for how families can change the conversation around weight, health, and self-worth.
Fat Talk is a stirring, deeply researched, and groundbreaking book that will help parents learn to reckon with their own body biases, identify diet culture, and empower their kids to navigate this challenging landscape. Sole-Smith draws on her extensive reporting and interviews with dozens of parents and kids to offer a provocative new approach for thinking about food and bodies, and a way for us all to work toward a more weight-inclusive world.
Praise for Fat Talk: Parenting in the Age of Diet Culture
A Book Riot best book of 2023
An Audible best well-being audiobook of 2023
"Along with moving stories of the families she has interviewed, Sole-Smith offers data…Fat Talk also questions the received narrative of the 'obesity epidemic' and traces a far more complicated relationship between health, weight, diet, disease and mortality."
—The Washington Post
"Through dozens of interviews, Sole-Smith gathers and shares the experiences and observations of people in the trenches…She weaves these stories together with findings from published research, her keen observations of social media and cultural trends, and her own experience as a mother and as a woman in a changing body who inhabits the same weight-focused world we all do. If she's left a stone unturned, I can't find it…The day I started reading this book was the day I started recommending it."
—The Seattle Times
"I am extremely grateful to Virginia for writing Fat Talk. It's a fearless and game-changing addition to the conversation about kids, food and weight, and a book that all parents need to read."
—Emily Oster, author of Expecting Better and Cribsheet
"If you have ever held a piece of food or briefly glimpsed a part of your body and felt a complicated thing, you need to read this book. Fat Talk is about parenting—but also about living—within and outside of the nefarious stories we've been told about food and bodies and how and why they relate to health; about the dangers of restriction and the freedom and the power that can come from loving ourselves and one another on new and better terms."
—Lynn Steger Strong, author of Flight and Want
"Fat Talk is the book I wish my parents had when I was growing up."
—Julia Turshen, New York Times bestselling author
"Making meaningful social change—especially when it comes to America's insidious diet culture—can feel like slow, Sisyphean work. It requires not only questioning the complex systems we live within but also imagining new, better solutions. Lucky for all of us with bodies, Virginia Sole-Smith is a visionary. In Fat Talk, she generously guides grown-ups toward unlearning everything we've been taught about weight and worth and teaches us to show young people that they are always enough just as they are. Everyone should read this book."
—Angela Garbes, author of Essential Labor and Like a Mother
"With Fat Talk, Virginia Sole Smith hasn't just given us a great book for parents of fat kids. She's given us an indispensable resource for adults preparing kids of all sizes to navigate a world full of bodies, biases, and appearance-based judgment. If you've ever longed for a conversation about fat kids that's rooted in facts, candor, and empathy, this is it. Fat Talk is a must-read for any adult who wants to build a kinder, more accepting, and more just world for the kids in their lives."
—Aubrey Gordon, cohost of Maintenance Phase and author of "You Just Need to Lose Weight": And 19 Other Myths About Fat People

"If you've ever struggled in your relationship with food and your body—and especially if you're trying to raise kids to be resilient in the face of diet culture—this book is essential reading. Virginia offers a nuanced and deeply reported look at the many unintended consequences of the rhetoric around 'childhood obesity,' and presents a powerful case for rethinking the conventional wisdom about weight and health. At a time when the world feels increasingly cruel to fat kids, this book will be a beacon of hope to many."
—Christy Harrison, MPH, RD, CEDS, author of The Wellness Trap and Anti-Diet
"This paradigm-shifting book…flip[s] the script on diet culture and anti-fat bias…With its message of trusting our kids' bodies (and everyone else's) as they are as both a social-justice issue and an act of love, this is a great place to begin."
—Booklist, *starred*
"[Sole-Smith] refrains from making readers feel guilty; rather, she is instructive and encouraging. …Sole-Smith provides well-rounded discussions of eating disorders, puberty, calorie counting, fitness influencers, and the myth that a fat child necessarily means that they have lazy or disengaged parents…A thoughtful and intuitive book that is not just for parents."
—Kirkus Reviews
"[C]ompassionate…[Sole-Smith's] eye-opening research upends conventional assumptions about what a healthy body looks like, and readers will appreciate the affirming tone. The result is a striking challenge to fatphobia."
—Publishers Weekly

"[T]his well-researched book…shines in its look at policy and historical views of this topic. Parents concerned about their child's weight and body image will appreciate it."
—Library Journal