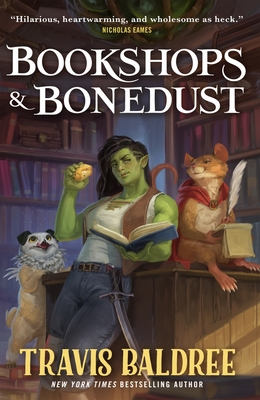 Bookshops & Bonedust (Legends & Lattes)
Publication Date:
November 7th, 2023
Usually Ships in 1 to 5 Days
This prequel toLegends & Lattescelebrates the magic of bookselling as Viv recovers from injury and recuperates a faltering little bookshop. Complete with in-universe bodice rippers, quiet romance, and more delicious baked goods!
November 2023 Indie Next List
Description
An Instant #1 New York Times, USA Today, and Indie Bestseller
A Barnes & Noble Best Fantasy Book of 2023
An Amazon Best Science Fiction and Fantasy Book of 2023
When an injury throws a young, battle-hungry orc off her chosen path, she may find that what we need isn't always what we seek.
Set in the world of New York Times bestselling Legends & Lattes, Travis Baldree's Bookshops & Bonedust takes us on a journey of high fantasy, first loves, and secondhand books.
Viv's career with the notorious mercenary company Rackam's Ravens isn't going as planned.
Wounded during the hunt for a powerful necromancer, she's packed off against her will to recuperate in the sleepy beach town of Murk—so far from the action that she worries she'll never be able to return to it.
What's a thwarted soldier of fortune to do?
Spending her hours at a beleaguered bookshop in the company of its foul-mouthed proprietor is the last thing Viv would have predicted, but it may be both exactly what she needs and the seed of changes she couldn't possibly imagine.
Still, adventure isn't all that far away. A suspicious traveler in gray, a gnome with a chip on her shoulder, a summer fling, and an improbable number of skeletons prove Murk to be more eventful than Viv could have ever expected.
"Take a break from epic battles and saving the world. This is a low-stakes fantasy that delivers exactly what's advertised: a wholesome, cozy novel that feels like a warm hug. This is my new comfort read."—Genevieve Gornichec, author of The Witch's Heart, on Legends & Lattes
Praise for Bookshops & Bonedust (Legends & Lattes)
"Well, damn, he's done it again. Bookshops & Bonedust is hilarious, heartwarming, and wholesome as heck. If you loved the first you'll almost certainly love this perfectly executed prequel even more, as the stakes are higher and the scones are hotter still!"—Nicholas Eames, author of Kings of the Wyld
"What I love about Travis Baldree is that set against an epic world of adventure, he writes about the small victories that make life worthwhile. Bookshops & Bonedust does this and it is glorious."—Ben Aaronovitch, bestselling author of Rivers of London
"Bookshops & Bonedust is the perfect follow up to Legends & Lattes; it's a pleasure to meet a Younger Viv and watch her grow slowly, stubbornly, into the orc we love so much. Some bittersweetness is inevitable, but Baldree reminds us that the past—even our mistakes—is the fertile soil where we plant the seeds of a beautiful future."—C.L. Clark, author of The Unbroken
"With its mysterious encounters, summer flings and a growing number of skeletons, Baldree's fantastical novel is the perfect cozy romp."—HuffPost Books
​​"A prequel that gives us a chance to return to the warm and cozy realm of one of last year's most unexpectedly great fantasy worlds, Bookshops & Bonedust is the heartwarming origin story you didn't know you needed."—Paste Magazine
"With its immersive worldbuilding and charming characters, Bookshops & Bonedust is every bit as delightful as its predecessor. A spellbinding read that somehow manages to be both gripping and restful."—Heather Fawcett, author of Emily Wilde's Encyclopedia of Faeries
"As enchanting a prequel as one could ever desire, Bookshops & Bonedust brings the same humor and heart as its predecessor, and has cemented Travis Baldree as an auto-read author for me. Books, baked goods, and necromancy—what more could you possibly want in a story?"—Genevieve Gornichec, author of The Witch's Heart
"Warm and wonderful."—Kirkus Reviews
"Baldree's formula of placing low-stakes stories in high-fantasy settings remains good fun. Series fans will eat this up."—Publishers Weekly
"Bookshops & Bonedust is a fabulist's love song to indie booksellers, but much more besides. As with Legends & Lattes, Travis Baldree gives us a deeply satisfying fantasy without gore, wonder without dread, and joy for its own sake."—Christopher Buehlman, author of The Blacktongue Thief
"Magical and full of heart, Bookshops & Bonedust is every bit as enchanting as its predecessor. Spending more time with Viv was a joy."—Sangu Mandanna, author of The Very Secret Society of Irregular Witches
"Baldree's prequel to Legends & Lattes cements his talent for cozy fantasy, engaging characters, and anachronistic references that would be at home in a Discworld novel. . . . Folks who enjoyed the camaraderie and settings of this year's Dungeons & Dragons movie—as well as anyone who likes the idea of an orc warrior becoming a devotee of the power of reading and its ability to broaden your horizons—should check out Viv's adventures."—Booklist, STARRED review
"Bookshops & Bonedust takes the world of Legends & Lattes and weaves it into a universe. It does the impossible: showing us a character twenty years before her story, and making us hold our breath to see what happens next. It's the rare prequel that beautifully adds depth, power, and love to the lore. This is a book for those who were once young and pulled between fighting the world with all they had . . . or curling up in a dusty bookshop with a good story."—J.R. Dawson, author of The First Bright Thing
"Bookshops & Bonedust will resonate with anyone who has ever conflated their worth with their productivity, who has ever worried about being left behind if they take a moment to breathe, who has ever allowed a book to save them from a bad day. Beautifully humane, it is a loving reminder that the best parts of life are what happens between the big moments."—Cassandra Khaw, USA Today bestselling author
"This prequel is the perfect place for readers to start Baldree's cozy fantasy series where folks band together for good, and evil is conquered through cleverness and friendship."—Library Journal, STARRED review
Praise for Legends & Lattes:
"It's sweet, beautiful and, most of all, kind. I hugely recommend this book."—Seanan McGuire, New York Times bestselling author of Every Heart A Doorway
"A must-read for every D&D player who has ever wondered what happens after 'happily ever after.'"—Cassandra Khaw, USA Today bestselling author
"This charming outing will please anyone who's ever wished to spend time in a fantasy world without all the quests and battles."—Publishers Weekly
"Legends & Lattes is a uniquely beautiful book. It's wonderfully wholesome, and I hope heralds the rise of a 'slice-of-life' sub-genre in modern fantasy."—Nicholas Eames, author of Kings of the Wyld
"The most fun I've ever had in a coffee shop."—Ben Aaronovitch, bestselling author of Rivers of London
"Take a break from epic battles and saving the world. This is my new comfort read."—Genevieve Gornichec, author of The Witch's Heart