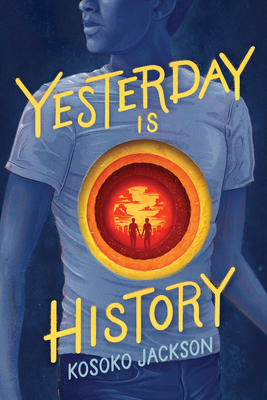 Yesterday Is History
Publication Date:
February 2nd, 2021
Publisher:
Sourcebooks Fire
Usually Ships in 1 to 5 Days
Description
One of PopSugar's Best New YA Novels of 2021
A Buzzfeed Top LGBTQ+ YA Book
A Lambda Literary YA Book to Add to Your TBR Pile
A Goodreads Pride Month Pick
An epic, heartfelt romance about a boy torn between two loves, one in his present … and one in the past. A story of Black queer history, love, loss, and learning to stay in the moment before it passes you by.
Weeks ago, Andre Cobb received a much-needed liver transplant.
He's ready for his life to finally begin, until one night, when he passes out and wakes up somewhere totally unexpected…in 1969, where he connects with a magnetic boy named Michael.
And then, just as suddenly as he arrived, he slips back to present-day Boston, where the family of his donor is waiting to explain that his new liver came with a side effect—the ability to time travel. And they've tasked their youngest son, Blake, with teaching Andre how to use his unexpected new gift.
Andre splits his time bouncing between the past and future. Between Michael and Blake. Michael is everything Andre wishes he could be, and Blake, still reeling from the death of his brother, Andre's donor, keeps him at arm's length despite their obvious attraction to each other.
Torn between two boys, one in the past and one in the present, Andre has to figure out where he belongs—and more importantly who he wants to be—before the consequences of jumping in time catch up to him and change his future for good.
"Fast-paced, fun, and perfect."—Laurie Halse Anderson, NYT bestselling author of Speak
"This book was absolutely incredible."—Creya, Goodreads reviewer
"Tears, man. So. Many. Tears."—Marci, Goodreads reviewer
"Oh my goodness. This book y'all. I'm a mess."—Netgalley reviewer
* A Junior Library Guild Selection!
"A stellar novel that today's teens needed yesterday."—Booklist, STARRED review
"Charming and captivating."—Phil Stamper, bestselling author of The Gravity of Us
"A clever and honestly brilliant novel."—Julian Winters, award-winning author of Running With Lions
"A skillful and engrossing time-travel adventure."—Kirkus Reviews
"Compelling and memorable...[a] gem of a novel."—The Bulletin of the Center for Children's Books
"In his YA debut, Jackson has a great gimmick as well as a likeable protagonist who faces sociocultural realities across time."—Publishers Weekly
Praise for Yesterday Is History
"Compelling and memorable...[a] gem of a novel." — The Bulletin of the Center for Children's Books
"Gay romance + time travel! I really enjoyed this book—it was fast-paced, fun, and perfect" — Laurie Halse Anderson, NYT bestselling author of Speak
"An unputdownable read, Yesterday is History is a timely ode to the Black gay experience. Kosoko Jackson expertly delivers a real-life story about decisiveness and knowing oneself, wrapped in fantastical elements, interweaved with a wind-swept romance, all culminating in an undeniably stunning piece of art" — Cam Montgomery, author of By Any Means Necessary
"In his YA debut, Jackson has a great gimmick as well as a likeable protagonist who faces sociocultural realities across time." — Publishers Weekly
"A clever and honestly brilliant novel, Yesterday Is History is an emotional journey through grief, healing, and the complicated beauty of young love. Kosoko Jackson delivers the conflicted, time-traveling hero queer boys have been hoping for." — Julian Winters, award-winning author of Running With Lions
"In a novel with exciting representation of a gay Black teen where identity isn't the issue, readers will appreciate the realistic nuance of Andre's frankness when talking about the White privilege Blake and his family exhibit that makes them unable to see how different and potentially dangerous time traveling is for a 17-year-old Black boy... A skillful and engrossing time-travel adventure." — Kirkus Reviews
"A stellar novel that today's teens needed yesterday." — Booklist
"Charming and captivating, Yesterday is History will take you on a wild ride from the very first page. Jackson puts such a clever spin on time travel in this sweet, unputdownable love story." — -Phil Stamper, bestselling author of The Gravity of Us
"Mesmerizing and romantic." — POPSUGAR