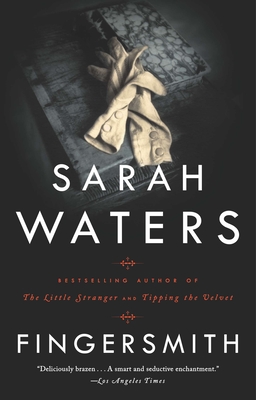 Fingersmith
Publication Date:
October 1st, 2002
Publisher:
Riverhead Books
Usually Ships in 1 to 5 Days
Description

"Oliver Twist with a twist…Waters spins an absorbing tale that withholds as much as it discloses. A pulsating story."—The New York Times Book Review  
The Handmaiden, a film adaptation of Fingersmith, directed by Park Chan-wook and starring Kim Tae-Ri, is now available.
Sue Trinder is an orphan, left as an infant in the care of Mrs. Sucksby, a "baby farmer," who raised her with unusual tenderness, as if Sue were her own. Mrs. Sucksby's household, with its fussy babies calmed with doses of gin, also hosts a transient family of petty thieves—fingersmiths—for whom this house in the heart of a mean London slum is home.
One day, the most beloved thief of all arrives—Gentleman, an elegant con man, who carries with him an enticing proposition for Sue: If she wins a position as the maid to Maud Lilly, a naïve gentlewoman, and aids Gentleman in her seduction, then they will all share in Maud's vast inheritance. Once the inheritance is secured, Maud will be disposed of—passed off as mad, and made to live out the rest of her days in a lunatic asylum.
With dreams of paying back the kindness of her adopted family, Sue agrees to the plan. Once in, however, Sue begins to pity her helpless mark and care for Maud Lilly in unexpected ways...But no one and nothing is as it seems in this Dickensian novel of thrills and reversals.
Praise for Fingersmith
"Deliciously brazen…a smart and seductive enchantment."
—Los Angeles Times
"Oliver Twist with a twist…Waters spins an absorbing tale that withholds as much as it discloses. A pulsating story."
—The New York Times Book Review 
"Astonishing narrative twists."
—Newsday 
"Superb storytelling. Fingersmith is gripping; so suspenseful and twisting is the plot that for the last 250 pages, I read at breakneck speed."
—USA Today 
"A deftly plotted thriller…absorbing and elegant."
—Entertainment Weekly
"A marvelous pleasure…Waters's noted attention to historical detail and her beautifully sensitive dialogue help to anchor the force-five plot twisters."
—The Washington Post 
"Calls to mind the feverishly gloomy haunts of Charlotte and Emily Brontë…Elaborate and satisfying."
—The Seattle Times
"A sweeping read."
—The Boston Globe