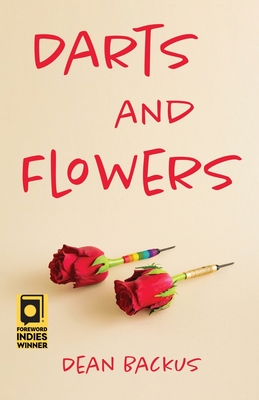 Darts and Flowers
Publication Date:
August 23rd, 2022
Publisher:
Torchflame Books
Usually Ships in 1 to 5 Days
Description
"Written in fresh, snappy prose, the book includes multiple twists and turns....Funny and LGBTQ+ affirming, Darts and Flowers is a story about teenagers who are desperate to be loved, validated, and part of a community." (5 of 5 stars ) - Foreword Reviews
When Josh Bradshaw returns to his childhood home and the house down the street from his childhood best friend, it seems like it could be a new beginning. After all, he's older now, and although his feelings haven't changed, he now has words to describe what he felt. He's gay, and he's had a crush on Brian Esau since they were eleven.
Zack Standish couldn't be happier that his best friend is back home, and although he's not sure how to respond to the fact that Josh is gay, there is one very clear silver lining: Missy, the girl of his dreams, is dating his best friend's crush.
The plan is simple:
1. Break up Brian and Missy.
2. Confess their love to their respective crushes.
3. Live happily ever after.
It's a win-win for everyone... or maybe not.
When the plan spirals out of control, Zack and Josh must choose what matters most-their childhood friendship or the romance just within reach.
Debut young adult author Dean Backus spins a fun and crafty tale of friendship, identity, secrets, and love in this LGBTQ romantic comedy set in the 1990s at a private Seattle high school. Darts and Flowers is inspired by Shakespeare's comedies and iconic teen films of the 90s.
"The Breakfast Club-esque cast spans the breadth of academic institution social-strata with a perfect mix of personalities comprising the secondary characters....This is a well-written, laugh out loud (even during the painful scenes) epic that takes the best of high school, Twelfth Night-inspired dramedy and infuses it with current social sensibilities, wrapping it all in a warm, hopeful hug." - Booklife
Booklife suggests Darts and Flowers is great for fans of Stephen Chbosky's The Perks of Being A Wallflower and Lindsay Sproul's We Were Promised Spotlights. Readers compare it to Only Mostly Devastated by Sophie Gonzales and Simon vs. the Homo Sapiens Agenda by Becky Albertalli. Enjoy