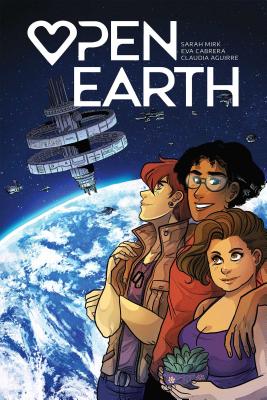 Open Earth
Publication Date:
September 25th, 2018
Publisher:
Limerence Press
Usually Ships in 1 to 5 Days
Description
"It's fun, sexy, and inclusive." - BookRiot.com 
A heartfelt, positive, and erotic look at one woman's adventure in love and sex, as a new generation learns to make their own rules and follow their own hearts aboard an orbiting space station. 
Rigo is a young woman of her time: specifically, the time just after the collapse of Earth. After living her whole life on a small space station orbiting the planet, the cultural norms and rules of her Californian parents are just history to her. In between work shifts at the station air farm, Rigo explores her own desires, developing openly polyamorous relationships with her friends and crewmates. When she starts to feel one of those relationships change, however, Rigo must balance her new feelings with the stability of her other relationships, as well as the hard-earned camaraderie of a small crew floating in the vastness of space. But, as the ship motto goes, "Honesty keeps us alive."
Praise for Open Earth
"For comics fans who dream optimistically about the future, the diverse cast and sex-positive, cooperative storyline combine into a utopian vision."
— Publishers Weekly
"Humans may be living in space now, but our same old problems with love, sex, and communication are timeless. Full of family, friendship, and love, Cabrera, Aguirre, and Mirk's vision of the post-apocalypse looks pretty damn appealing to me."
— Erika Moen (Oh Joy Sex Toy)
"The future of Open Earth is a loving and passionate one, where the new generation of space-borns are discarding tradition and forming healthy, non-monogamous relationships. Come for the earnest characters and inviting art; stay for the zero-G space sex!"
— Hazel Newlevant (Chainmail Bikini, Sugar Town)