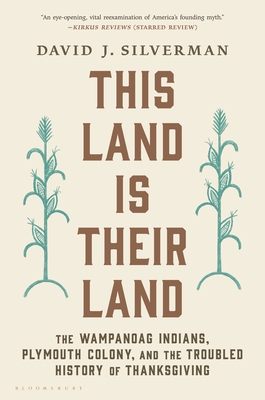 This Land Is Their Land: The Wampanoag Indians, Plymouth Colony, and the Troubled History of Thanksgiving
Publication Date:
October 13th, 2020
Publisher:
Bloomsbury Publishing
Usually Ships in 1 to 5 Days
Description
Ahead of the 400th anniversary of the first Thanksgiving, a new look at the Plymouth colony's founding events, told for the first time with Wampanoag people at the heart of the story.
In March 1621, when Plymouth's survival was hanging in the balance, the Wampanoag sachem (or chief), Ousamequin (Massasoit), and Plymouth's governor, John Carver, declared their people's friendship for each other and a commitment to mutual defense. Later that autumn, the English gathered their first successful harvest and lifted the specter of starvation. Ousamequin and 90 of his men then visited Plymouth for the "First Thanksgiving." The treaty remained operative until King Philip's War in 1675, when 50 years of uneasy peace between the two parties would come to an end.
400 years after that famous meal, historian David J. Silverman sheds profound new light on the events that led to the creation, and bloody dissolution, of this alliance. Focusing on the Wampanoag Indians, Silverman deepens the narrative to consider tensions that developed well before 1620 and lasted long after the devastating war-tracing the Wampanoags' ongoing struggle for self-determination up to this very day.
This unsettling history reveals why some modern Native people hold a Day of Mourning on Thanksgiving, a holiday which celebrates a myth of colonialism and white proprietorship of the United States. This Land is Their Land shows that it is time to rethink how we, as a pluralistic nation, tell the history of Thanksgiving.
Praise for This Land Is Their Land: The Wampanoag Indians, Plymouth Colony, and the Troubled History of Thanksgiving
"David J. Silverman delivers [the story] in astonishing detail . . . His pointed, lucid prose makes his book as deeply engaging as it is sobering." —Boston Globe
"Throughout this well-documented, unique history, Silverman offers a detailed look at . . . the palpable sense of overall mourning after the aftermath of King Philip's War and the [European] attempt to annihilate (and assimilate) the Wampanoags-and their incredible ability to transcend the dehumanization and prevail . . . an eye-opening, vital reexamination of America's founding myth." —Kirkus Reviews, starred review
"Silverman's highly recommended work enlightens as it calls into question persistent myths about the origins of Thanksgiving." —starred review, Booklist
"This lucidly written and convincingly argued account of the most "American" of traditions deserves to be read widely." —Publishers Weekly
"This publication is well researched . . . It should be required reading for how not to treat indigenous peoples." —New York Journal of Books
"David Silverman has crafted a gripping Native-centered narrative of the English invasion of New England. Finally, there is a book that vividly contextualizes the fabled first Thanksgiving, placing Native diplomacy and actions at the very center of the story, along with the warfare, dispossession, and struggle for sovereignty that was very much part of the longer aftermath of first contact. It is a story that continues into the present and a must read for every American." —Linford Fisher, author of THE INDIAN GREAT AWAKENING
"Probably the most important book you need to read before the 400th anniversary of the first Thanksgiving. You know the outlines of the story, but this book is so full of human detail from the perspective of the Wampanoags, you'll feel like the old histories have inverted the whole thing. It's like we've been looking at a negative image all our lives, and Silverman gives us the real story finally in vivid color." —Joseph Kelly, author of MAROONED: JAMESTOWN, SHIPWRECK, AND A NEW HISTORY OF AMERICA'S ORIGIN
"With a rare combination of deep learning, passionate commitment, and moving prose, David Silverman's history of Wampanoag people is a book that all Americans need to ponder." —Daniel K. Richter, McNeil Center for Early American Studies, University of Pennsylvania
"This recasting is refreshing, important, and just, showing both the the power and skill of indigenous diplomats, and how all that the Pilgrims ultimately achieved came at the expense of native peoples." —Michael Leroy Oberg, author of NATIVE AMERICA: A HISTORY
"David Silverman's sobering story of friendships forged in a complex intertribal world and betrayed in a nightmarish colonial world demands a national rethinking of America's mythic beginnings." —Colin G. Calloway, author of THE INDIAN GEORGE WASHINGTON
"A good measure of a work of history is whether it changes the way we understand its subject. By that measure, David J. Silverman succeeds admirably in Thundersticks… In Silverman's sober, sprawling account, America is a nation built on slaves and guns." —New York Times Book Review on THUNDERSTICKS
"Written in an accessible and at times swashbuckling style, the book is in many ways a retelling of the U.S.' Indian Wars from the 17th to the 19th centuries, with a twist." —Los Angeles Times on THUNDERSTICKS
"This text is an eye-opening account of an often ignored history … [it] serves as a much-needed challenge to the national origin myth of Thanksgiving." —Shelf Awareness