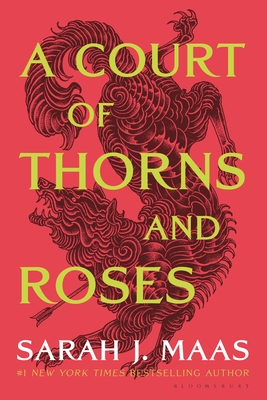 A Court of Thorns and Roses
Publication Date:
June 2nd, 2020
Publisher:
Bloomsbury Publishing
Usually Ships in 1 to 5 Days
Description
The sexy, action-packed first book in the #1 New York Times bestselling Court of Thorns and Roses series from Sarah J. Maas.
When nineteen-year-old huntress Feyre kills a wolf in the woods, a terrifying creature arrives to demand retribution. Dragged to a treacherous magical land she knows about only from legends, Feyre discovers that her captor is not truly a beast, but one of the lethal, immortal faeries who once ruled her world.
At least, he's not a beast all the time.
As she adapts to her new home, her feelings for the faerie, Tamlin, transform from icy hostility into a fiery passion that burns through every lie she's been told about the beautiful, dangerous world of the Fae. But something is not right in the faerie lands. An ancient, wicked shadow is growing, and Feyre must find a way to stop it, or doom Tamlin-and his world-forever.
From bestselling author Sarah J. Maas comes a seductive, breathtaking book that blends romance, adventure, and faerie lore into an unforgettable read.
Praise for A Court of Thorns and Roses
""Simply dazzles."" —starred review, Booklist on A Court of Thorns and Roses
""Passionate, violent, sexy and daring…. A true page-turner."" —USA Today on A COURT OF THORNS AND ROSES
""Suspense, romance, intrigue and action. This is not a book to be missed!"" —Huffington Post on A COURT OF THORNS AND ROSES
""Vicious and intoxicating…. A dazzling world, complex characters and sizzling romance."" —Top Pick, RT Book Reviews on A COURT OF THORNS AND ROSES
""A sexy, action-packed fairytale."" —Bustle on A COURT OF THORNS AND ROSES
""Fiercely romantic, irresistibly sexy and hypnotically magical. A veritable feast for the senses."" —USA Today on A COURT OF MIST AND FURY
""Hits the spot for fans of dark, lush, sexy fantasy."" —Kirkus Reviews on A COURT OF MIST AND FURY
""An immersive, satisfying read."" —Publishers Weekly on A COURT OF MIST AND FURY
""Darkly sexy and thrilling."" —Bustle on A COURT OF MIST AND FURY
""Fast-paced and explosively action-packed."" —Booklist on A COURT OF WINGS AND RUIN
""The plot manages to seduce you with its alluring characters, irresistible world and never-ending action, leaving you craving more."" —RT Book Reviews on A COURT OF WINGS AND RUIN