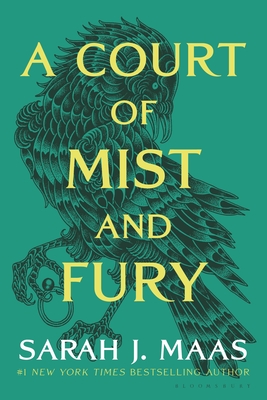 A Court of Mist and Fury (A Court of Thorns and Roses #2)
Publication Date:
June 2nd, 2020
Publisher:
Bloomsbury Publishing
Usually Ships in 1 to 5 Days
Description
The seductive and stunning #1 New York Times bestselling sequel to Sarah J. Maas's spellbinding A Court of Thorns and Roses.
Feyre has undergone more trials than one human woman can carry in her heart. Though she's now been granted the powers and lifespan of the High Fae, she is haunted by her time Under the Mountain and the terrible deeds she performed to save the lives of Tamlin and his people.
As her marriage to Tamlin approaches, Feyre's hollowness and nightmares consume her. She finds herself split into two different people: one who upholds her bargain with Rhysand, High Lord of the feared Night Court, and one who lives out her life in the Spring Court with Tamlin. While Feyre navigates a dark web of politics, passion, and dazzling power, a greater evil looms. She might just be the key to stopping it, but only if she can harness her harrowing gifts, heal her fractured soul, and decide how she wishes to shape her future-and the future of a world in turmoil.
Bestselling author Sarah J. Maas's masterful storytelling brings this second book in her dazzling, sexy, action-packed series to new heights.
Praise for A Court of Mist and Fury (A Court of Thorns and Roses #2)
""Simply dazzles."" —starred review, Booklist on A COURT OF THORNS AND ROSES
""Passionate, violent, sexy and daring…. A true page-turner."" —USA Today on A COURT OF THORNS AND ROSES
""Suspense, romance, intrigue and action. This is not a book to be missed!"" —Huffington Post on A COURT OF THORNS AND ROSES
""Vicious and intoxicating…. A dazzling world, complex characters and sizzling romance."" —Top Pick, RT Book Reviews on A COURT OF THORNS AND ROSES
""A sexy, action-packed fairytale."" —Bustle on A COURT OF THORNS AND ROSES
""Fiercely romantic, irresistibly sexy and hypnotically magical. A veritable feast for the senses."" —USA Today on A COURT OF MIST AND FURY
""Hits the spot for fans of dark, lush, sexy fantasy."" —Kirkus Reviews on A COURT OF MIST AND FURY
""An immersive, satisfying read."" —Publishers Weekly on A COURT OF MIST AND FURY
""Darkly sexy and thrilling."" —Bustle on A COURT OF MIST AND FURY
""Fast-paced and explosively action-packed."" —Booklist on A COURT OF WINGS AND RUIN
""The plot manages to seduce you with its alluring characters, irresistible world and never-ending action, leaving you craving more."" —RT Book Reviews on A COURT OF WINGS AND RUIN