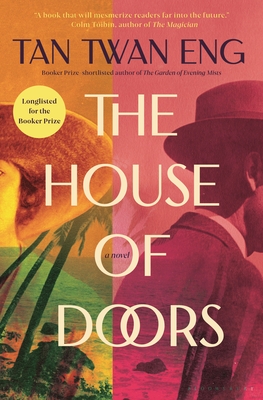 The House of Doors
Publication Date:
October 17th, 2023
Publisher:
Bloomsbury Publishing
Usually Ships in 1 to 5 Days
A lovely historical novel set in a 1920s British colony in Penang. Somerset Maugham appears as a house guest who spins his friends' lives into a tale for his book. There's forbidden love, unhappy marriage —now I want to read Maugham's work!
November 2023 Indie Next List
Description
LONGLISTED FOR THE BOOKER PRIZE
INTERNATIONAL BESTSELLER
NAMED A BEST BOOK OF THE YEAR BY THE NEW YORKER, NPR, SLATE, THE FINANCIAL TIMES, AND A WASHINGTON POST NOTABLE WORK
A NEW YORK TIMES EDITORS' CHOICE
From the bestselling author of The Garden of Evening Mists, a spellbinding novel about love and betrayal, colonialism and revolution, storytelling and redemption.
The year is 1921. Lesley Hamlyn and her husband, Robert, a lawyer and war veteran, are living at Cassowary House on the Straits Settlement of Penang. When "Willie" Somerset Maugham, a famed writer and old friend of Robert's, arrives for an extended visit with his secretary Gerald, the pair threatens a rift that could alter more lives than one.
Maugham, one of the great novelists of his day, is beleaguered: Having long hidden his homosexuality, his unhappy and expensive marriage of convenience becomes unbearable after he loses his savings—and the freedom to travel with Gerald. His career deflating, his health failing, Maugham arrives at Cassowary House in desperate need of a subject for his next book. Lesley, too, is enduring a marriage more duplicitous than it first appears. Maugham suspects an affair, and, learning of Lesley's past connection to the Chinese revolutionary, Dr. Sun Yat Sen, decides to probe deeper. But as their friendship grows and Lesley confides in him about life in the Straits, Maugham discovers a far more surprising tale than he imagined, one that involves not only war and scandal but the trial of an Englishwoman charged with murder. It is, to Maugham, a story worthy of fiction.
A mesmerizingly beautiful novel based on real events, The House of Doors traces the fault lines of race, gender, sexuality, and power under empire, and dives deep into the complicated nature of love and friendship in its shadow.
Praise for The House of Doors
"Eng can write with lyrical generosity and beautiful tact . . . lovely, drifting, dreamlike . . . Exquisite." —The New Yorker
"Captivating . . . exquisite. . . I'll remember The House of Doors for its smart cross-cultural excursions and its indelible images." —Wall Street Journal
"the book's elaborate structure is itself a house of many doors, a metaphor for the hidden truths within . . . Eng employs masterful control, and we follow his thread to a satisfying ending." —Kathryn Ma, The San Francisco Chronicle
"The House of Doors will draw you into its mesh of secrets and subterfuge. "- The New York Times
"Entrancing . . . lushly atmospheric . . . There's much to untangle and savor in this exquisite novel . . . Tan has pulled off not just a captivating novel, but an ingenious twist that explores how literature works its magic." —NPR
"A magnetic tale of love, betrayal, and colonialism." —Entertainment Weekly
—
"The House of Doors is brilliantly observed and full of memorable characters. It is so well-written, everything so effortlessly dramatized, the narrative so well structured and paced, that this is a book that will mesmerize readers far into the future." —Colm Tóibín, author of THE MAGICIAN
"Tan effortlessly fuses fiction and fact as he paints a portrait of Maugham's trip to Malaysia, his desperate search for a new writing subject, colonialism, and the restraints of heteronormative marriage." —Time.com
"[Tan] keeps getting better . . . Mesmerizing." —Ken Follet, The Week
"Brilliant." —The Washington Post
"The House of Doors is propelled by fascinating characters, the tension over their gradual revelations and Eng's exquisite writing . . . an arresting, melancholy story about romantic complications." —The Minneapolis Star-Tribune
"Vibrant . . . [Tan] excels at setting an atmospheric mood, whether it be in a bustling and exotic enclave or a home where secrets are traded over tea and gin." —Pittsburgh Post-Gazette
"Based on actual events, [The House of Doors] plumbs timeless issues of race, gender, and sexuality . . . Sublime, elegant prose from the mind of a gifted storyteller." —Toronto Star
""Tan Twan Eng spins a tale of colonial scandal and intrigue in The House of Doors . . . solid, well-crafted . . . engrossing." —The Boston Globe
"Exquisite . . . Tan takes on a behemoth task here: combining sensational fact and intimate fiction in a British colonial Asian setting complicated by white privilege, politics, social hypocrisy, gender inequity, racism, homophobia, and more . . . [He] succeeds in delivering another intricate literary gift." —Booklist, Starred Review
"The narrative dwells on memory and loss, its lush, dreamy prose evoking the bygone days of colonial pre-WWII British Malaya amid musings on life's ephemeral nature, while never losing its eye for injustice . . . This is a stunner." —Publishers Weekly, Starred Review
"The House of Doors is a fascinating, beautiful book . . . One doesn't have to know anything about Somerset Maugham to appreciate it, but the echoes make the work even richer." —The New York Journal of Books
"Expertly constructed, tightly plotted and richly atmospheric." —Financial Times (UK)
"What elevates Eng's book is the sheer beauty of his writing – restrained, elegant, precise, every detail accurate, every line considered . . . He resides in the very top row. The sentences here remind me of Shirley Hazzard, or perhaps James Salter. I can offer little higher praise." —Times Literary Supplement (UK)
"An ambitious, elaborate fiction about fictions . . . a portrait of the artist in crisis, a meditation on how and why we tell stories and a heated courtroom drama." —The Guardian
"In this bold historical fiction, he courageously exposes his motherland's flaws, exploring thorny issues of race, racism, gender and gender preference, bigotry, infidelity, and colonial power in richly mannered, atmospheric, and expressive prose, which is simply beautiful . . . no one can argue with the ambition, ardency, and achievement of Eng's complex latest. "- Air Mail
"Lyrical and lovely . . . This book transports readers . . . and its more than worth the price of the ticket." —The ABC News Podcast
"Atmospheric . . . Tan Twan Eng weaves love, duty, betrayal, colonialism, and redemption into the narrative." —Christian Science Monitor
"Beguiling . . . A wonderful antidote to comfort us in these perilous times." —The Arts Fuse
"Graceful and well-researched." —Kirkus Reviews
"Tan's eye for detail and understated storytelling bring a subtle edge to this thoughtful, atypical historical novel that searches for the emotional truth behind the facts." —BookPage
"Tan's novel, gripping for any reader, holds special appeal for fans of Maugham and his work . . . [It] plays clever games with the connections between fiction and history." —Chapter 16
"Outstanding . . . The House of Doors again displays [Eng's] talent for atmospheric evocation of place and period . . . Beautifully detailed and encompassing the vagaries of Maugham's life . . . The House of Doors is a finely accomplished piece of work." —Sunday Times (UK)
"This is historical fiction at its best-a novel that doesn't feel as though it was written about a time but rather as though it was written directly from that time. The House of Doors is immersive, transporting, and exquisitely crafted." —Cristina Henríquez, author of THE BOOK OF UNKNOWN AMERICANS
"An amazingly transporting novel about love, desire, and duty, The House of Doors does what the very best stories do -- it draws us into many fascinating worlds at once: The British Empire's incursions into South-East Asia; the secret life of one of England's finest writers; a forgotten murder trial playing out in the Kuala Lumpur courts a century ago. Weaving all this together with great skill and power, bringing the reader a surfeit of pleasure, Tan Twan Eng also teaches us a crucial lesson: never trust a writer." —Jonathan Lee, author of THE GREAT MISTAKE and HIGH DIVE
"The House of Doors is a tremendous feat of literary imagination. Highly evocative, richly observed and entirely convincing, it is a tour de force!" —William Boyd, author of ANY HUMAN HEART and TRIO
"This marvelous novel evokes the British empire in its final heyday. Sun Yat Sen, the great fighter for Chinese independence, appears in its pages, as does that masterly betrayer of expatriate secrets, the short story writer Somerset Maugham. In fact, Tan Twan Eng's gripping book could almost have been written by Maugham himself." —Anthony Everitt, author of ALEXANDER THE GREAT and AUGUSTUS