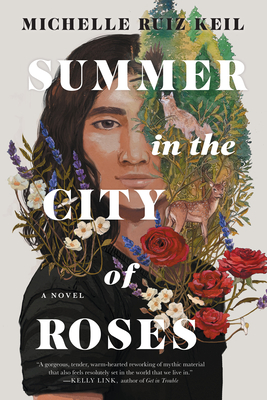 Summer in the City of Roses
Publication Date:
July 6th, 2021
Usually Ships in 1 to 5 Days
Description
Inspired by the Greek myth of Iphigenia and the Grimm fairy tale "Brother and Sister," Michelle Ruiz Keil's second novel follows two siblings torn apart and struggling to find each other in early '90s Portland.
 
All her life, seventeen-year-old Iph has protected her sensitive younger brother, Orr. But this summer, with their mother gone at an artist residency, their father decides it's time for fifteen-year-old Orr to toughen up at a wilderness boot camp. When their father brings Iph to a work gala in downtown Portland and breaks the news, Orr has already been sent away against his will. Furious at her father's betrayal, Iph storms off and gets lost in the maze of Old Town. Enter George, a queer Robin Hood who swoops in on a bicycle, bow and arrow at the ready, offering Iph a place to hide out while she tracks down Orr.
Orr, in the meantime, has escaped the camp and fallen in with The Furies, an all-girl punk band, and moves into the coat closet of their ramshackle pink house. In their first summer apart, Iph and Orr must learn to navigate their respective new spaces of music, romance, and sex-work activism—and find each other before a fantastical transformation fractures their family forever.
Told through a lens of magical realism and steeped in myth, Summer in the City of Roses is a dazzling tale about the pain and beauty of growing up.
Praise for Summer in the City of Roses
Praise for Summer in the City of Roses

Shortlisted for the Ursula K. Le Guin Prize for Fiction
A Tor.com Best Books of 2021
An SLJ Teen Toolbox Favorite Book of the Year
"The tone . . . is like a Portland version of the characters one might find in Francesca Lia Block's L.A., only Keil eschews Block's lean prose for a denser narrative. But . . . about halfway through, that tone changes, and we're thrust into something different: enchanting, strange, filled with wonder, and a whirlpool of endless possibilities . . . Highly recommended." 
—Fantasy & Science Fiction
"Michelle Ruiz Keil's writing is achingly beautiful, her books deep, thought-provoking, and magical. She doesn't flinch from the raw pain of teens coping with rough stuff—from abuse and neglect to identity issues and neurodivergence—but transforms them (sometimes literally) through magical realism, into haunting and luscious modern fables that are still grounded and gritty in all the best ways . . . A mosaic of Greek tragedy, punk rock, Shakespeare, social conscience, folklore, and mysticism, Summer in the City of Roses glitters even as its sharp edges cut and draw blood." 
—Laini Taylor
"A gorgeous, tender, warm-hearted reworking of mythic material that also feels resolutely set in the world that we live in."
—Kelly Link, author of Get in Trouble

"Michelle Ruiz Keil has crafted an absolute stunner of a novel full of myths and misfits. Summer in the City of Roses pulses with magic and music and is, at its core, a grand celebration of love in all its tricky and beautiful forms."
—Samantha Mabry, author of All the Wind in the World and Tigers, Not Daughters
"Summer in the City of Roses is riveting, singular, poetic, powerful, fierce, soft, heartbreaking, and heart-mending, as tender as velvet and sharp as the bloody antler underneath. Michelle Ruiz Keil is the Erin Morgenstern of YA."
—Delilah Dawson, author of the New York Times bestseller Star Wars: PHASMA and coauthor of the Tales of Pell

"This enchanting book—like the real-life magical city where it's set—will draw you in and transform you into a more alive and creative version of yourself. A captivating work of magical realism that will delight both YA and adult readers. Michelle Ruiz Keil writes like a dream."
—Ariel Gore, author of We Were Witches

"Grab this book and your tarot deck, head to Forest Park, and fall into a folkloric, feminist journey through the City of Roses."
—Ariel Kusby, author of The Little Witch's Book of Spells
"Lush, empathetic, strident, puckish, infused with a street-level punk-rock magic . . . Much of its magic hums along like a current beneath the book's skin, bursting out in full bloom for a transformative finale. But it's there all along, if you're looking—and this is the kind of book you want to give your full attention to."
—Tor.com
"Part myth, part magic, this is an imaginative tale that speaks to the challenges and joys of growing up."
—Ms. Magazine
"[An] enchanting read . . . If you are nostalgic for the early 1990s, enjoy retellings of Greek fairy tales, are curious to explore a world where things are possible, and have time to sit with the story after turning the last page, then this novel is worth the time." 
—Feminist Book Club
"Alternative parenting. Arts and maker communities. Street-level social work that included outreach to sex workers. Feminist activism that included the Riot Grrrls movement. All those threads and more come together in Ruiz Keil's new novel, Summer in the City of Roses, a coming-of-age fairy tale that draws from Greek mythology and Grimm Brothers lore to tell the story of a pivotal season for siblings Iphigenia and Orestes."
—The Oregonian
"In alternating perspectives, this contemporary reimagining diverges from its inspirations: the myth of Iphigenia and Orestes and the Brothers Grimm's "Brother and Sister." The families in both stories suffer because of magical forces, patriarchal views, human shortcomings, and inequitable justice systems, but in Keil's telling, it is by upholding people's identity, dignity, and bonds, and not breaking them, that tragedy is averted. Educators especially will adore this immersive work not only as a comparative text but for its theater and pop culture references and its empathetic treatment of marginalized people . . . An insightful reimagining of myth that champions an array of social causes. An absolute must-read for teens and educators who love advocacy, myths, or folktales."
—School Library Journal, Starred Review
"Strong, often lyrical writing lifts this moving and thought-provoking coming-of-age story above the ordinary. Summer in the City of Roses combines lots of different elements like myth, fairy tale, magical realism, history, family, and more, without ever losing its sense of place, or sense of humor. Iph and Orr are easy to understand and empathize with, and teens will relate to the ways they cope, or try to cope, with big changes in their lives."
—Common Sense Media
"A standout book about runaways finding what they need."
—School Library Journal's Teen Librarian Toolbox

"This is a tale of sibling love if I ever read one . . . all manner of beautiful mayhem ensues. Fairytales come to life in this imaginative coming-of-age narrative that explores the complex wonder of sibling love." 
—Book Riot
"Divided into four acts, this sui generis novel is replete with a fairy tale ethos and references to Shakespeare, and magic becomes an increasingly powerful presence as the plot proceeds . . . Keil's novel will be a treat for romantics and fans of Anna-Marie McLemore and Francesca Lia Block."
—Booklist
"Michelle Ruiz Keil's writing sparkles with magic and imagination. Rich with references to such diverse subjects as Shakespeare, punk music, Greek mythology and Mexican culture, Summer in the City of Roses is a smart page-turner written with elegance and depth. Keep your eyes open. In this particular City of Roses, things aren't exactly as they seem—in surprising and wondrous ways."
—Gigi Little, Powell's Books
"Two siblings try to find each other in this queer and feminist journey . . . Set in the early '90s, this novel with mythological influences captures the mystical, feminist wonder of the City of Roses' underground scene. Through its enchanting, dual storylines, readers spend considerable time with Iph's and Orr's inner thoughts, making this an intimate and observant character study . . . Quirky, contemplative, and nostalgic."
—Kirkus Reviews
"Though no wicked stepmothers or Greek gods inhabit the world of this surreal, magical realist tale set in 1990s Portland, Ore., Keil (All of Us with Wings) steeps the narrative in fairy tale and myth . . . With ample '90s references and an empathic, feminist bent, Keil brings a past incarnation of Portland to life in vivid detail . . . A nostalgic, heady read perfect for a summer day."
—Publishers Weekly
"Take a sturdy helping of the Greek myth of Iphigenia, add in some fairy tale influences, and finish it off with some late twentieth century Portland punk scene, and you end up with this clever and memorable novel . . . Magical realism abounds here, especially as the novel progresses and the family finally converges, only to find that one of them has changed in important ways. It's dreamy and hopeful, painting a picture of a world where everyone can be themselves, even if that means stepping outside of their human forms. Indeed, claiming identity is a key element here as gender identity, sexuality, and individuality within a tight knit family or culture are all explored in depth."
—The Bulletin of the Center for Children's Books

Praise for All of Us with Wings

"Keil's ambitious debut is jam-packed with twists and depth and froth and function . . . [This is] a book about embracing everything—people, lifestyles, beliefs, experiences—and, in so doing, finding your own distinct power."
—The New York Times Book Review
"Michelle Ruiz Keil crafts a fantastical ode to the Golden City's postpunk era."
—Entertainment Weekly
"A spellbinding tale about finding magic in the mundane and hope in the unknown. Filled with dizzying danger and electrifying music, All of Us with Wings left me breathless."
—Ruth Ozeki, Los Angeles Times Book Prize-winning author of A Tale for the Time Being
"Keil is a new voice to keep an eye on." 
—Zoraida Córdova, author of Labyrinth Lost

"Michelle Ruiz Keil's strange but original premise gives fresh perspective to the ways pain and rage can manifest themselves as toxic elements that threaten a person's well-being and endanger those around them."
—NBC News