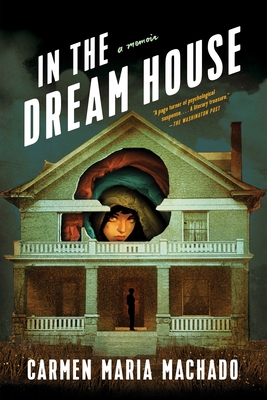 In the Dream House: A Memoir
Publication Date:
December 1st, 2020
Publisher:
Graywolf Press
Usually Ships in 1 to 5 Days
Welcome to the Dream House in this daring new kind of memoir that defies boundaries and boldly discards the conventions of genre. Inside, Carmen Maria Machado bares her soul in all of its pain and beauty, offering an intimate and profoundly vulnerable look at her own life, love, and sexuality. Machado has a gift for exposing the raw nerves and small miracles lurking beneath the surface of our daily lives. Her words move with a strange kind of urgency, surreal and yet true, like late-night phone calls when the rest of the world is asleep. I didn't feel like I was reading a book so much as observing a person's innermost thoughts. In the Dream House is a unique and extraordinary book.
November 2019 Indie Next List
Carmen Maria Machado uses short memoir pieces to build a sinister Dream House around her readers. She is a master architect who occasionally lobs a brick through the glass, disturbing collective notions of 'lesbian utopia' and violence as masculine. Her pivotal story interrogates stereotypes and contributes essential questions to the global #MeToo discussion. She is an innovative writer and queer hero of our time. I feel so grateful to her for sharing her painful past, giving us new ways to think about power and persuasion, and grateful to Graywolf for giving her a platform.
Winter 2020 Reading Group Indie Next List
Description
A revolutionary memoir about domestic abuse by the award-winning author of Her Body and Other Parties
In the Dream House is Carmen Maria Machado's engrossing and wildly innovative account of a relationship gone bad, and a bold dissection of the mechanisms and cultural representations of psychological abuse. Tracing the full arc of a harrowing relationship with a charismatic but volatile woman, Machado struggles to make sense of how what happened to her shaped the person she was becoming.
And it's that struggle that gives the book its original structure: each chapter is driven by its own narrative trope—the haunted house, erotica, the bildungsroman—through which Machado holds the events up to the light and examines them from different angles. She looks back at her religious adolescence, unpacks the stereotype of lesbian relationships as safe and utopian, and widens the view with essayistic explorations of the history and reality of abuse in queer relationships.
Machado's dire narrative is leavened with her characteristic wit, playfulness, and openness to inquiry. She casts a critical eye over legal proceedings, fairy tales, Star Trek, and Disney villains, as well as iconic works of film and fiction. The result is a wrenching, riveting book that explodes our ideas about what a memoir can do and be.
Praise for In the Dream House: A Memoir
"Merge the house and the woman—watch the woman experience her own body as a haunted house, a place of sudden, inexplicable terrors—and you are reading the blazingly talented Carmen Maria Machado."—Parul Sehgal, The New York Times
"Breathtakingly inventive. . . . Machado's writing, with its heat and precise command of tone, has always had a sentient quality. But what makes In the Dream House a particularly self-aware structure—which is to say, a true haunted house—is the intimation that it is critiquing itself in real time. . . . Here and in her short stories, Machado subjects the contemporary world to the logic of dreaming."—Katy Waldman, The New Yorker
"Machado's wit and compulsive post-mortem approach configure her story into a wildly propulsive memoir, an ambulatory survey of the genre."—The New York Times Book Review
"If there are no new stories, only new ways to tell them, Carmen Maria Machado has found a way to do exactly that, ingeniously, in Dream House — a book that manages to break open nearly everything we think we know about abuse memoirs. . . . The result is a gorgeously kaleidoscopic feat — not just of literature but of pure, uncut humanity."—Entertainment Weekly
"In the Dream House is the kind of book that burrows under the reader's skin while simultaneously forcing her to inhabit the body of the writer."—NPR.org

"Machado's revolutionary and innovative gothic memoir about domestic abuse is a work of epic talent. In it she interweaves myth and cultural analysis—alongside her own searing, dreamlike recollections—to construct a portrait of what it is to be queer and in an abusive relationship, a subject long ignored by even some of the most vociferous domestic violence survivor advocates. Machado uses legal proceedings, fairy tales, Star Trek, and Disney villains to create one of the best memoirs in recent memory."—Nylah Burton, Oprah Daily
"Piercing. . . . In the Dream House makes for uneasy but powerful reading."—Mark Athitakis, USA Today
"A tour-de-force meditation on trauma, survival and the language we use to talk about it all."—TIME, Best Books of 2019
"[A] dizzying, dazzling amalgamation of memoir and criticism."—Vanity Fair
"[In the Dream House] is a genre-bending, formally inventive, generous memoir that adds both documentation to the archive as well as a work of art to be admired for its narrative achievements. . . . Machado's memoir adds something vital to the canon of queer history. . . . Above everything else, this book is a gift to the reader, to anyone suffering in violence that is hard to prove or name, and people looking for ways to tell their stories that have few or no precedents."—San Francisco Chronicle
"Carmen Maria Machado is as much alchemist as author. . . . In this brainy, playful, shattering account, Machado ultimately tells her own singular tale."—O, the Oprah Magazine
"As her folkloric references suggest, the cycle of abuse is a kind of poisonous enchantment in which victims can be enthralled. Ms. Machado's memoir casts a powerful counter-spell."—The Economist
"Machado rejects standard memoir conventions in favor of short discursive chapters. . . . The result is a thoroughly engrossing, sometimes enraging must-read."—BuzzFeed

"A stunning book, both deeply felt and elegantly written."—Julia M. Klein, The Boston Globe
"Celebrated for her inventive writing, Carmen Maria Machado will not disappoint her fans with this dazzling memoir that journeys through a maze of stories, each vignette (some only a sentence long) an individual room containing a moment of wonder, curiosity or sorrow."—NBC News Latino
"Two years after first commanding the world's attention with her debut collection Her Body and Other Parties, Carmen Maria Machado is back with In The Dream House, an engrossing memoir that blurs the lines between personal narrative and literary criticism."—Harper's Bazaar
"Machado is able to captivate the reader while telling a brutally honest narrative of abuse."—Marie Claire

"In the Dream House gleamingly smashes our notion of memoir, relocating Machado's genre-bending mastery from fiction to nonfiction. As with her short story collection, an intoxicating mix of fabulism and horror, sci-fi and gutting realism, Machado's playfulness on the page is intoxicating."—Newsday
"Carmen Maria Machado's pointedly funny, deeply reflective In the Dream House manages to be a short story collection, memoir, and lesson in fragmentation all rolled into one."—The A.V. Club
"The world needs this book. . . . We need this book precisely because it's so literary—enabling a view of domestic abuse, in the LGBT community and beyond, that only literature can manifest. . . . [Machado] uses formal experimentation to extend [empathy] into moral and political territory."—Psychology Today
"Forget everything you think you know about memoir when reading Carmen Maria Machado's brilliant, twisting, provocative entry in the genre."—NYLON
"In the Dream House—a devastating chronicle, interrogation and historical contextualization of her experience in an abusive relationship—is no less than a brilliant revision of the form."—Salon.com
"Machado's telling of this particular story is anything but common: It's compassionate and thoughtful and achingly honest. Most of all, In the Dream House is a generous book. It is generous to all the readers of the future who might find themselves in the Dream House as Machado did. And so that they don't have to make up their own language to make sense of what is happening to them, it offers itself up, bare and vulnerable."—Vox
"[In the Dream House] is an impressive, finely calibrated work of literature, one that throws open the door to a subject that's still rarely broached, and makes the reader's stay equally illuminating and unsettling. . . . In assuming the role of architect and archivist, Machado makes In the Dream House as much a memoir as a monument."—The A.V. Club
"There are hundreds of ways to be haunted, In the Dream House shows, but not all of them have been written: Via a delicate polyphony of storytelling and criticism, Machado lays out how the literary tradition of domestic abuse has both expressed and muffled the experiences of women in danger in their own homes."—Bookforum
"Machado is not just a beautiful writer, she's a brilliant writer."—The Rumpus
"In the Dream House is proof, a nod towards justice, however nebulous or impossible that idea might be, as it sounds out against gatekeepers, archival erasures, and silence, articulating the possibility of queerness against the grain of singularity."—Frieze
"Machado's innovative memoir does not pull punches. . . . In the Dream House is a brilliant successor to her acclaimed short story collection."—Star Tribune (Minneapolis)
"You leave In the Dream House dazzled by the author's artful inventiveness and pondering her hard-won wisdom. . . . Truly remarkable."—The Seattle Times
"Machado's book vibrates truth."—Bitch Magazine
"Deeply intelligent and fiercely innovative."—Slant
"The way [In the Dream House] seamlessly weaves the facts of [Machado's] life with fictions—the ghosts that still haunt her, the fact that even time travel could not undo what's been done—is a masterstroke. Machado's that writer who can convincingly code-switch between sci-fi nerdery and lyrical realism. She's equally at home in both worlds."—Angela Watercutter, Wired
"In the Dream House [is] one of the more unique memoirs you'll ever read. . . . It will be needed and recommended and read and reread for generations to come."—Autostraddle
"An unflinching, engrossing memoir."—POPSUGAR
"[In The Dream House] is a tour de force that demonstrates the many tools that Carmen Maria Machado wields as a writer. This is a difficult book and a glorious one."—Pittsburgh Post-Gazette
"A groundbreaking memoir in terms of both form and content. . . . Get ready for Machado to take you on several breakneck cross-country trips of the soul."—The Observer
"In the Dream House is a deeply personal, chilling memoir of abuse and a testament to the healing strength of vulnerability. Machado expertly centers each chapter around a different narrative device and in so doing provides a new reading experience altogether."—Ms. Magazine
"The Philly author of the much-awarded Her Body and Other Parties comes back strong with this memoir about adolescence, sexual identity, and damaging love."—The Philadelphia Inquirer
"A raw, innovative memoir."—BBC Culture
"In the Dream House is a tough read – dark, disturbing, incandescent. But Machado bravely has decided to not be silent about her pain, and in sharing her story, she delivers a stunning and important work."—Suzanne Tobias, KMUW
"What might feel gimmicky in another writer's hands is revelatory in Machado's: In the Dream House becomes a complexly layered exploration of the personal and the political, and the literary, both a brave baring of a painful experience and a reckoning with our collective failure to truly deal with queer intimate partner abuse."—Lambda Literary
"In the Dream House is not only a memoir but a masterclass in what genre can do."—Electric Literature
"[In the Dream House] confronts the issues of credibility, self-doubt, and disbelief that all too frequently arise when survivors of domestic abuse speak out. But the work also stands as an intervention explicitly aimed at the silences, erasures, and lacunae of the culture at large. . . . A human story, full of artistry, candor, and grace."—The Brooklyn Rail
"In the Dream House is both innovative in its approach and nerve-striking in its subject matter."—Pacific Standard
"Carmen Maria Machado's rise in the literary world has been nothing short of meteoric."—The Week
"A spectacular literary performance."—ZYZZYVA
"In the Dream House further cements Machado's status as one of the leading writers today."—Refinery29
"Machado's skill at cracking the candied shell around life's warm, sweet organs is on par with her mastery of gothic atmospherics: both are essential to this book's power."—Triangle House
"Cycling through a staggering array of modes and strategies, In the Dream House wheels in and out of fabulist, formalist, and realist registers, cultural analysis and polemic to produce a fresh and unflinching interrogation of abuse in queer relationships. . . . In the Dream House arrives with a thunder that resounds."—4Columns
"It seems absurd that no one has written about abuse in queer relationships like this before. Mercifully, In the Dream House fills an aching void."—Women's Review of Books
"Machado has pulled off an amazing feat: a book that comments on its own existence and the silences it endeavors to fill; a work deeply informed by a sense of identity and community; and page after page of flawless, flaying, addictive prose."—Sam Worley, BookPage, starred review
"Daringly structured and ruthlessly inquisitive. . . . The heart of this history is clear, deeply felt, and powerful. A fiercely honest, imaginatively written, and necessary memoir from one our great young writers."—Kirkus Reviews, starred review

"Machado has written an affecting, chilling memoir about domestic abuse."—Publishers Weekly, starred review

"[Machado's] writing exhibits all of the formal precision of her fiction, and the book draws the reader deep into the varied rooms of the haunted house of the past. Highly recommended."—Booklist, starred review
"In this open examination of abuse—how it starts, how it hides, how it tears at the victim's sense of self—Machado reimagines and plays with the memoir form, bridging the gap between reader and author in a way that is original and haunting."—Library Journal
"Absolutely remarkable. . . . What makes this book truly exceptional is how Machado creates an archive where, shamefully, there is none."—Roxane Gay
"It's a testament to Carmen Maria Machado's abilities that a memoir as harrowing as In the Dream House can also be so energizing to read, so propulsive."—Kevin Brockmeier
"Carmen Maria Machado's memoir about being trapped in a love relationship that turns nasty and shameful is unflinchingly honest. . . . In the Dream House affirms that Machado is one of the most talented young writers of our day."—Lillian Faderman
"Wrought with alarming premonition, propulsive rhythm, and a trove of folkloric archetypes, Machado's genre-crushing memoir is a meditation on the eclipse of knowledge and intuition by the narcotic light of a destructive bond that feels like love."—Melissa Broder
"Carmen Maria Machado has re-imagined the memoir genre, creating a work of art both breathtakingly inventive and urgently true. In the Dream House is crucial queer testimony. I've never read a book like it."—Alex Marzano-Lesnevich