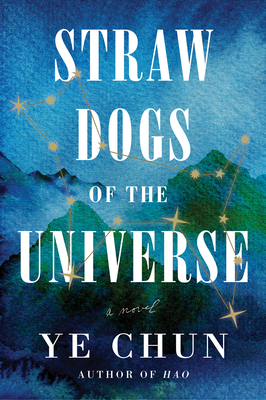 Straw Dogs of the Universe: A Novel
Publication Date:
October 17th, 2023
Usually Ships in 1 to 5 Days
In this book, young Chinese villagers flee flood and famine for a 'better life' in California, and lurch through bitter hardship, unspeakable racism, and repeated brutality. They fight, love, and struggle to survive with their souls intact.
November 2023 Indie Next List
Description
Longlisted for the Andrew Carnegie Medals of Excellence
A harrowing and redemptive immigrant story for readers of Pachinko
A Chinese railroad worker and his young daughter—sold into servitude—in 19th century California search for family, fulfillment, and belonging in a violent new land
"Heaven and earth do not pick and choose.
They see everything as straw dogs."
A sweeping historical novel of the American West from the little-seen perspective of those who helped to build it, Straw Dogs of the Universe traces the story of one Chinese father and his young daughter, desperate to find him against all odds.
After her village is devastated by famine, 10-year-old Sixiang is sold to a human trafficker for a bag of rice and six silver coins. Her mother is reluctant to let her go, but the promise of a better life for her beloved daughter ultimately sways her. Arriving in America with the profits from her sale and a single photograph of Guifeng, her absent father, Sixiang journeys across an unfamiliar American landscape in the hopes of reuniting her family. 
As she makes her way through an unforgiving new world, her father, a railroad worker in California, finds his attempts to build a life for himself both upended and defined by along-lost love and the seemingly inescapable violence of the American West. A generational saga ranging from the villages of China to the establishment of the transcontinental railroad and the anti-Chinese movement in California, Straw Dogs of the Universe considers the tenacity of family ties and the courage it takes to survive in a country that rejects you, even as it relies upon your labor.
Praise for Straw Dogs of the Universe: A Novel
Longlisted for the Andrew Carnegie Medals of Excellence
The Washington Post, A Best Fiction Book of the Year
Library Journal, A Most Anticipated Book of the Year
"Set against the backdrop of the expanding American West, Chun's haunting saga honors the resilience among 19th-century Chinese immigrants despite the horrors they faced." —Becky Meloan, The Washington Post
"Infuses hope and resilience." —WBUR
"Told with an unflinching attention to detail, Ye's narrative captures the brutal racism and violence inflicted upon these newcomers both in the crowded alleys of San Francisco and amid the vast beauty of the Sierra Nevada. Yet Ye's characters never surrender their aspirations for a better life." —Blaise Zerga, Alta
"A sweeping debut novel . . . Straw Dogs of the Universe is an enthralling historical fiction about anti-Chinese violence, the egregious exploitation of 19th century workers and the persistence of the human spirit." —Sarah Sitefvater, PureWow
"Straw Dogs Of The Universe is a multigenerational epic packed with action and adversity—but its heroes are mere humans, who must rely on luck and grit for a chance to surmount the terror of being a Chinese migrant in 19th century California. Devalued by railroad bosses, enslaved by brothel owners, and hunted down in the streets, every day is a challenge and every triumph is fleeting. In her debut English-language novel, Ye Chun chronicles the lives and dreams of her protagonists with utmost honesty and respect." —Katherin Jin, Chicago Review of Books
"Ambitious . . . Chun personalizes both the fear and despair that pervaded the lives of so many of these immigrants, and the fortitude, hope and love that they cultivated anyway."—Alden Mudge, BookPage
"A wondrous first novel. Here her exquisite chapters could easily stand alone but, interlinked, they create an intricate mosaic gloriously revealing intertwined lives . . . Ye offers another haunting, edifying, and illuminating literary feast." —Booklist (starred review)
"Heartbreaking . . . Ye's clear-eyed depictions of the characters' internal struggles elevates what could be a litany of tragedies into a heroic story of survival. Readers will be moved." —Publishers Weekly
"Hauntingly beautiful and exquisitely written, Straw Dogs of the Universe shines much-needed light on a historical period that we must not forget if we want to do better as a human race. This book is a treasure, to be read and re-read, as the best poems should be." —Nguyễn Phan Quế Mai, internationally bestselling author of The Mountains Sing and Dust Child
"Ye Chun writes with depth and precision about the power of the human spirit—its resilience, tenderness, darkness, and yearning—even under the harshest of circumstances. Straw Dogs of the Universe is a luminous, unforgettable story about the terror and beauty of life for Chinese immigrants in the early American West. It will leave you aching by its end." —Alexandra Chang, author of Days of Distraction and Tomb Sweeping
"Impressive in scope, with unflinching historical detail and effortless storytelling, Ye Chun's Straw Dogs of the Universe is a magnificent addition to the growing tradition of historical fiction that rectifies the gaps and silences around the contributions of the Chinese workforce to the 19th century American West. An unforgettable story of people who, despite horrific violence, betrayal, and loss, grow into the truest and strongest versions of themselves." —Melissa Fu, author of Peach Blossom Spring
"A visceral and poetic work of art—Ye Chun's grasp of our shared history, of her unforgettable characters, and of the vast sweep of this narrative can only be marveled at: who else could tell us the story of Chinese settlement in California as if it were an adventure tale filtered through the lens of Thomas Hardy? That the writing here is so insightful, so clear and vibrant and heartbreaking, is a testament to the overwhelming talent of one of our finest authors." —Brian Castleberry, author of Nine Shiny Objects
"Ye Chun's riveting debut novel, Straw Dogs of the Universe, moves seamlessly through several decades in the late 19th century, following four Chinese immigrants as they attempt to start anew in Gold Mountain. The constant search for home and for family underlies it all, and Ye Chun's mesmerizing prose brings their stories—of hope and hardship and love—to unforgettable life." —Laura Spence-Ash, author of Beyond That, the Sea