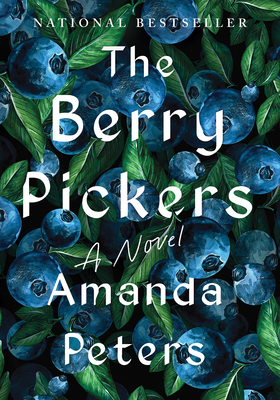 The Berry Pickers: A Novel
Publication Date:
October 31st, 2023
Backordered - Not Immediately Available
A wonderful debut about a missing Indigenous child and the parallel lives of two families — from the loss that echoes through the lives of the berry pickers, to a rancid secret that erodes the other family. A tender, compelling novel.
November 2023 Indie Next List
Description
2023 Barnes & Noble Discover Prize Winner
Carnegie Medal for Excellence in Fiction Finalist
A four-year-old Mi'kmaq girl goes missing from the blueberry fields of Maine, sparking a mystery that will haunt the survivors, unravel a family, and remain unsolved for nearly fifty years
"A stunning debut about love, race, brutality, and the balm of forgiveness." —People, A Best New Book
July 1962. A Mi'kmaq family from Nova Scotia arrives in Maine to pick blueberries for the summer. Weeks later, four-year-old Ruthie, the family's youngest child, vanishes. She is last seen by her six-year-old brother, Joe, sitting on a favorite rock at the edge of a berry field. Joe will remain distraught by his sister's disappearance for years to come. 
In Maine, a young girl named Norma grows up as the only child of an affluent family. Her father is emotionally distant, her mother frustratingly overprotective. Norma is often troubled by recurring dreams and visions that seem more like memories than imagination. As she grows older, Norma slowly comes to realize there is something her parents aren't telling her. Unwilling to abandon her intuition, she will spend decades trying to uncover this family secret. 
For readers of The Vanishing Half and Woman of Light, this showstopping debut by a vibrant new voice in fiction is a riveting novel about the search for truth, the shadow of trauma, and the persistence of love across time.
"A harrowing tale of Indigenous family separation . . . [Peters] excels in writing characters for whom we can't help rooting . . . With The Berry Pickers, Peters takes on the monumental task of giving witness to people who suffered through racist attempts of erasure like her Mi'kmaw ancestors." —The New York Times Book Review
Praise for The Berry Pickers: A Novel
*2023 Barnes & Noble Discover Prize Winner*
Carnegie Medal for Excellence in Fiction Finalist

A Sarah Selects Book Club Pick

Named a Best Book of the Year by Amazon, Apple, People, Barnes & Noble, Harper's Bazaar, Good Housekeeping, Booklist, Debutiful, and more

"A harrowing tale of Indigenous family separation . . . [Peters] excels in writing characters for whom we can't help rooting . . . With The Berry Pickers, Peters takes on the monumental task of giving witness to people who suffered through racist attempts of erasure like her Mi'kmaw ancestors. 'White folks been trying to take the Indian out of us for centuries,' a character tells Norma. 'But now that you know, you gotta let people know.' Peters is letting people know." —Eric Nguyen, The New York Times Book Review
"The strength of Amanda Peters's novel lies in its understanding of how trauma spreads through a life and a family, and its depiction of the challenges facing Indigenous people . . . [A] powerful message about truth, forgiveness and healing." —Marion Winik, The Washington Post
"The Berry Pickers offers an unforgettable exploration of grief, love, and kin." —Jenny Bartoy, The Boston Globe
"A lucid and assured debut." —The New Yorker
"A stunning debut about love, race, brutality and the balm of forgiveness." —People, A Best New Book
"Debut novelist Peters explores the lengths we go to for love, the cancerous impact of lies, and the unbreakable bonds of family. For fans of Celeste Ng and Ann Patchett, this quietly beautiful book will break, then mend, your heart." —Sarah Gelman, Amazon
"This book is a heartbreaking tale of family and loss, deathbed regrets and revelations. It's a force as powerful as any of those." —Good Housekeeping
"An un-put-down-able novel of identity, forgiveness, and insistent hope." —The Christian Science Monitor
"This book will appeal to readers who like character-driven stories, family sagas, and/or tales steeped in other cultures or locales. I highly recommend it." —Cindy Burnett, The Buzz Magazines
"Peters skillfully manages to hold the reader's attention from the first page to the last . . . The Berry Pickers isn't a mystery, it's a truth telling by characters you can reach out and touch—characters whose misfortunes, regrets, feelings, and redemption most readers will relate to." —Diane Lechleitner, New York Journal of Books
"A touching and thoughtful novel about an Indigenous family broken apart and a young woman trying to find the truth about her ancestors. Peters' poignant narration deftly brings readers into a layered story filled with heart. If you only have time for one book to finish before the holidays consume your life, read this book." —Adam Vitcavage, Debutiful
"This powerful debut novel examines the search for truth in the face of trauma and the enduring nature of family love." —Eliza Browning, Electric Literature
"A sensitive and devastating saga of families broken, children stolen, and fierce reckonings with the traumas of history . . . [Its] emotional climax will leave most readers with at least a tear in the eye." —Molly Odintz, CrimeReads
"Peters beautifully explores loss, grief, hope, and the invisible tether that keeps families intact even when they are ripped apart. A poignant debut from a writer to watch." —Kirkus Reviews (starred review)
"Peters' debut combines narrative skill and a poignant story for a wonderful novel to which many readers will gravitate . . . Indigenous stories like this matter." —Booklist
"Enthralling . . . Powerfully rendered . . . [A] cogent and heartfelt look at the ineffable pull of family ties." —Publishers Weekly
"One family's secret is the source of another family's pain in this poignant debut that reads like a modern literary classic. Moving, heartbreaking, and hopeful, The Berry Pickers is a powerful tale of haunting regret, bonds that will never be broken, and unrelenting love. Amanda Peters's skilled storytelling evokes all the sensations of summer in Maine, singing around a fire, and the horror that takes hold when a child goes missing." —Nick Medina, author of Sisters of the Lost Nation
"With every sense engaged, and in a lyrical tribute to her father's stories, Amanda Peters manages to take you home to the east coast in the very best ways—through family love and personal grief and the precious accounting of minutes and memories. You cannot help but love these characters from the first chapter, they stay with you long after the last page." —Cherie Dimaline, author of The Marrow Thieves
"A marvelous debut. The Berry Pickers has all the passion of a first book but also the finely developed skill of a well-practiced storyteller. I can't believe Amanda Peters is just getting started. She writes like someone who has been doing this a long time, and no doubt she has, only now we get to share in the creativity of her amazing mind. She's going to be the next big thing. I am placing my bets now. The Berry Pickers is a triumph." —Katherena Vermette, author of The Strangers
"The thing about picking a handful of berries is that each one is different—some are sweet, some sour, some extra juicy. The Berry Pickers is just like a handful of berries. It's an unassuming novel filled with so much sweet, so much sour, so much juice. Reading this book, I was only ever hungry when it ended." —Morgan Talty, author of Night of the Living Rez