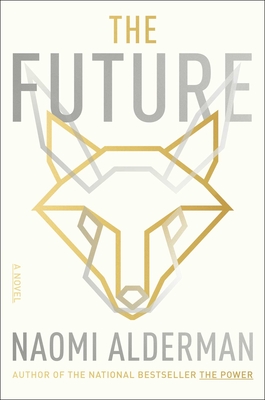 The Future
Publication Date:
November 7th, 2023
Publisher:
Simon & Schuster
Usually Ships in 1 to 5 Days
Gripping speculative fiction/CliFi. Naomi Alderman has a knack for crafting a future with enough detail to make it feel breathtakingly possible, but not overdrawn. When I finished, I wanted more time with these people and in this world.
November 2023 Indie Next List
Description
A Most Anticipated Book of Fall at Associated Press, Booklist, Chicago Tribune, Goodreads, Good Housekeeping, Literary Hub, Time, The Week, and W Magazine
The bestselling, award-winning author of The Power delivers a dazzling tour de force where a handful of friends plot a daring heist to save the world from the tech giants whose greed threatens life as we know it.
When Martha Einkorn fled her father's isolated compound in Oregon, she never expected to find herself working for a powerful social media mogul hell-bent on controlling everything. Now, she's surrounded by mega-rich companies designing private weather, predictive analytics, and covert weaponry, while spouting technological prophecy. Martha may have left the cult, but if the apocalyptic warnings in her father's fox and rabbit sermon—once a parable to her—are starting to come true, how much future is actually left?
Across the world, in a mall in Singapore, Lai Zhen, an internet-famous survivalist, flees from an assassin. She's cornered, desperate and—worst of all—might die without ever knowing what's going on. Suddenly, a remarkable piece of software appears on her phone telling her exactly how to escape. Who made it? What is it really for? And if those behind it can save her from danger, what do they want from her, and what else do they know about the future?
Martha and Zhen's worlds are about to collide. An explosive chain of events is set in motion. While a few billionaires assured of their own safety lead the world to destruction, Martha's relentless drive and Zhen's insatiable curiosity could lead to something beautiful or the cataclysmic end of civilization.
By turns thrilling, hilarious, tender, and always piercingly brilliant, The Future unfolds at a breakneck speed, highlighting how power corrupts the few who have it and what it means to stand up to them. The future is coming. The Future is here.
Praise for The Future
"This heady, propulsive, and cannily constructed thriller easily doubles as an ecologically focused, end-of-the-world howdunnit, as well as a will-they-won't-they love story…Alderman's futuristic world is both captivating and corrupt, and she delineates it with her trademark smarts and humor…our band of resisters are refreshingly resilient. They're not just deeply knowledgeable, they're also compassionate and cleareyed, seeing the world as it is…There are also plentiful reminders — a beautiful dawn here, a recognition of human kindness and connectedness there — that the world is, indeed, worth saving."—Boston Globe
"The Future is so pleasing and page-turning a read, so full of intrigue, emotional depth and a delicious conclusion that I didn't want it to end. That Alderman — who was raised Orthodox Jewish — manages to mine the Book of Genesis in exciting ways, making accessible the parables of community, conflict and survival found in its pages, is an added and surprising bonus. It's almost enough to make you believe, despite the evidence, that the bleakest of futures isn't inevitable."—Los Angeles Times
"The book's most impressive quality is its vivid, tactile imagination of our ultra-computerized future…Alderman's encyclopedic knowledge of everything from cryptographic history to biblical hermeneutics lends the novel a savvy, scholarly gravitas."—New York Times Book Review
"Alderman has crafted characters readers will want to follow wherever they go—even to the end of the world. A smart, engrossing fable about digital technology and human community."—Kirkus Starred Review
"A daring, sexy, thrilling novel that may be the most wryly funny book about the end of civilization you'll ever read."—BookPage, Starred Review
"The endless intrigue and surprising twists keep the pages turning."—Publishers Weekly 
"Naomi Alderman has become one of the great writers of twenty-first century speculative fiction…a hefty but highly compelling page-turner that pulled me in and kept me reading from the first line. It's a very dark read but also shot through with humor, sharp satire, compassion, a great love story, and well-wrought prose."—Brooklyn Rail
"The Future, is (in my opinion) about to sweep the charts."—Margaret Atwood
"In The Future, we get a cracking, multi-point-of-view adventure novel about billionaires prepping for the end of the world…Alderman skillfully maneuvers all these power players and blocs into position before detonating the crisis that sets off the book's second act, where we get into some damned fine Masque of the Red Death territory, but clad in Tony Stark mecha survival suits and against a backdrop of total disaster…this is a fantastic and incredibly satisfying comeuppance novel that gets very deep into the ideology of wishing the world would end, and dreaming that when it does, you will finally matter."—Cory Doctorow
"This book. My god. My expectations were very high. And they were blown-out-of-the-water exceeded. Holy crap. I will be recommending this book to everyone. Forever."—Laurie Frankel, bestselling author of This Is How It Always Is
"Playful, incisive, horribly relevant and surprisingly hopeful, The Future is a thrill ride that's also a powerful manifesto hurtling towards a world where everything might turn out to be okay. A little Atwood, a little Gibson, all Alderman, it's brilliant and I loved it."—Lauren Beukes, New York Times bestselling author of The Shining Girls and Bridge
"It is the genius of Naomi Alderman to embed a smart and thought-provoking meditation inside a page-turner of a book.  This is one wild (and thoughtful) ride.  Many things to think!  Many things to feel!"—Karen Joy Fowler, New York Times bestselling author of We Are All Completely Beside Ourselves
"How can a novel of big ideas be such compulsively readable entertainment? A nail-biting love story and a witty page-turner about the pros and cons of human civilization, The Future is a wow."—Emma Donoghue, bestselling author of Learned by Heart and Room 
"Talk of AI—and fears of what it can do—are everywhere in the news these days, but nobody seems to know exactly WHY we should be afraid and where this is all leading. Except Naomi Alderman! Her bold new novel, The Future, looks at AI in all of its seductive, terrifying forms while telling a story that takes place RIGHT NOW and spans continents and world-ending catastrophes while managing to be intensely personal at the same time. A story of advertising tricks and devious (or downright evil) algorithms, cults and corporations, billionaires determined to save their own skins at all costs and eco-idealists equally determined to save the world, set in, of all places, Sodom and Gomorrah! A compulsory—and compulsive—read!"—Connie Willis, SFWA Grand Master 
"Elegantly written, funny and frightening, The Future is a must-read - and one of those books other authors wish they'd written."—Nick Harkaway, author of Titanium Noir
"The Future couldn't be more timely, or more welcome. It's the book we need right now. It manages to be a persuasive, carefully thought-through manual for social and technological change, a roadmap to a better, greener, kinder tomorrow - a world that's ours for the taking if we want it badly enough - while also a rollicking, fun-packed thriller with juicy stakes, constantly escalating twists, and a cast of characters who feel like they already exist somewhere out there in our fragile, free-wheeling present."—Alastair Reynolds, author of Eversion