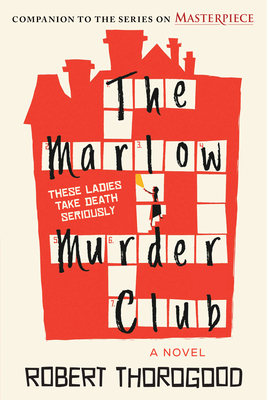 The Marlow Murder Club: A Novel
This product is not returnable.
Publication Date:
May 3rd, 2022
Publisher:
Poisoned Pen Press
Usually Ships in 1 to 5 Days
Description
2023 EDGAR AWARD NOMINEE, LILIAN JACKSON BRAUN AWARD
"An absolute joy to read. Funny, entertaining, and beautifully written." —B. A. Paris, New York Times bestselling author
A delightfully clever new mystery from creator of BBC One's hilarious murder mystery series Death in Paradise
Meet Judith: a seventy-seven-year-old whiskey drinking, crossword puzzle author living her best life in a dilapidated mansion on the outskirts of Marlow.
Nothing ever happens in Marlow. That is, until Judith hears her neighbor shot while skinny-dipping in the Thames. The local police don't believe her story. It's an open and shut case, of course. Ha! Stefan can't be left for dead like that.
Judith investigates and picks up a crew of sidekicks: Suzie the dogwalker and Becks the vicar's wife. Together, they are the Marlow Murder Club.
When another body turns up, they realize they have a real-life serial killer on their hands. And the puzzle they set out to solve has become a trap from which they might never escape…
Robert Thorogood, has turned the Christie-mystery on its head with this ever-so-sly cozy perfect for readers who love Richard Osmond's Thursday Murder Club and An Elderly Lady is Up to No Good.
"Lightweight but no-nonsense and genuinely brainy"—Kirkus Reviews
"Damn right funny and heartwarming…great fun"—Crime Time
"I love Robert Thorogood's writing."—Peter James, international bestselling author
Praise for The Marlow Murder Club: A Novel
"The finale and its grand solution are worthy of Agatha Christie." — Library Journal, Starred Review
"[A] witty series launch from British author Thorogood...How these women of a certain age unite to solve the crime is as entertaining and intriguing as the fair play mystery itself. The way the characters evolve as their relationships grow sets this light mystery above the pack." — Publishers Weekly, Starred Review
"The creator of the Death in Paradise series crafts a triple-decker puzzle in a Thames-side English village...Lightweight but no-nonsense and genuinely brainy, like Anthony Horowitz without all the meta." — Kirkus Reviews
"An absolute joy to read. Funny, entertaining, and beautifully written." — B. A. Paris, New York Times bestselling author
"Damn right funny and heartwarming…great fun." — Crime Time
"A hugely enjoyable murder mystery written with wonderful verve, humour and compassion. Utterly delightful." — Robert Webb