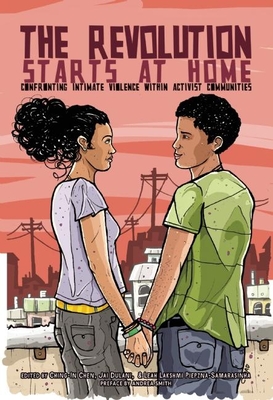 The Revolution Starts at Home: Confronting Intimate Violence Within Activist Communities
Publication Date:
August 30th, 2016
Usually Ships in 1 to 5 Days
Description
The Revolution Starts at Home is as urgently needed today as when it was first published. This watershed collection breaks the dangerous silence surrounding the "secret" of intimate violence within social justice circles. Just as importantly, it provides practical strategies for dealing with abuse and creating safety without relying on the coercive power of the state. It offers life-saving alternatives for survivors, while building a movement where no one is left behind.
Praise for The Revolution Starts at Home:
"My joy and gratitude at the original publication of Revolution Starts at Home is now only exceeded by my excitement in the reprinting of this essential text. If we are to build visionary communities rooted not only in resistance but also in love, we need this book, and books like it, for survival. It is as simple as that." Walidah Imarisha, author of Angels with Dirty Faces: Three Stories of Crime, Prison, and Redemption
"This book has brought me back from the brink of desperation many times. Its creative, real-world stories of interrupting intimate partner violence without using police or social services strengthens our community, builds our collective imagination, celebrates our resiliency, and pushes us to hone our practice. I keep a stockpile of this book on my shelf for gifting--it's required reading for justice seekers. --Shira Hassan, founder and principle consultant for Just Practice.
"The editors of The Revolution Starts at Home have provided a landmark resource: an anthology by and for survivors of sexual assault lead by editors of color, all three of whom are revolutionary leaders seeking to deconstruct the structures that uphold violence in activist communities. For anyone who believes that the personal is deeply political in social justice circles, The Revolution Starts at Home is a must-read."- Allison McCarthy, Ms Magazine
"The Revolution Starts at Home is a mirror to look into when doing the work of 'transforming ourselves to transform the world', as Grace Lee Boggs taught us. The voices in this collection speak from their own experiences, modeling vulnerability that, for me, was freeing as I turned to face the patterns of personal and organizational abuse in my life. This book is an offer towards wholeness, and can heal you if you let it." --adrienne maree brown, co-editor of Octavia's Brood: Science Fiction Stories from Social Justice Movements
"The book isn't just about how social services and state intervention can leave already vulnerable communities more at risk when it comes to addressing interpersonal violence; the personal essays, real-world testaments, and tools provided...are about taking transformative justice to the next level and creating community and self-accountability." --Kjerstin Johnson, Bitch Magazine
Ching-In Chen is the author of The Heart's Traffic.
Jai Dulani is a writer and multimedia artist who has worked for racial and gender justice at the intersections of LGBTQ, youth, immigrant justice and anti-violence movements for over a decade in New York City.
Leah Lakshmi Piepzna-Samarasinha is author of the Lambda Award-winning Love Cake, as well as Dirty River and Consensual Genocide.