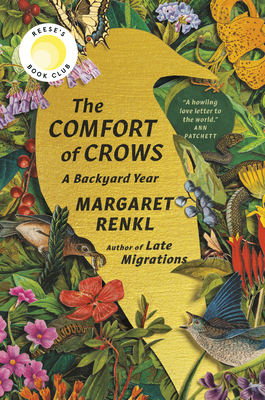 The Comfort of Crows: A Backyard Year
Publication Date:
October 24th, 2023
Publisher:
Spiegel & Grau
Backordered - Not Immediately Available
Oh what a lovely world to live in — every night I looked forward to sinking in. Set up like a devotional following the seasons, Renkl brings hope to our chances to make a difference as climate news only gets worse. Gift yourself this treasure.
November 2023 Indie Next List
Description
THE PERFECT GIFT FOR NATURE LOVERS, BIRDERS, AND GARDENERS, WITH ORIGINAL COLOR ART THROUGHOUT * USA TODAY BESTSELLER * NATIONAL BESTSELLER * AMAZON EDITOR'S PICK * INDIE NEXT PICKFrom the beloved New York Times opinion writer and bestselling author of Late Migrations comes a "howling love letter to the world" (Ann Patchett): a luminous book that traces the passing of seasons, personal and natural.In The Comfort of Crows, Margaret Renkl presents a literary devotional: fifty-two chapters that follow the creatures and plants in her backyard over the course of a year. As we move through the seasons--from a crow spied on New Year's Day, its resourcefulness and sense of community setting a theme for the year, to the lingering bluebirds of December, revisiting the nest box they used in spring--what develops is a portrait of joy and grief: joy in the ongoing pleasures of the natural world, and grief over winters that end too soon and songbirds that grow fewer and fewer.Along the way, we also glimpse the changing rhythms of a human life. Grown children, unexpectedly home during the pandemic, prepare to depart once more. Birdsong and night-blooming flowers evoke generations past. The city and the country where Renkl raised her family transform a little more with each passing day. And the natural world, now in visible flux, requires every ounce of hope and commitment from the author--and from us. For, as Renkl writes, "radiant things are bursting forth in the darkest places, in the smallest nooks and deepest cracks of the hidden world."With fifty-two original color artworks by the author's brother, Billy Renkl, The Comfort of Crows is a lovely and deeply moving book from a cherished observer of the natural world.