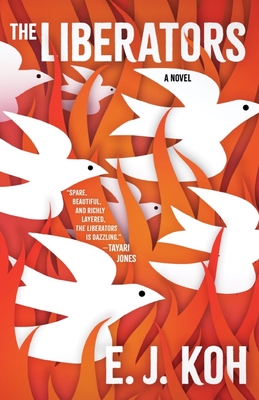 The Liberators
Publication Date:
November 7th, 2023
Publisher:
Tin House Books
Usually Ships in 1 to 5 Days
E. J. Koh tells an epic saga with poetic grace: four generations deal with the legacy of Japanese and American colonization in South Korea, divisions within Korea itself, and with various loves and betrayals along the way.
November 2023 Indie Next List
Description
As heard on NPR'S All Things Considered
"Spare, beautiful and richly layered, The Liberators is dazzling."
—Tayari Jones, author of An American Marriage
"A piercing, patient debut by one of our finest chroniclers of American han. You won't know what hit you until the final, perfect image."
—Ed Park, author of Same Bed Different Dreams
Daejeon, South Korea. 1980. At twenty-four, Insuk falls in love with her college classmate, Sungho, and with her father's blessing, they marry. But then, as the military dictatorship, martial law, and nationwide protests bring the country precariously to the edge, Insuk's father disappears.
In the wake of his disappearance, Insuk flees to California with Sungho, their son Henry, and Sungho's overbearing mother. Adrift in a new country, Insuk grieves the loss of her past and divided homeland, only to find herself drawn into an illicit affair that sets into motion dramatic events that will echo for generations to come.
Spanning two continents and four generations, E. J. Koh's debut novel exquisitely captures two Korean families forever changed by fateful decisions made in love and war. Extraordinarily beautiful and deeply moving, The Liberators is an elegantly wrought family saga of memory, trauma, and empathy, and a stunning testament to the consequences and fortunes of inheritance.
Praise for The Liberators
Lyrical. . . . Kaleidoscopic. . . . explores how the past travels with us, and how we may find solace amid loss through relationships with others.
— The Los Angeles Times
Beautiful. . . . it captures the very real whiplash of experience and emotion that comes with being human.
— Seattle Times
A moving and lyrical debut novel. . . . Koh has fully harnessed her potential in this assured outing.
— Publishers Weekly, Starred Review
A mesmerizing, delicately crafted novel . . . .  Koh's poetic prose delights with surprising metaphors and a cast of skillfully rendered characters.
— Kirkus Reviews, Starred Review
Breaks new ground in understanding the Korean diaspora and the emancipating power of love.
— Poets & Writers
As always, Koh's singular grasp of language results in achingly beautiful writing.
— San Francisco Chronicle, A Best Book of Fall
Kaleidoscopic. . . . exquisite. . . . A family saga which manages to infuse the historical with the mythic, blend the epic with the intimate. . . . extraordinary.
— Lit Hub
A soaring multigenerational saga about learning to accept the past without letting it overshadow the future.
— Foreward, starred review
Known for her poetic language, Koh is a master at weaving stories together, drawing tales of history and contemporary experiences into conversation to help us better understand who we are as humans.
— Seattle Magazine
Richly multi-layered. . . . Koh's work should resonate strongly with its focus on the desire of wanting to be seen and to belong.
— Library Journal
Weaves personal narratives with historical events for a captivating, moving result.
— Alta
Koh produces another Intricately accomplished, intimate melding of history and storytelling.
— Booklist
Another resounding triumph for E.J. Koh: a brave exploration of the complexities of the human experience and the impossible task of making peace with the past.
— Book Page, Starred Review
Spare, beautiful and richly layered, The Liberators is dazzling.
— Tayari Jones, author of An American Marriage
E. J. Koh's The Liberators is a sublime achievement for its deft political and emotional intelligence, its fine-tuned grasp of how a divided country divides lives through the generations. As in all great works of art, it uses the earthbound to transport us to a realm that feels like it's been unperceived until now. As readers, we enter a theater of raw perception. A tree falls out of nowhere, a boar walks into a room unannounced, shadows shatter across a ceiling. Illumination can happen at any turn, reminding us that there's always more world than we've had the capacity to see.
— Paul Lisicky, author of Later: My Life at the Edge of the World
E. J. Koh brings a poet's eye and sensibility to this remarkable novel. Here you will find characters and sentences that will leave you gasping for more. The Liberators captures grief and paranoia and a legacy of colonialism and violence with beauty and measure and grace.
— Matthew Salesses, author of The Sense of Wonder
The beauty, intensity, and breadth of E. J. Koh's work continues to transcend to new levels. Her language is transformative, making history more alive than we can feel and understand alone. Here is a chorus of lives and a song of peace. With The Liberators, Koh cements her place as one of the greatest Korean American writers of our time.
— Joseph Han, author of Nuclear Family
An elegiac, ferocious, and deeply stirring novel. E. J. Koh melds image and story together precisely, holding up to light the history and making of Korea. I loved The Liberators not only for what it shows us about our world, but moreso, ourselves.
— Crystal Hana Kim, author of The Stone Home and If You Leave Me
E. J. Koh brings her elegant poet's hand to this intimate and expansive mythic novel of four generations of a family suffering sudden absences and war, seeking love and connection, weighted with the complexities of no easy answers. I didn't want this book to end.
— Jimin Han, author of The Apology
E. J. Koh's poetic voice lends itself beautifully to the aching slowness of the search for healing. This book is about intergenerational trauma but it is also a celebration of intergenerational hope. Koh tackles history and sorrow with a delicate hand.
— Rowan Hisayo Buchanan, author of The Sleep Watcher and Starling Days
The Liberators is a poetic breath, the language as haunting and epic as its story of a divided country's legacy and impact on the Korean diaspora. I'll read anything that E. J. Koh writes.
— Krys Lee, author of How I Became a North Korean
A piercing, patient debut by one of our finest chroniclers of American han. You won't know what hit you until the final, perfect image.
— Ed Park, author of Same Bed Different Dreams
As readers of E. J. Koh's The Liberators we're asked to occupy the boundaries of a divided country, the world of two colonizers, and a family's eventual journey to America where the demarcation lines shift to the palm of one's hand, in the heart and life lines, where the words for love and survival are spelled out in the hand, where Koh's lyrical narrative hand is held over our hearts in undying allegiance
— Shawn Wong, author of American Knees