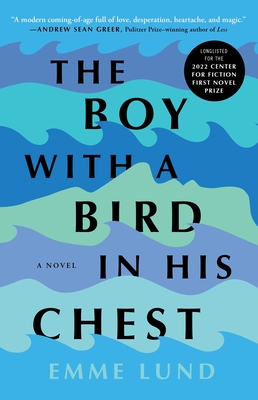 The Boy with a Bird in His Chest: A Novel
Publication Date:
January 3rd, 2023
Usually Ships in 1 to 5 Days
My heart grew two sizes bigger reading this story of queer resilience and strength. Emme Lund's debut is a beautiful coming-of-age story full of magical realism and love. If you're a hugger, then you need this book.
March 2022 Indie Next List
Quirky but endearing, this coming- of-age LGBT read tugs at the heartstrings as a metaphor for self-exploration and self-discovery. Emotionally moving with surreal characters, this book is an experience of human nature and resilience.
Winter 2023 Reading Group Indie Next List
Description
Longlisted for The Center for Fiction 2022 First Novel Prize
A "poignantly rendered and illuminating" (The Washington Post) coming-of-age story about "the ways in which family, grief, love, queerness, and vulnerability all intersect" (Kristen Arnett, New York Times bestselling author). Perfect for fans of The Perks of Being a Wallflower and The Thirty Names of Night.
Though Owen Tanner has never met anyone else who has a chatty bird in their chest, medical forums would call him a Terror. From the moment Gail emerged between Owen's ribs, his mother knew that she had to hide him away from the world. After a decade spent in isolation, Owen takes a brazen trip outdoors and his life is upended forever.
Suddenly, he is forced to flee the home that had once felt so confining and hide in plain sight with his uncle and cousin in Washington. There, he feels the joy of finding a family among friends; of sharing the bird in his chest and being embraced fully; of falling in love and feeling the devastating heartbreak of rejection before finding a spark of happiness in the most unexpected place; of living his truth regardless of how hard the thieves of joy may try to tear him down. But the threat of the Army of Acronyms is a constant, looming presence, making Owen wonder if he'll ever find a way out of the cycle of fear.
"An honest celebration of life and everything we need right now in a book" (Andrew Sean Greer, Pulitzer Prize–winning author), The Boy with a Bird in His Chest grapples with the fear, depression, and feelings of isolation that come with believing that we will never be loved for who we truly are and learning to live fully and openly regardless.
Praise for The Boy with a Bird in His Chest: A Novel
"Lund has created a fable for our age: a modern coming of age full of love, desperation, heartache and magic. An honest celebration of life and everything we need right now in a book."
— Andrew Sean Greer, Pulitzer Prize–winning author of Less
"Emme Lund's The Boy with a Bird in His Chest is a beautiful, tender book. I was deeply moved by this story; very caught up in the ways in which family, grief, love, queerness, and vulnerability all intersect. Lund's sentences are sweet and stick to your ribs. I found myself falling in love with these characters—these messy, deeply realized, fully lovable, and wonderfully human people. The Boy with a Bird in His Chest is a terrific first novel and Emme Lund is a profoundly gifted writer."
— Kristen Arnett, New York Times bestselling author of Mostly Dead Things and With Teeth
"The Boy with a Bird in His Chest is a beautiful and atmospheric allegory for what we hide in the world, executed with tense lyricism."
— Christine Hyung-Oak Lee, author of Tell Me Everything You Don't Remember
"Emme Lund's The Boy with a Bird in His Chest is the queer coming of age novel I wish I'd had when I was a teenager. Funny and gutting, tender and scorchingly honest, surreal and a little too real, this novel captures the pain and joy of learning to live with your body and all its desires. The Boy with a Bird in His Chest reads like The Perks of Being a Wallflowers written by Kelly Link. Lund's vision is striking, resonant, and unforgettable."
— Isle McElroy, author of The Atmospherians, a New York Times Editors' Choice
"Lund's accomplished debut imagines an LGBTQ allegory with a blend of magical fantasy and stark reality. [. . .] Lund's emotive prose treats Owen's burgeoning development with grace and care. This fine effort succeeds at bringing new life to the coming-of-age story."
— Publishers Weekly
"A lovely piece of magical realism . . . the strangeness sets it apart from other coming-of-age stories. Embrace magic and suspend your disbelief and this novel may just take you on a beautiful, necessary journey."
— Kirkus Reviews
"The burden of living with a secret is poignantly rendered and illuminating for those who seek to understand living a life outside the ordinary."
— The Washington Post
"Emme Lund has managed to capture so many of these feelings and weave them naturally in a story about a boy with a bird in his chest."
— Porter House Review
"Lund's brilliant debut is unlike any other coming-of-age out there [...] This is an unputdownable and weirdly relatable book readers won't want to miss."
— Debutiful
"Lund's debut novel is a tender bildungsroman that deals honestly with magic, love, grace, and fear."
— Alta